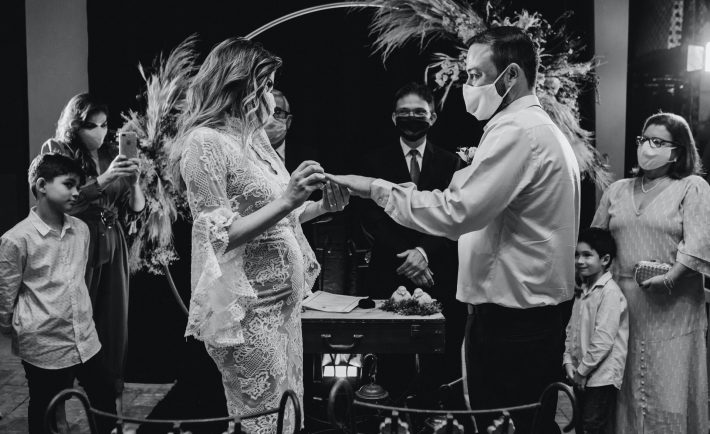 Image Credits: unsplash.com
If you are one of those couples who have been planning for their 2020 wedding, I cannot fathom how much stress you are feeling right now. What should have been the most exciting day of your lives has now been overwhelmed by the uncertainties of the global pandemic. While others have postponed their Big Day, some are willing to make the most out of the situation.
For instance, 240 couples tied the knot on the auspicious Aug 8 despite coronavirus restrictions. A spokesman for the Registry Of Marriages told The Straits Times:
"With the recently announced revised safe management measures, couples who want to solemnize their marriage need not delay their plans. They can still have intimate and meaningful wedding celebrations."
Couples are allowed to have up to 48 guests in venues such as places of worship or hotels. Safe management measures such as wearing face masks and checking in via SafeEntry are to be followed for ceremonies held at external venues.
On the other hand, couples are allowed to have 8 guests for solemnization ceremonies held at home, at the Registries of Civil, at Muslim Marriages building, or at the National Museum of Singapore. These 8 guests may include non-immediate family members such as your videographer or photographer.
Make your intimate wedding celebration meaningful by considering one of these themes:
#1: CLASSICALLY ROMANTIC WEDDING
Influenced by the unwavering appeal of royal and celebrity weddings, sweet garden weddings that are utterly simple yet outright romantic. For this look, guests are typically greeted with gorgeous lush garlands and floral centerpieces. Worry not about the venue as you can either celebrate a classically romantic wedding indoors and outdoors.
For the indoors, decorate your home with floral centerpieces and indoor plants. You can have a subtle color scheme of blush, champagne, and cream. You may also have a church garden-themed wedding with the colors of lavender, silver, and white.
#2: GLAMOROUS WEDDING
For wedding ceremonies at hotels, you may sparkle the night away! This glistening wedding theme starts with a dapper groom in tuxedo and an elegantly glam bride in a long dress. You may exude glamour by adding decor to a ballroom such as glittery linens or huge centerpieces.
Nonetheless, you may experience this theme in your own home by adding gold foil or glitters to your customized gift boxes and invitations. Having glamorous virtual background for your guests can add a thematic surprise. You may also decorate the flat with touches of gold and silver.
#3: CREATIVE WEDDING
With the freedom to decorate your own home with a theme that hits your hearts, use your artistic abilities to channel unforgettable creative weddings. From Star Wars to the Greatest Showman, the creative theme of your intimate wedding has no limits. Simply sprinkle parts of your personalities to the wedding elements to achieve this unique look.
You can even start with your handmade invitations. Comic-book enthusiasts may release virtual "cartoonized" wedding invitations to their guests.
#4: BOHEMIAN CHIC WEDDING
If you are the type of person who is laid back, simple, and free-spirited then a bohemian styled wedding is perfect for you! Inspired by the popular music festivals all over the world, a bohemian chic wedding fuses the layered textures, quirky prints, and rustic elements all together in a uniquely beautiful way. Eye-catching bohemian elements such as ribbons, gold accents, embellishments, and printed blankets will captivate your wild hearts.
Take the comfort up a notch by opting for sandals instead of the traditional heels. Aside from this, the bride can wear blooming flower crowns instead of the veil. Search through Pinterest for inspirations on how to make your own bohemian wedding elements.
At the end of the day, what matters is that you have each other. Be honest when it comes to what you can afford and what is feasible given the current situation. Communication is essential when it comes to planning a wedding – this year or the next.