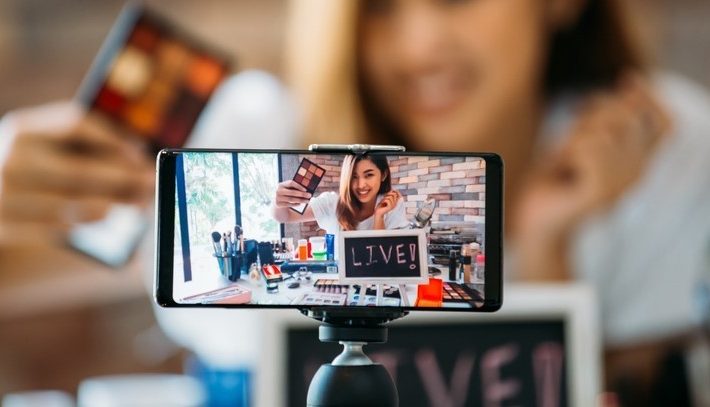 Image Credits: cosmeticsdesign-asia.com
Live streaming or auctions are probably one of the tools that came into the limelight in 2020. Coupled with the pandemic, the broadcasting of live video in real-time is gaining traction for businesses worldwide.
Many should be familiar with Facebook Live shops like Rheon Garcia; a buyer addicted to live-stream auctions. Within a year, he has spent about S$3,000 on various miscellaneous items in such auctions.
We can't help but wonder if live streaming will be the way forward for individuals or businesses to generate revenue.
Pioneers of live streaming
Did you know that one of the pioneers who used video streams to promote and sell their products is Alibaba? The Chinese e-commerce giant launched Taobao Live way back in 2016. But thanks to COVID-19, Taobao Live saw tremendous growth.
Ms Bonnie Zhao, head of Taobao Live Product at Alibaba Group, shared that the number of businesses who adopted live streaming for the first time on their platform increased by 700 per cent since February this year.
"When offline retail was not able to proceed in the normal way, through live streaming, we provided for entrepreneurs, and this gave them a new lifeline," she added.
"Shoppertainment" as a new concept
About 62 per cent of China's total number of internet users, about 560 million people, use live streaming. This massive user base thus gave way to the birth of a new concept – "shoppertainment". And you can probably guess it right; it's the fusion between commerce and entertainment.
Rapid advances in technology, including the network in China transitioning from 2G to 5G has contributed to China's live streaming e-commerce sector. It was worth an estimated US$60 billion in 2019 but is on track to break its record by doubling the numbers at the end of 2020.
Others are jumping on the bandwagon
Even Louis Vuitton, the luxury goods company, is going with the flow. The French fashion house became the first international luxury brand to host a live streaming session on Xiao Hong Shu, a Chinese retail platform in March this year.
Featuring its LV Escale summer 2020 collection, the live stream recorded over 880,000 views on the app and succeeded in appealing to the younger generation on it.
Bringing our attention back to Southeast Asia, Pomelo recently enabled the live stream technology on its app. The CEO of Pomelo, Mr David Jou, highlighted the differences in users between the region's markets.
While Indonesia saw high engagements levels, actual conversions were low. Mr Jou also commented that since the Singapore market is already an advanced one, live streaming will lean towards more for content than commerce.
Insights from Singapore's first live streaming focused shopping platform
Shopavision, Singapore's first live streaming focused shopping app, provided us with insights specific to our little red dot.
Have a look here:
"I fly to China quite often and observed how live streaming was done there and on platforms like Taobao Live," said Rachel Pang, founder and CEO of Shopavision. Having seen live streaming as an essential part of people's life in China, the 37-year-old wanted to bring it to Asia.
"Live streaming marries sales with entertainment and provides a direct channel for people to interact with merchants. Consumers are no longer just browsing through product descriptions, but they are now actively participating in the buying process.
They can ask questions, get responses live and get entertained by live streamers, from the convenience of their homes. Live streaming is the future of online commerce," she noted.
BTS a living proof on how this business model can work
South Korean boy band BTS is a perfect example to demonstrate the importance of building long-term engagement as a business model. For the group's virtual concert in June, 750,000 fans from over 100 countries tuned in and a few months later, the K-pop sensation drew in 993,000 virtual audiences across 191 countries and regions in October.
A business ecosystem that doesn't just sell but focus on engaging with its customers will be on its way to more remarkable growth in the long run.
"Live streaming is not just about satisfying your wants. It's about creating more wants in your life. It is more than just a simple business transaction. It has evolved, and it is now about getting fans, personalising the experience, and gaining loyalty from consumers," Miss Zhao remarked.
Hormese Tharakan, commercial director at tech consultancy ThoughtWorks, encourages businesses to consider live streaming as part of their business strategy.
"The key difference is going to be, who can get it right. And to get it right, it's content which drives data, data drives insight, and these insights help you create more personalised experiences for the users.
These personalised experiences are now going to drive your sales. But driving sales is not the last mile. What you would also need to do is set up a whole cycle which leads to building trust and loyalty."