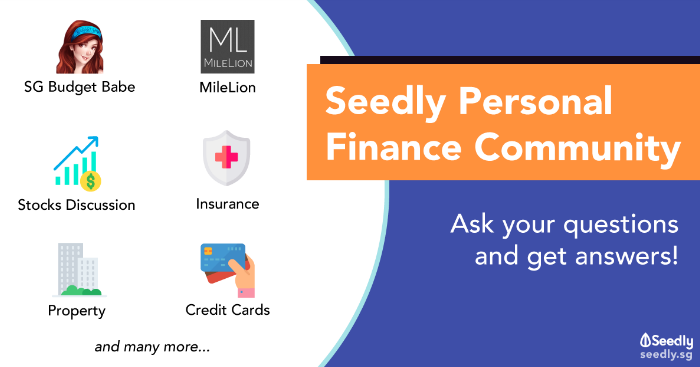 Personal finance is one of those things which was never taught in school but it immediately became apparent how important it is when you start working and have to pay for your own sh*t.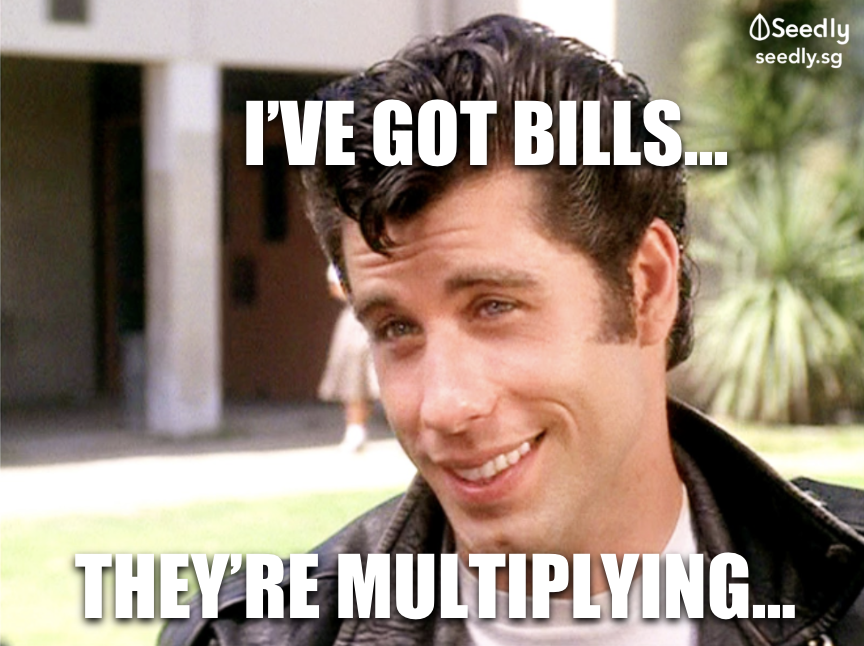 It gets worse when your friends start talking about stuff like "qualifying for tax relief by doing voluntary top-ups to SA" and discussing hacks to "maximise miles accrual and cashback rebates" by using different credit cards to pay for their monthly bills.
After a while, it seems like everyone has successfully transitioned to adulthood while you're still figuring out what you actually want to do with your life.
Eventually, you'll find yourself going quiet during group gatherings because: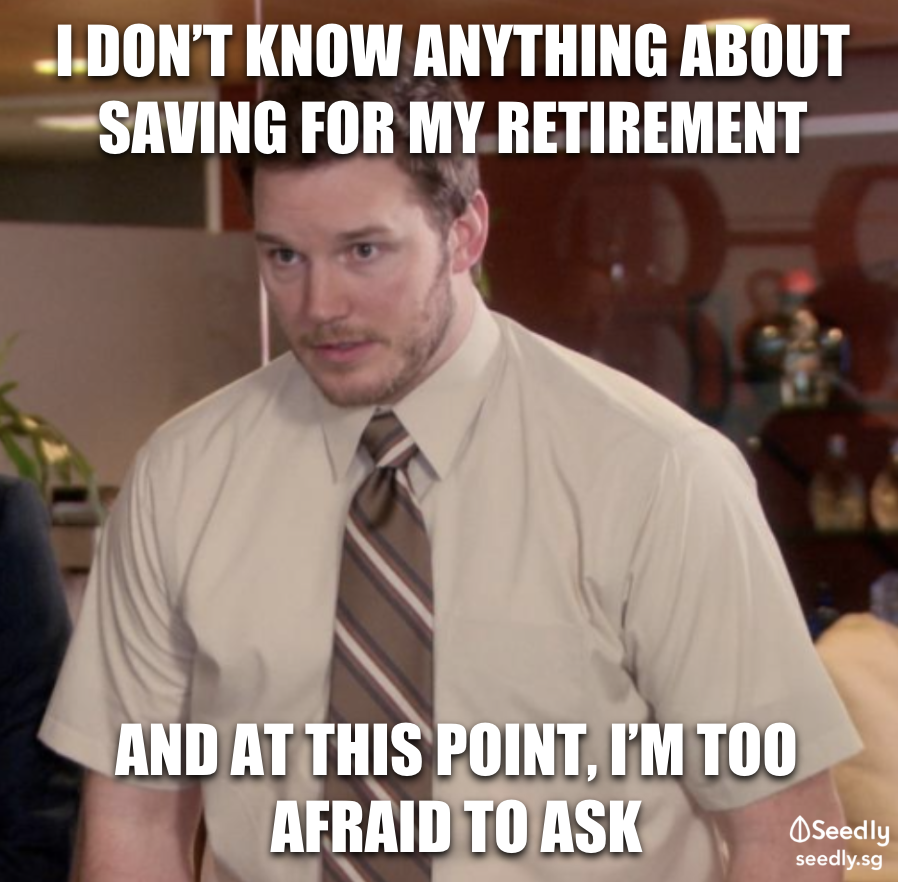 If this is you, or if you're afraid that this will be you in a couple of years time…
Why not ask the Seedly Personal Finance Community your personal finance questions?
It's a huge online community where lots of personal finance enthusiasts and professionals from various institutions related to personal finance (like insurance, wealth management, and investment) hang out.
Best of all, you can even ask your questions anonymously!
Free Advice? Sure Boh…
If you haven't heard of Seedly, they're a one-stop personal finance platform, which aims to help Singaporeans make smarter financial decisions.
They do this through their educational, but fun to read SeedlyReads, which explains issues and topics related to personal finance in a simple manner.
But they also recognised that readers of SeedlyReads might have questions after reading.
That's why they created the Seedly Personal Finance Community where you can ask your personal finance-related questions and get answers.
Yep.
They're awesome like that.
How Can the Seedly Personal Finance Community Help Me?
The Seedly Personal Finance Community is made up of various personal enthusiasts, experts from various institutions and even the CPF Board.
Regardless of what kind of questions you have, you will definitely find a community or topic page that should satiate your curiosity. Even if you can't find the answer, you can post your question and a community member who can answer it will do so.
Oh, and if you come across a question which you can answer, why not pay it forward by leaving an answer as well?
Some of the communities you'll find include:
Are you a miles or points enthusiast who wants to learn and share new ways of travelling better for less?
Then you'll want to join the MileLion community.
Curious about credit card points accrual systems? Want to deepen your knowledge on hotel and airline loyalty programs?
Aaron Wong, founder of MileLion, will personally answer your questions.
If you're interested in cashback hacks or are a parent (or soon-to-be), then this is the community for you.
The host of the community page, SG Budget Babe, is none other than Dawn Fiona (founder of SG Budget Babe) herself.
Fans of SG Budget Babe can ask her questions about how to achieve a financially free lifestyle in Singapore and she'll answer them personally.
Whether you're a seasoned investor or an amateur looking to make your first investment, the Stocks Discussion community is the perfect place to ask like-minded stocks investing enthusiasts and gurus for their investment insights and advice.
Some active members on the page include:
After all, it's always better to learn from someone's mistakes than to make them yourself right?
So, How Do I Ask the Seedly Community My Questions?
Simply head over to the Seedly website, click on "Ask Community" to get to the Seedly Personal Finance Community Page.
Once you're there, click on "Ask A Question" to ask your question.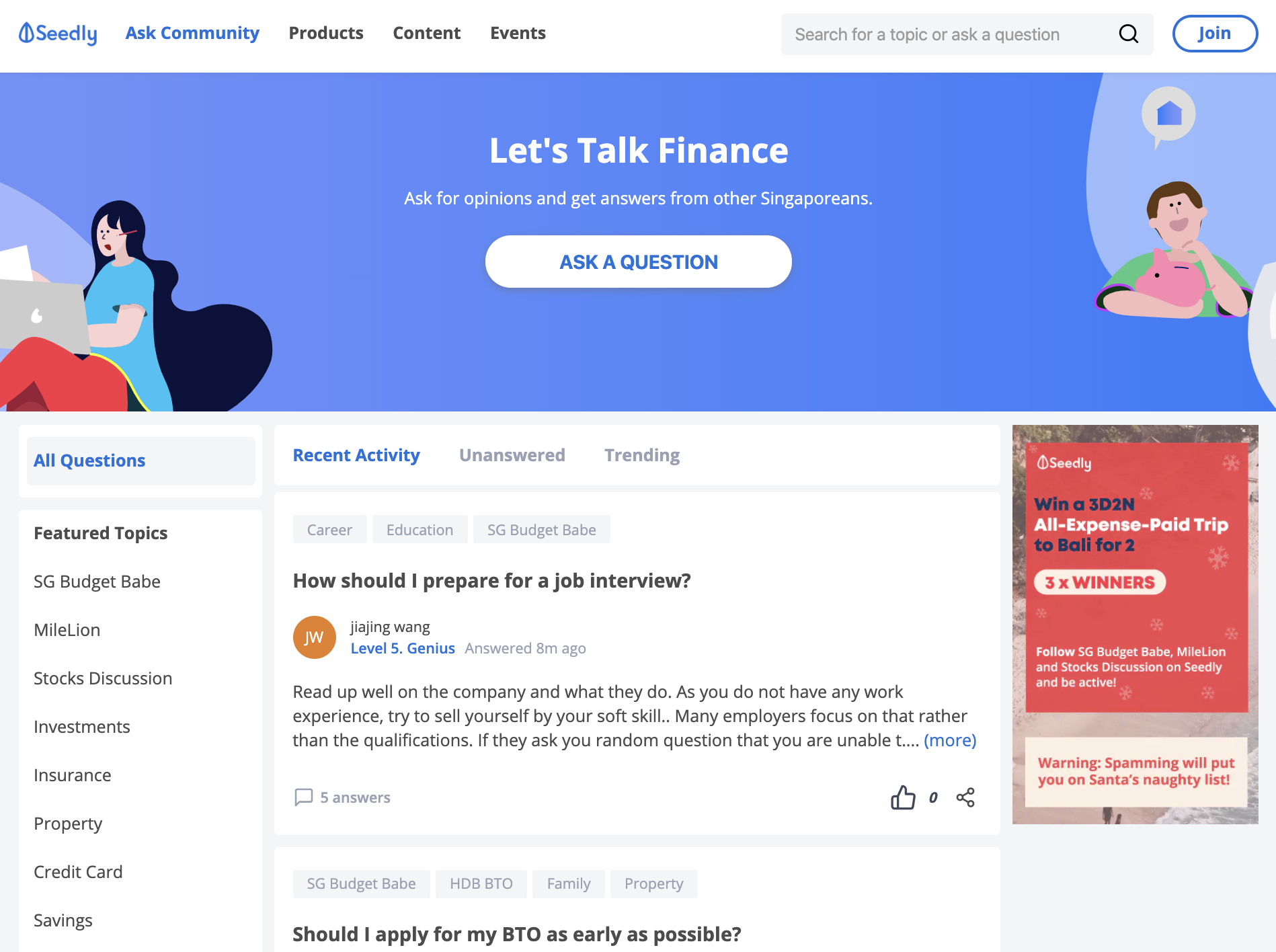 If someone has asked a similar question, you'll be prompted via a dropdown menu.
All you have to do is pick the question that is closest to yours to find out what the community's answers are!
And if it's a question that no one has asked before, simply complete the form, choose the category which you think best suits your question and click "Post"!
Psst! If you're really shy, just check the "Ask anonymously" box and your question will be posted anonymously.
Why Should I Ask My Questions on Seedly?
Still sceptical about asking your personal finance questions and getting answers?
What if you could stand a chance to win an all-expense-paid trip to Bali for 2 just by following Seedly communities and being active on their platform?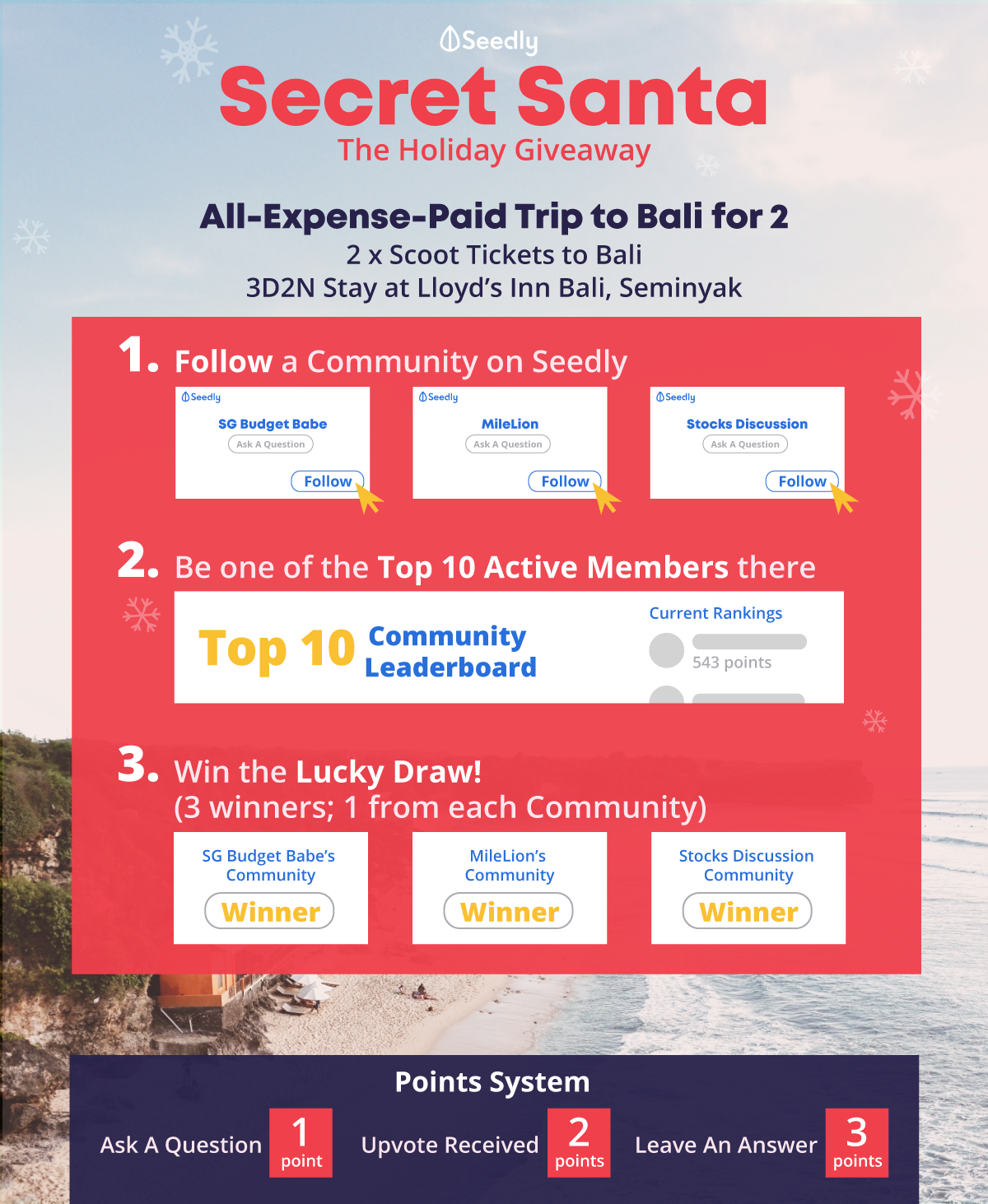 Seedly is sending three lucky winners to Bali (via Scoot) to enjoy a 3D2N stay at Lloyd's Inn Bali, Seminyak for their Secret Santa Holiday Giveaway!
All you have to do is join one or all of the following communities: SG Budget Babe, MileLion, Stocks Discussion and be active.
You can ask or answer questions, and even receive upvotes to gain points and move up the leaderboard!
The Top 10 from each community will participate in a Live Lucky Draw during Seedly's exclusive Christmas Party where one lucky member from each community will walk away with the Grand Prize. The rest will each win a $30 NTUC Income Voucher + a Mystery Gift!
Ask your burning personal finance questions, get answers, and even stand a chance to win Seedly's Secret Santa Holiday Giveaway?
It's truly a Christmas miracle.