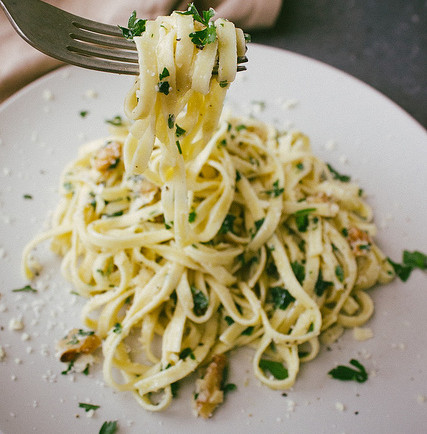 Image Credits: Amelia Crook via Flickr
Italian cuisine is known throughout the world for its pasta, pizza, herbs, and tomato sauce. While Singapore, as a nation, had developed a deeper fondness for food – of all kinds. But the dilemma of the restaurant prices are always at sight.
Cheap does not always come with bad taste if you know the right places to look. That being said, here are 4 delicious yet affordable places to satisfy your hunger for Italian food…
A true-blooded Italian, Dario of Super Dario Lasagne, brought forth the first Cafe that showcases lasagna as their star. The menu is coupled with drinks, salads, and desserts of course. Their bountiful plates of homemade lasagna cost about S$7.8-11 while the set meal (i.e., including any lasagna, drink, and dessert) costs S$10.9 only (T&C apply).
And, if you are a student, grab the 20% off discount on any lasagna on Weekdays from 10:30 am (T&C apply). You can also order a tray to take home. Trust me, the food is worth coming back to!
Location: #04-17, City Square Mall, 180 Kitchener Road, Singapore 208539
Online Rating: 88% Upvotes on HungryGoWhere
From the makers of the exquisite French restaurant named Saveur, they bring you the Concetto by Saveur. Paraded by good reviews from Savuer, Concetto by Saveur did not disappoint. This is a restaurant that continues to bring artisan-cooking techniques to prepare high-end quality Italian cuisine for all.
Its reasonable prices will not only bring your bellies to bliss but also your wallets. Most of delectable meals range from S$5 to S$18, except for the Wagyu Tender that costs S$26.90. Concetto Pasta ($6.90) is one of their best-rated dishes.
Location: 2 Handy Road, The Cathay #01-11/12, Singapore 229233
Online Rating: 75% upvotes on HungryGoWhere
From soup, pizza, pasta, baked rice, and bread – Saizeriya has it all for you. Because of its inexpensive prices ranging from S$4 to S$10, it has been the student's favorite place to dine. They also incorporate a little of Asian and French cuisine into the mix. In fact they have French Escargot that the online reviews preferred most. It may possibly be the cheapest escargot you will find in Singapore restaurants.
Locations: 8 outlets islandwide, visit here
Online Rating: 73% upvotes on HungryGoWhere
Supply & Demand prides itself as a contemporary Italian and Southeast Asia bistro and bar. With its breezy rooftop bar at Esplanade Mall, it serves as a great place to enjoy a great Italian meal. You may also try their modern-take on Southeast Asian dishes from Malaysia, Indonesia, and Burma. Majority of the pastas, pizzas, and entrées are priced below S$20.
Locations:
#02-13/14, Orchard Gateway, 277 Orchard Road
8 Raffles Avenue #01-13 Esplanade Mall Singapore 039802
Online Rating: 62% up votes on HungryGoWhere
Enjoy your meal or as they say it in Italy..Buon Appetito!