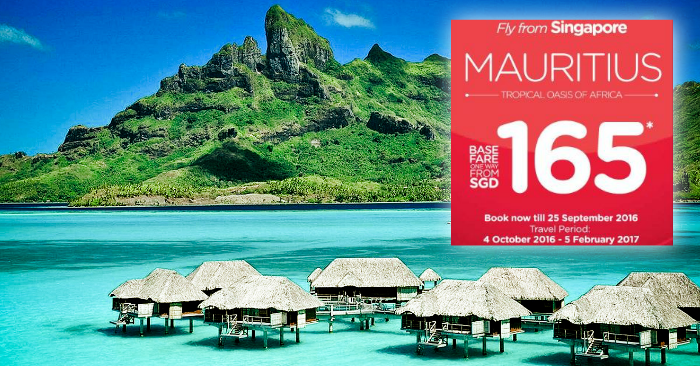 AirAsia X added another destination into its route network and announced Mauritius as the next idyllic place it will connect directly from Kuala Lumpur, with three times weekly flights commencing 4 October 2016.
Introductory base fares from as low as S$165 one-way on standard seats is available for booking from 15 – 25 Sep 16. Option for Premium Flatbeds available.
All-in fares starts from S$349, which is a fraction of what you would pay with other airlines. (S$900+ to $1K)
Travel period for this promotion will be from 4 October – 5 February 2017.
Book now via the following links:

Find someone to retreat with! Share this promotion with your friends and loved ones!
Situated in the southeast coast of the African continent, Mauritius was once a volcanic island and is famous for its beautiful beach setting with white sand, warm sub-tropical climate and a topaz shoreline of the Indian Ocean. Guests can choose to relax on the longest beach in Mauritius at Belle Mare Beach sipping fresh sugarcane juice, or experience scuba diving, as the island is known for its excellent underwater visibility and warm temperatures that attract an abundance of marine life. If you are feeling a little adventurous, embark on an Underwater Walk around the ocean bed in an oxygen helmet and mingle with the fishes.
For a little bit of culture and history, head to the capital of Mauritius, Port Louis which boasts a plethora of colonial monuments or follow the pilgrimage route to Grand Bassin, whereby the second largest statue of Lord Shiva in the world is standing at the entrance to the natural crater lake on the mountains. In Mauritius, guests will be greeted to a multitude of ethnic groups in the country, inviting them to absorb the diversity from mouth-watering food to the many cultural festivals available throughout the year. This tropical island indeed is an all-year-round destination that hosts many exciting things to see and do while addressing the needs of all types of travellers such as adventure seekers, honeymooners, families, or solo travellers.
Terms & Conditions apply
• A non-refundable processing fee is applicable for payments via credit, debit or charge card. • Fare includes airport taxes (except for selected airports where airport tax is collected at the point of departure). • Seats are limited and may not be available on all flights • Valid for new purchases only • All fares are quoted for single journey (one-way) only • All taxes must be paid at the time of purchase unless otherwise stated • Foreign fares are subjected to currency exchange rates • Offer is subject to availability and AirAsia's Terms and Conditions of Carriage • No refunds are permitted after payment has been made • Guests travelling need to provide all necessary travel documents (eg valid passport, visa where applicable etc) at the time of departure • AirAsia reserves the right to deny guests from boarding without proper documentation • Full payment shall be made upon booking • Changes to flights and dates are permitted subject to change fees • Changes to name are not permitted • Only available for online bookings at www.airasia.com.
Need a hotel? Check out some of the best hotel deals including beach villas and more here.