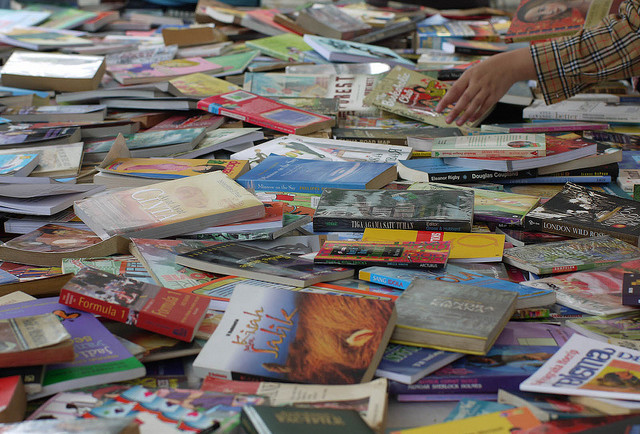 (Image credit: harmaskonyveles.hu)
If you're a booklover and a voracious reader, chances are that you spend way too much money on books, with an average paperback book going for about $15 in the local big bookstores. It can be difficult to read as much as you would like with the costs involved, so here are some ways to save money while reading books!
1) Online retailers
Often, you can save a good deal of money simply by buying the books online, where prices can be up to 50% cheaper than the retail price in Singapore bookstores.
Some popular options are:
Bookdepository.com, an international site that offers free shipping to your doorstep, and carries a very wide range of all books;
local online retailer, OpenTrolley, which allows local pickup at a retail location, or shipping for a fee.
Other common options are eBay and Amazon, however, beware of shipping costs for these options.
When buying books online, be sure to also check out oo.sg, which searches all these online retailers and more, including Kinokuniya and Popular online, for your specific book and allows you to comparison shop for the cheapest price.
Generally, my go-to book retailer is BookDepository as they usually offer the most competitive prices with a large range of options.
Be sure also to check out the different editions of the book, as the softcover is usually cheaper than the hardcover.
2) Book Sales
The popular bookstore chains in Singapore, such as Times and MPH, regularly have warehouse sales a few times a year, either at the Singapore Expo or other locations. Be sure to keep updated on when the next sale will be so as to be able to grab books for really low prices, like $5 each new, or even lower!
3) Secondhand books online
There are a few options I would recommend for buying secondhand books online. Sites like secondhandbooks.com.sg or bookfishing.com.sg are frequently updated and have a good number of books listed by sellers.
Recently, the Carousell application has also seen quite a lot of use for buying and selling books, which is another option you may want to consider.
4) Secondhand bookstores
There are a few secondhand bookstores currently operating in Singapore, although they are a dying breed, and a few have closed their shutters. Bras Basah Complex is one place where you may go to find secondhand books and textbooks.
5) Book exchanges
If you're looking to clear some of the unwanted books lying around your house, why not try to swap them?
For instance, the NLB has an annual book exchange where we can exchange our unwanted books for other donated books. You may also have some luck trying to swap books online.
6) Ebooks
Buying an eBook may not necessarily require you to purchase an expensive eReader! There are many eBook readers available for free to download on your smartphone or your computer. Ebooks are also significantly cheaper than physical books, and usually cost you a couple of dollars at most. Just be sure to convert your eBook into the desired file format for your downloaded eReader (ePub is generally able to be read by most eReaders).
Reading doesn't have to burn a hole in your pocket, but with these tips, books may start to take up way more space than availabe in your house!