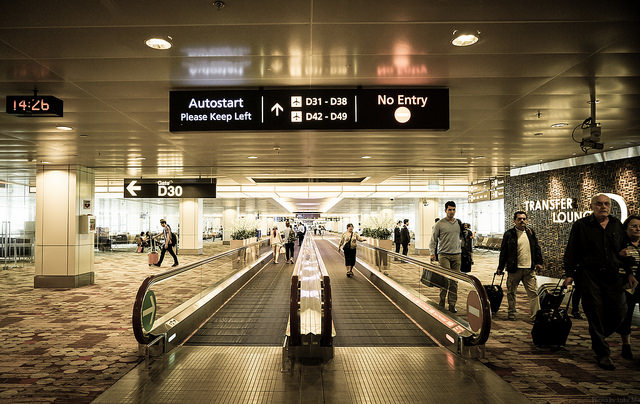 Image Credits: Luke Ma via Flickr
Living on an airport like Tom Hanks in the movie "Terminal" may sound impossible. You would need to be looking for places to eat, places to enjoy, and to rest.
In real life, being stuck in a transit really sucks especially if you checked-in early or the flight is delayed.
BUT…not if you find yourself stranded at the Singapore Changi Airport! This exquisitely designed airport has a few perks up its sleeves. I give you the 5 Free Things You Can Enjoy before boarding at the Singapore Changi Airport.
1. FREE WIFI
There are free WIFI services in all the three terminals of the airport. Just head to the Information Counter and present your passport, in return they will give you a WiFi username and password. Also, there are free candies in the counter while you wait.
Alternatively, you may enjoy the abundant and free Internet Kiosks located beside the TV Lounges and scattered through the three terminals (T). There are actually over 500 computers that you will never have to wait in line to use one!
2. VISIT THE FIVE GARDENS
If you have more than 3 hours to spare, take a stroll to the five indoor gardens. These are namely: Cactus Garden (Terminal 1), Orchid Garden (T2), Fern Garden (T2), Sunflower Garden (T2), and the Butterfly Gardens (T3).
While you are in there, enjoy the breath of fresh air, may your kids count the species of succulents and take colorful selfies that you can upload right away because of the Free WiFi!
3. FREE TOUR OF SINGAPORE 
If you are a tourist with more than 5 hours to spare, then grab this awesome opportunity. To register for any of the tours, just approach the staff with your passport and boarding pass at the Free Singapore Tours Registration Booth located in T2 and T3.
You can choose from the Heritage Tour or the City Lights Tour. For more information, visit: http://www.changiairport.com/at-changi/leisure-indulgences/free-singapore-tour.
4. FREE MOVIES
Being in the transit for six hours will give you enough time to catch 2-3 movies for free! The airport boasts their 24-hour cinemas that screen the Fox Movies Premium Channel at T2 and the latest movies of various genres at T3.
5. PLAY XBOX 360 AND PLAYSTATION 3
Entertainment Deck in T2 is the place where the children and child at heart can go wild! Get caught in an action game while playing with the XBOX 360, Playstation 3 consoles or LAN gaming. All this for free! Parents, you can chill in the Cafeteria located in the middle of the Entertainment Deck as your kids play.
Sources: Vietnam Centre and CheekieMonkie
The next time you get stuck in a transit…I certainly hope that it is in the amazing Singapore Changi Airport!