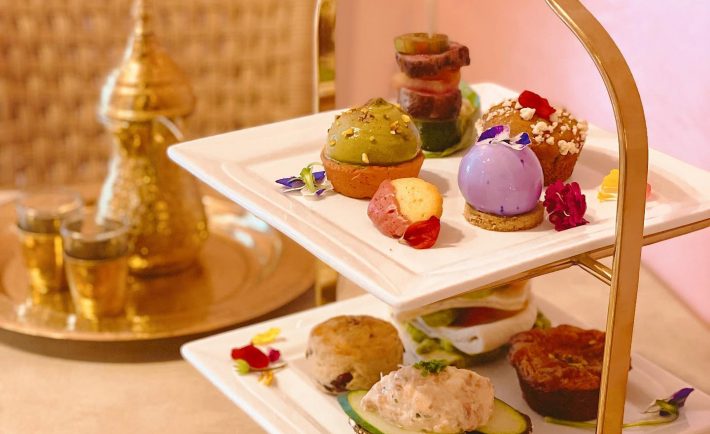 Image Credits: facebook.com/wearelafez
Take your special someone or gather your beloved squad for a memorable Valentine's Day date!
The day of love is just around the corner. If you are scrolling through this list, there is a chance that you might be out of ideas on how to impress your significant other. Whether you are still looking for the perfect gift or the perfect experience, here are some exciting spots that you can visit in Singapore. May you enjoy your romantic time together!
#1: TUFTING TOGETHER
Similar to embroidery or knitting, tufting is a type of textile craft in which a thread is inserted on a primary base. It is traditionally used for making rugs. Since then, it has made its comeback and has won the hearts of many.
What better place to take your significant other than at the first tufting studio in Singapore? Nestled in a two-story shophouse along Circular Road, Tuft Club offers workshops for tufting a rug and more. You will be guided by staff members on how to operate a tufting gun and how to use different techniques throughout the session.
Their 4.5-hour session costs S$195 per person. Book here.
#2: A DAY WITH BAE
Spend a day with bae at a place filled with flowers and greenery – visit Gardens by the Bay! Let your romantic side shine through as you feast your eyes with colorful floral arrangements, indoor waterfalls, and attractions like the Flower Dome.
From now until 20 Feb, Flower Dome displays the "Dahlia Dreams". Admire the field of over 2,000 blossoming dahlias made up of over 70 cultivars. What's more? The larger-than-life floral lanterns featuring peonies and narcissuses are a part of the River Hongbao's display. All these come with spectacular lights in the evenings!
To secure your spot in advance, you can book your ticket online here.
#3: PLAY WITH REALITY
Let your squad figure out what's real and what isn't at HeadRock VR. Singapore's first VR experience makes for an entertaining Valentine's Day date. Play with reality as you choose between eight different thematic attractions. If your friends or your partner enjoy trying new things, this can be ticked off your bucket list!
Price for the HeadRock VR Single Play + Cable Car ride starts at S$13 (T&Cs apply). As HeadRock VR is in Sentosa Island, you can combine your booking with other attractions like Universal Studios.
#4: ICE CREAM FOR INTIMACY
Indulge on a sweet date at the Museum of Ice Cream. The museum recently launched a playful romance-themed attraction that allows its guests to explore the definitions of intimacy, whether as a couple or as friends.
Share memories with your loved ones at the Cone-nection Cube. Here, you will be completing a series of quests that will enhance your bond. Along the way, you will encounter new Instagrammable corners including a mirrored disco room. Feel free to snap a sweet moment together!
Best of all? All visitors will be given a complimentary Hendrick's Lunar Gin cocktail and unlimited sweet treats as part of the experience. You can buy your tickets here.
#5: AESTHETICALLY PLEASING HIGH TEA
Sweep your lover off her feet by taking her on an escapade at a Moroccan-inspired cafe called La Fez. Check out their menu that is sprinkled with Middle Eastern delights. Apart from this, you can indulge on a Sultana High Tea Set, which is priced at S$45.90 for 2 persons.
This set is served on an opulent-looking tiered tray consisting of a mixture of sweet and savory nibbles as well as Khubtz Beef Brioche and Tashelhit Salmon Brioche, to name a few.
This weekend, you can celebrate Valentine's or Galentine's day with them by snacking on their complimentary dessert. Only one complimentary dessert will be served per table and with a minimum order of a main (T&Cs apply).