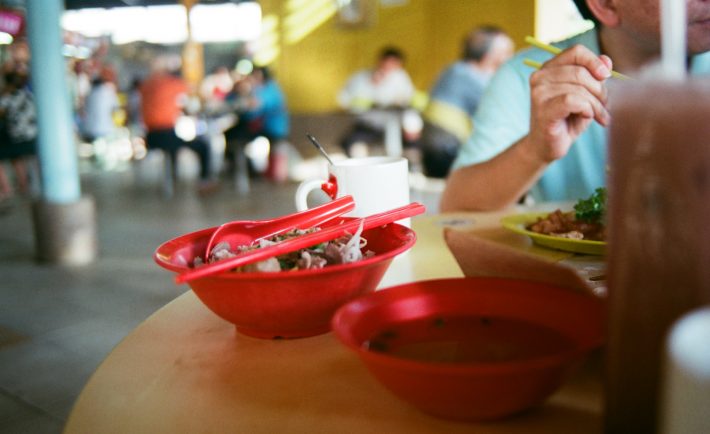 Image Credits: unsplash.com
Singapore boasts one of the most diverse food scenes on Earth, serving as a melting pot of various cultures. It is a place where you can indulge in a rich tapestry of culinary delights, encompassing Chinese, Malay, Indian, Peranakan, French, Japanese, Korean, and Italian cuisines. You can immerse yourself in these culinary experiences by visiting the nearest hawker centre.
The Lion City is renowned for its hawker centres, where you can still relish a delectable meal at a reasonable price. The available options are simply astounding.
On that note, here are some of the finest hawker centres in Singapore that you must try!
WHAT IS A HAWKER CENTRE?
The concept of hawker centres has spread rapidly since its inception in the 1970s. These centres were established to provide a new home for street food vendors, and over time, many of them have become cherished institutions. Their stalls showcase the finest of local cuisine, featuring iconic dishes such as chicken rice, bak chor mee, roti prata, nasi lemak, laksa, and much more. Today, a new generation of hawkers has emerged, offering an enticing variety of international flavors, from comforting bowls of ramen to delightful plates of pasta.
Hawker centres are open-air structures that house a range of food stalls offering local dishes and specialties from around the world. These centres are conveniently situated near large housing complexes, allowing you to effortlessly socialize with your neighbors at the communal tables.
#1: CHINATOWN COMPLEX FOOD CENTRE
As a result of being the world's first hawker stall to gain a Michelin star, Chinatown Complex Food Centre has numerous Bib Gourmand and Plate winners. It stands as one of the largest hawker centres in Singapore, boasting over 260 stalls.
If you're a fan of desserts, you should definitely try the 115 Tang Shui stall. This stall has been offering sweet soups since the 1960s, made from smooth nut pastes such as sesame, almond, and walnut. With a focus on preserving heritage, this stall offers a delightful selection of sweets.
#2: HONG LIM FOOD CENTRE
Situated conveniently next to Chinatown Point, Hong Lim Market and Food Centre has become more accessible with the implementation of the Downtown Line. It is advisable to have breakfast or brunch here to avoid the bustling office crowd. You can indulge in delicious minced pork noodles at Tai Wah Pork Noodle, savory char kway teow at Outram Park Fried Kway Teow Mee, and delectable peanut pancakes at Granny's Pancake. To minimize waiting time, it is recommended to arrive before 8 in the morning.
#3: NEWTON FOOD CENTRE
Further popularized by the film "Crazy Rich Asians" and Gordon Ramsay's SingTel Hawker Heroes Challenge in 2013, the Newton Food Centre is home to numerous culinary treasures, ranging from chilli crab to carrot cake. This establishment is frequently mentioned by adventurous tourists seeking to indulge in authentic Singaporean cuisine. Don't miss the opportunity to try the seafood offerings and local specialties at the following stalls:
– Soon Wah Fishball Kway Teow Mee
– Hajah Monah Kitchen
– XO Minced Meat Noodles
– Bee Heng Popiah
– 88 San Ren Cold and Hot Dessert
– Newton Authentic Song Kee Teochew Fish Porridge
– Guan Kee Grilled Seafood
– Hup Kee Oyster Omelette
– TKR Honey Chicken Wing (大家乐烧烤鸡翼)
#4: TEKKA CENTRE
If you have cravings for Indian cuisine, there's no hawker centre in Singapore that can quite compare to the delightful charm of Tekka Centre. From mouthwatering tandoor-cooked dishes and appam to fragrant nasi biryani and tempting Indian rojak, this place has it all.
Situated in the vibrant Little India neighborhood, Tekka Centre stands as a true dining landmark. It offers generous portions of freshly prepared food to both visitors and locals, conveniently located just a stone's throw away from the Little India MRT station. Housed within a colorful warehouse, it has quickly become a go-to spot for those seeking delicious fare at fair prices.
#5: ALBERT CENTRE FOOD CENTRE
Just a short stroll away from Bugis Junction and Bugis+, you'll find Albert Centre Market and Food Centre, a bustling hub where you can find everything from fresh produce to dried goods, along with a delectable selection of local cuisine. Start your hawker haunt by trying out the following:
– Say Seng Cooked Food
– Angel Horse Teochew Fish Soup
– Si Ma Lu Goreng Pisang
– Pondok Makan Indonesia
– Zheng Xing Mei Shi
– Fatt Kee Shou Shi
– Hock Lee Fish ball Noodles
– Bai Nian Niang Dou Fu
While Bugis embraces modern trends, Albert Centre remains wonderfully old-school, serving up honest dishes like Cantonese porridge, fish ball noodles, and hearty pig organ soup. You can rely on this hawker centre to offer affordable and satisfying meals that will leave your appetite thoroughly appeased.