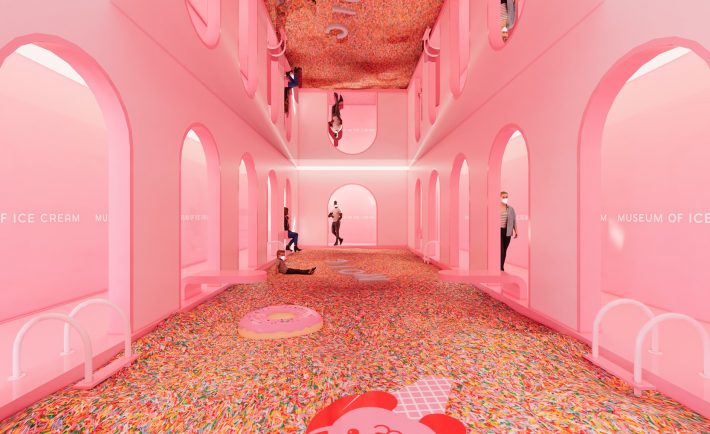 Image Credits: facebook.com/museumoficecreamsg
Travelling outside Singapore may be restricted for the time being, but it does not mean that you will stop discovering new places. Just look at the places found this list!
#1: TROPICAL MONTANE ORCHIDETUM AT SINGAPORE BOTANIC GARDENS
Feast your eyes with nature's beauty as you stroll in the Singapore Botanic Gardens. When you arrive, do not forget to visit the recently opened Tropical Montane Orchidetum. This Orchidetum spans around 2,480sqm and features the largest collection of high-elevation montane orchids in Asia.
Nestled within the National Orchid Garden, this attraction features whimsical trails from the Secret Ravine to the Sembcorp Cool House. The latter not only brings a delightful escape from the heat, but also emulates the climate at 1,000 m to 2,000 m elevation. This air-conditioned glass house has high ceilings paired with its beautiful array of fauna. Visitors may wander amidst a garden of more than 1,000 species of orchids and hybrids. Apart from these, the Orchidetum has a lot more to offer!
If you are planning to experience this attraction soon, do visit during weekdays or off-peak hours. Strict safety management measures are placed for the well-being of all its visitors. Thus, they employ temporary closures when the maximum capacity of the place is reached.
Good news! Entrance fee is waived for Singaporeans and PRs until April 11, 2021. Nonetheless, the regular ticket prices (*for Singapore residents) are S$5 for adults and S$1 for students or senior citizens. Tickets are free for children under 12.
Address: 1 Cluny Rd, Singapore 259569
Visit nparks.gov.sg/sbg for more details.
#2: LEGO® CERTIFIED STORE (LCS) BRICKS WORLD AT SUNTEC CITY
Whether you are a LEGO® enthusiast or a hobbyist, you will be happy to know that the revamped Bricks World – Suntec City is bigger than ever! During its opening (April 9), this LEGO® Certified Store showcased its unique features such as the Merlion mosaic wall.
The bespoke Merlion mosaic wall was made from 92,160 pieces of LEGO® bricks and was designed by LEGO® Certified Professional Nicholas Foo. Spanning 3.9 meters high and 1.6 meters wide, the Merlion mosaic wall took over 128 hours to complete. Apart from this, visitors may happily spot the hidden Mickey and Minnie Mouse in the display scene. Moreover, younger visitors will be able to enjoy its LEGO® play wall in the future.
Best of all? Its grand opening includes exclusive deals!
Address: 3 Temasek Boulevard, #01-305, West Wing, Suntec City Mall, Singapore 038983
Visit bricksworld.com to build more.
#3: MUSEUM OF ICE CREAM AT DEMPSEY
Amp up your social media game by taking aesthetically pleasing snaps at the Museum of Ice Cream – Singapore. The highly anticipated opening of this colorful museum marks its first outlet outside United States. Singapore Tourism Board (STB) announced that it will be opening by the second half of the year.
As the Museum of Ice Cream graces our shores, you can expect to enter 14 never-before-seen installations. These multi-sensory installations are dedicated to the celebration and experience of enjoying an ice cream. In fact, its American counterpart features the Rainbow Tunnel and the Sprinkle Pool.
It is set to open its sweet doors in August 2021 at a 60,000 sq. ft. property along Dempsey. For the meantime, you can sign up for early ticket access at museumoficecream.com/early-access-sg.
Visit facebook.com/museumoficecreamsg to get the latest scoop!