Image Credits: facebook.com/wildricesg
Do you see your child's potential in acting?
Are you eager to explore a little further with your kid?
You've landed at the right page for we've curated a list of speech and drama academies that will help nurture your child's acting skills and unleash their inner dramatic potential.
Let's dive right in!
Wild Rice Academy
View this post on Instagram
Website: wildrice.com.sg/children
Wild Rice Academy's drama classes release children's creativity and self-expression through holistic drama classes taught by passionate and experienced teachers.
Kids aged 5 to 8 explore storytelling, improvisation, and role-play in a guided environment that develops confidence and social skills, while 9 to 12-year-olds focus more on critical thinking, performance, and self-expression. Using drama as a medium, the classes aim to develop the whole child—body, voice, imagination, and emotions—through a blend of creative play.
A month of 4 to 5 classes costs $600 (early bird price excluding GST), giving your child an opportunity to discover the joys of performance and public speaking in a supportive space.
Centre Stage School of the Arts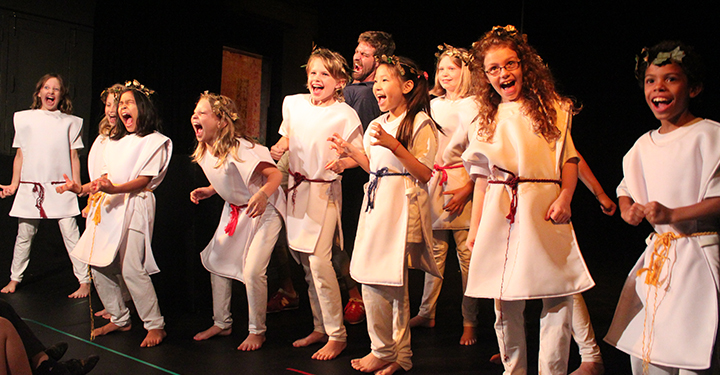 Website: centre-stage.com/home
Founded in 1999 by two passionate actors, Center Stage School of the Arts has spent over two decades nurturing young talent through imaginative drama classes.
Their creative drama program for children ages 3 to 12 aims to develop confidence, communication skills, and an appreciation for literature through play-acting, improvisation, and storytelling.
Little ones as young as 3.5 to 4 start with exploring stories and drama through play, while 4 to 7-year-olds learn preliminary drama skills and gain an appreciation for literature. Kids 8 to 12 work on scenes, monologs, and improvisation to develop physical, vocal, and mental abilities, helping them shine on the real stage.
Whether your child dreams of Broadway or just loves make-believe, this drama academy provides an environment for creativity to blossom through the power of performance. An hour of creative drama class costs $60/session.
Young People's Performing Arts Ensemble (YPPAE)
View this post on Instagram
Website: yppae.org
For kids who live for the stage, the Young People's Performing Arts Ensemble has them covered.
This rare Mandarin theater company gives children a chance to shine through their Voices of Children program. Kids ages 4 and up learn Mandarin through creative drama classes set by age group. They develop linguistic skills, creativity, and self-expression through Confucian-infused theater arts education.
Whether it's a year commitment or their 2-year program for ages 7+, young thespians gain confidence as they learn to bring stories and characters to life through movement, voice, and imagination, all in Mandarin. Children discover joy and purpose through performance, cultivating artistic souls that will prove useful for years to come.
Term fees start from $250 (9 sessions/term; 4 terms/year).
By enrolling your child in one of these speech and drama academies in Singapore, you are opening the doors to one more career possibility. Whether they dream of entering the local scene or standing under the spotlight overseas, these academies will lay the foundation for a successful acting career. And even if they don't, watch their confidence and language fluency skyrocket after a series of such classes 😉