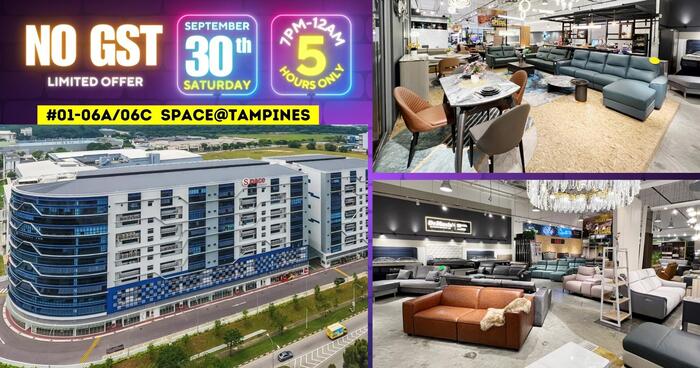 Are you ready for an unforgettable shopping experience that will transform your home? Brace yourself for the First-Ever Nett Price Largest Furniture Midnight Sale at Space @Tampines, coming your way on September 30th, Saturday Night 7 pm to 12 am for an exclusive 5 hours sale with discounts reaching an astonishing 80% off, this event promises to be a furniture lover's dream come true.
When it comes to shopping at Maxi Living at Tampines , there are two standout features that you'll absolutely enjoy. Firstly, they offer a comprehensive range of furniture items, catering to all your needs, including feature walls, sofas, dining tables, and bedroom setups. Secondly, they have conveniently located three outlets across the island, allowing you to personally examine the furniture under one roof, instead of relying on low-quality catalog photos that require squinting..
There are two main things that you will love about shopping at Maxi Living at Tampines they have everything you could want furniture-wise, from feature walls to sofas to dining tables to bedroom set-up. Moreover, they have three outlets around the island where you can check out the furniture in person under a single roof instead of squinting at a photo in a poorly-printed catalog.
On top of that, you're actually paying affordable prices for high-quality furniture. All their furniture comes with warranties and post-sales service for your peace of mind. They deliver straight to your home with a friendly delivery team. Maxihome also provides customisation options so that your wardrobe, sofa, TV feature wall, and dining table look exactly how you envisioned it.
"With their lowest price guaranteed on all furniture, Maxi Home ensures that their prices are lower than the market prices, subject to prevailing terms and conditions."
With discounts of up to 80% off, you can save big on your purchase and get more bang for your buck. And with a range of styles and sizes to choose from, you're sure to find the perfect items to suit your needs and taste.
Don't be worried about the transport costs, Maxi Living at Tampines is offering a free transport claim rebate of up to $30. All you need to do is provide a receipt or screenshot of your Grab ride upon the check out.
Maxi Living at Tampines is absorbing the GST on special items to sweeten the deal even further.
And if you share their original Midnight Special Sale Facebook post, stand a chance to win a free gift for Coffee Table worth up to $599, and many home accessories without any purchase.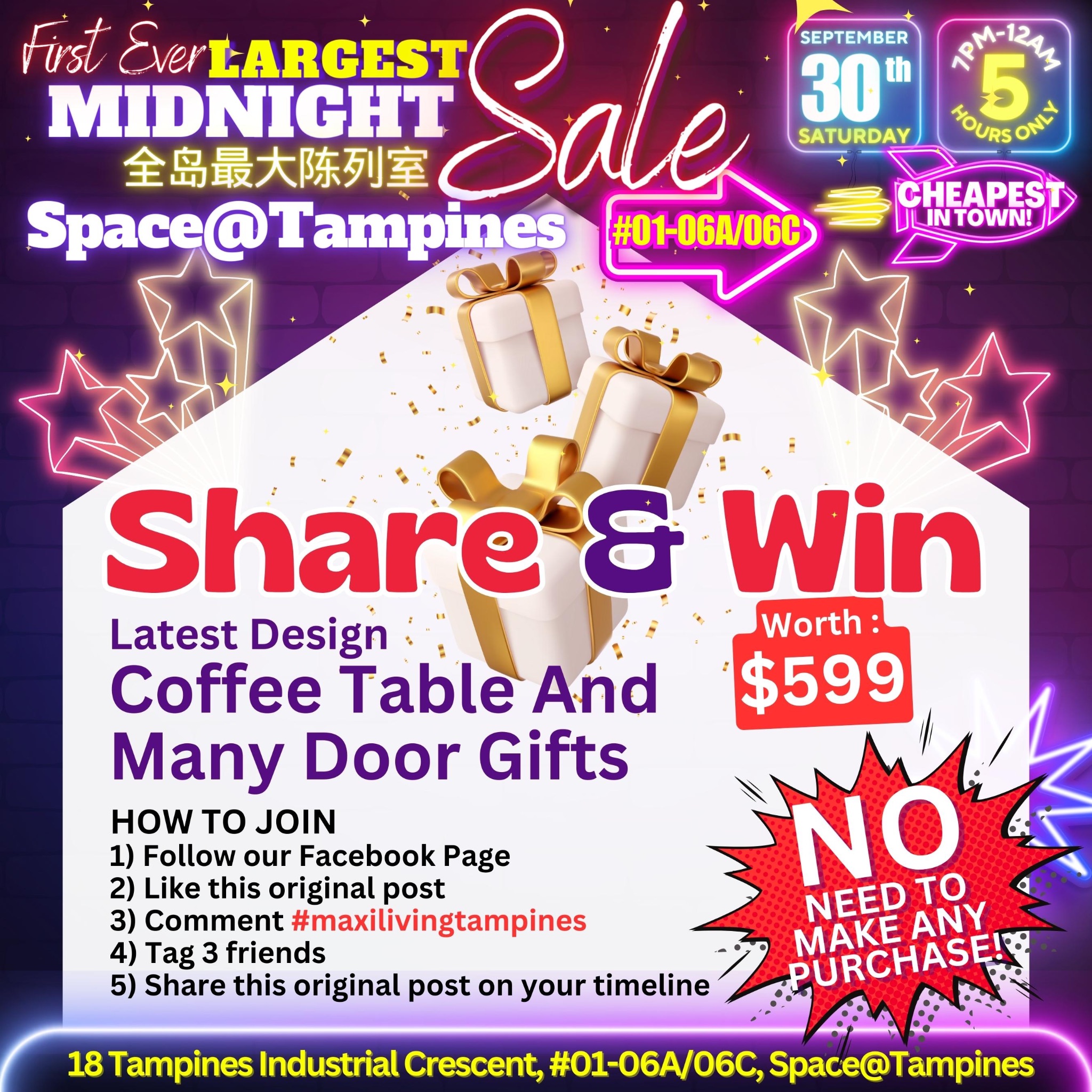 Don't miss out on this incredible opportunity to get a great deal on high-quality furniture. What's more, all prices are negotiable on-site which means you can get an even better price than you see out there. Visit Maxi Living at Tampines at 18 Tampines Industrial Crescent #01-06A/06C 𝐒𝐏𝐀𝐂𝐄@𝐓𝐀𝐌𝐏𝐈𝐍𝐄𝐒 Singapore 528605
 and take advantage of their midnight special sale.
EVERYTHING MUST GO!!!
All Cooling mattresses up to 80% OFF
All Hotel Series mattresses up to 80% OFF
All Designer bed frames are up to 80% OFF
All Storage beds & pull out beds up to 80% OFF
All sizes are available S/SS/Q/K
Here are the benefits you can expect to enjoy:
GST waive guarantee only for special items
Warranty up to 20 years*
Free delivery and installation* only for special items
0% Interest Instalment Plan up to 12* Months!
FREE Taxi claim upon checkout
Buy Now, Pay Later (GRAB, ATOME)
Address:
18 Tampines Industrial Crescent #01-06A/06C 𝐒𝐏𝐀𝐂𝐄@𝐓𝐀𝐌𝐏𝐈𝐍𝐄𝐒 Singapore 528605

Event Date : 30th Sept 2023
Event Time: Saturday Night 7 pm to 12 am
Nearest MRT Station: Tampines
Visit Maxi Home website: www.maxihome.com.sg
Whatsapp/Call 8375 2919 to book an appointment at your convenient timing to visit the shop.