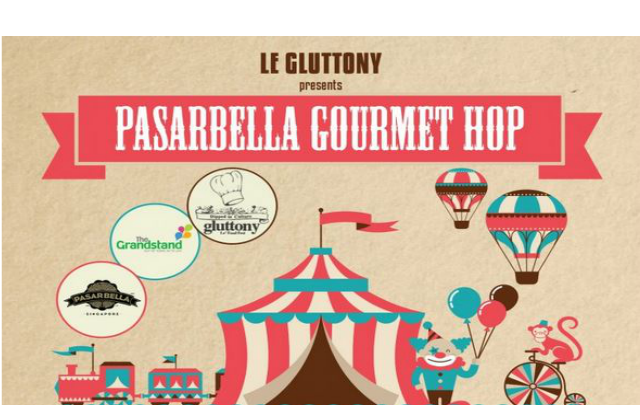 Foodies, spend your long weekend with an exciting event coming up on 4 – 5 April 2015.
Le Gluttony has partnered with PasarBella to bring you a two-day food and art festival.
You can expect to feast on a large varieties of gourmet foods paired with fine wines at The Grandstand. There are also live music performances, local film screening and carnival games held during the event, so you are promised a day long of fun!
Gastronomes got to try this Valencian rice dish, Paella, by Le Patio with their generous serving of delights from the sea. Look at how those gigantic mussels and prawns sit nicely simmering in that gigantic wok!
Well, i admit that i fall prey to temptation after i see his golden roasted Iberico Pork by Bistro Bontintin.
If you have a sweeth tooth, there are also sweet delights such as the Cakes from Laman's Delight, Gummies from Victoria 1938 and Mini Macarons by Bonheur Patisserie.
The aroma of the coffee beans from the Dutch Colony Coffee will lead you to where it is for a cup of latte or cappuccino.
There are many more gourmet food to look out for, check out the list of traders on Le Gluttony's website here: http://legluttony.com/pasarbellagourmethop
Admission is free to the public and you can buy your tickets on the festive ground for $50. Your Gourmet Hop Pass has 5 coupons which allows you to redeem a promotional item from each participating traders.
Now you can buy your early bird passes at $45 from PEATIX and save $5! Why pay more?
*The pass can also be bought using the Sugar app which is going at half the price. However, there is only one pass available each day and it is usually snapped up within seconds so i don't recommend waiting for it as the festival draws nearer.
Read Also: How You Can Dine From $0.30 With The Sugar App
Mark your calendar and see you there.
Location
PasarBella
The Grandstand
200 Turf Club Rd, 287994
6887 0077
Nearest MRT station: Botanic Gardens
Buses: 66,67,151,154,156, 170, 171 from Botanic Gardens MRT Station
Shuttle Service operates from Bukit Timah, Clementi MRT, Toa Payoh MRT & Botanic Gardens MRT