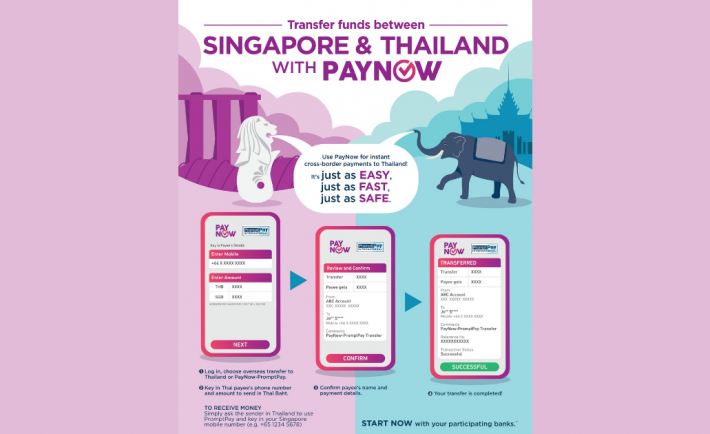 The pandemic has seen a fluctuating curve in terms of recovery, and no one knows exactly when we can cross borders to visit our loved ones overseas.
Financially, it can be worrying too. Thanks to Singapore's PayNow and Thailand's PromptPay partnership, users can now transfer funds up to S$1,000 or THB25,000 daily across the two countries. All you need is just a mobile number.
Real-time payment systems linkage
The Monetary Authority of Singapore (MAS) and the Bank of Thailand (BOT) shared that the transfers will be done in just minutes. This presents a much faster solution when compared to other cross-border remittance solutions.
Those who've sent money overseas before know that it takes up to two working days to complete a typical transfer process.
On our sunny island, the participating banks are the big names we know – DBS, UOB, and OCBC. In Thailand, there are four financial institutions – Bangkok Bank, Kasikornbank, Krung Thai Bank, and The Siam Commercial Bank.
What are the fees?
Convenience comes with a price to pay. But the MAS and BOT noted that the fees would be transparent and affordably priced. In addition, users will know the exact figure before proceeding with the transfers.
"Senders will also be able to view the applicable foreign exchange charges prior to sending their funds, with these rates benchmarked closely to prevailing market rates," the central banks said.
ASEAN Payment Connectivity
As part of the ASEAN Payment Connectivity initiation two years ago, the PayNow-PromptPay collaboration has come into effect. This is in line with the overall aim to bring about more robust cross-border payment arrangements.
MAS managing director Ravi Menon mentioned that the PayNow-PromptPay linkage is only the beginning. Plans are in place to scale the system to involve other participants and even business transactions.
"MAS' shared objective with BOT is to work with our ASEAN counterparts to expand this bilateral linkage into a network of linked retail payment systems across ASEAN," Menon commented.
To that, UOB chief executive officer Wee Ee Cheong added that the PayNow-PromptPay linkage is a stepping stone to connect payment systems across ASEAN as we progress. This means that possibly more customers can transfer funds to their counterparts easily. They can also pay for goods and services within a few taps or clicks conveniently.
In fact, Thailand is already a step ahead with QR cross-border payment arrangements with other countries. This includes Laos, Japan, Vietnam, and Cambodia.
"This service by the MAS and the BOT will effectively address customers' long standing pain points in the area of cross-border transfers and remittances including long transaction times and high costs," said BOT governor Sethaput Suthiwartnarueput.
Not using PayNow? You might want to visit abs.org.sg/consumer-banking/pay-now for more information.