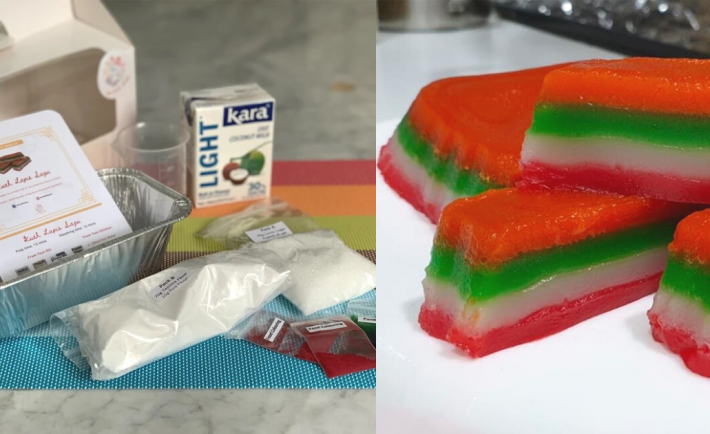 Image Credits: madebyyou.sg
Are you still staying home for the most part of the weekend? Running out of things to do? Up your stay-home experience with activity kits from madebyyou.sg! The platform is an extension of Style Theory, a clothes rental subscription platform.
There are kits in the category of craft, cook, and kid-friendly activities. At the time of writing, the kits are going from 16.90 SGD. We took a browse through their website and found some interesting kits like making kueh lapis. Upon your purchase, you can immediately access the recipes or tutorials online. You will receive your physical kit in seven days!
#1: KUEH LAPIS SAGU KIT
Some of us identify kueh lapis by its Chinese name, 九层糕, which literally translates to nine-layer cake. This multi-layered sweet treat actually originates from Indonesia and is a type of Peranakan food.
Instead of buying ready-made ones for snacks, how about doing it yourself? This is a kid-friendly activity so if you're thinking of keeping the little ones occupied at home, here's one solution.
What's in the kit?
Easy-to-follow pictorial instructions
Fresh ingredients
A measuring cup
Foil tray
Kueh Lapis Sagu Kit's price: 32 SGD
#2: BRUSH CALLIGRAPHY KIT / MODERN CALLIGRAPHY KIT
I've personally attended a brush calligraphy class before and thoroughly enjoyed the experience. Thanks to The Letter J Supply, you can now pick-up a new skill at the comfort of home.
The Letter J Supply has two types of kits you can choose from – the brush calligraphy and modern calligraphy. Both activity kits are suitable for teenagers aged 12 and above. It really requires patience as you attempt to master the basic strokes. But once you look at the finished product, you will be oh-so-proud of yourself!
What's in the kit? (brush calligraphy)
A brush calligraphy booklet
Palette and brush pen
Two bottles of ecoline ink
Three sheets of watercolour paper
What's in the kit? (modern calligraphy)
A modern calligraphy booklet
Pen holder and pointed nibs
A bottle of sumi ink
Brush Calligraphy Kit's price: 68 SGD
Modern Calligraphy Kit's price: 68 SGD
#3: STANDARD BEGINNER COFFEE KIT
Hook Coffee will help you start your day right with its beginner's coffee kit. If you have a slight coffee intolerance like I do (but still love coffee the same), this kit would be a life-saver. This is because it comes with a bag of Sweet Bundchen.
Sweet Bundchen is one of Hook Coffee's best sellers and it's not hard to understand why. With a little milk added, it might remind you of Kinder Buenos. You will get a taste combination of rich milk chocolates and nutty hazelnuts. How can we say no?
What's in the kit?
A V60 dripper
Filter paper
A bag of Sweet Bundchen coffee (200g)
Standard Beginner Coffee Kit's price: $32.20
For more activity kits, shop via this link. Have a good time!