You love buffet? Head over to Todai International buffet for their 4th anniversary birthday.
Whenever you go for a buffet feast, always check out if the restaurants serve crabs and oysters as it will determine if it is worth the price that you are going for.
Todai, touted as The Mother Of All Seafood Buffets, serve incredibly fresh Alaskan King Crabs, Snow Crabs, shucked Oysters, assorted Sashimi, Prawns, Mussels and Scallops in their seafood section.
Let's not forget about the roast and hot food, Korean food and pastry section that are waiting to impress you.
Snow crabs look simply irresistable.
Freshly shucked oysters in the seafood section.
Churrasco section features roasts and oven-grilled skewers.
Full review from Catherine Ling who blogs at Camemberu.com here: http://goo.gl/9FN3e4
Read reviews about Todai from Hungrygowhere here: http://goo.gl/4OJISU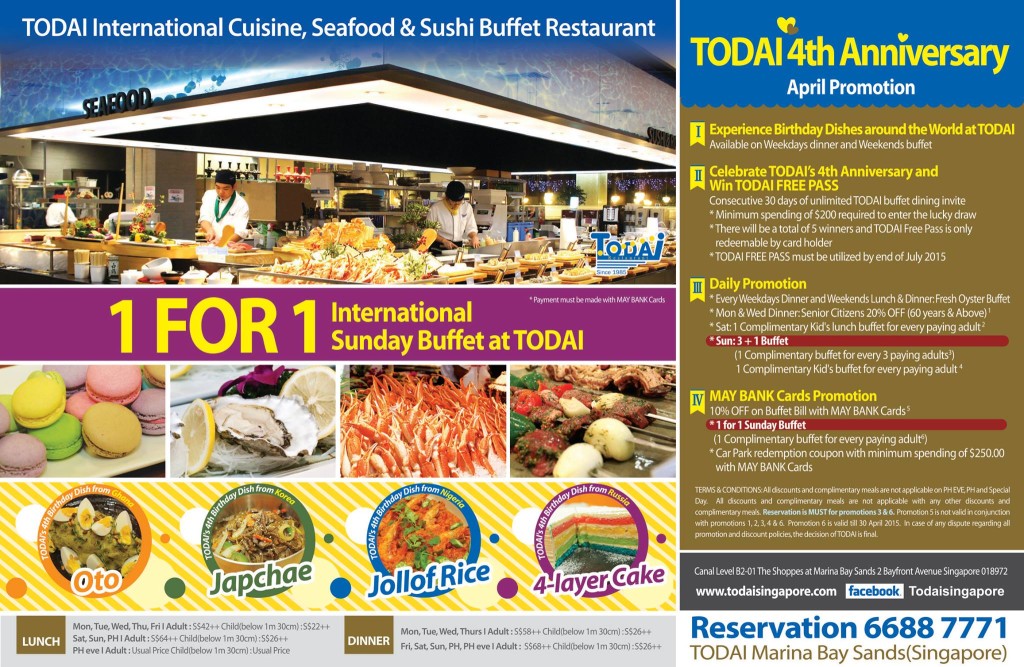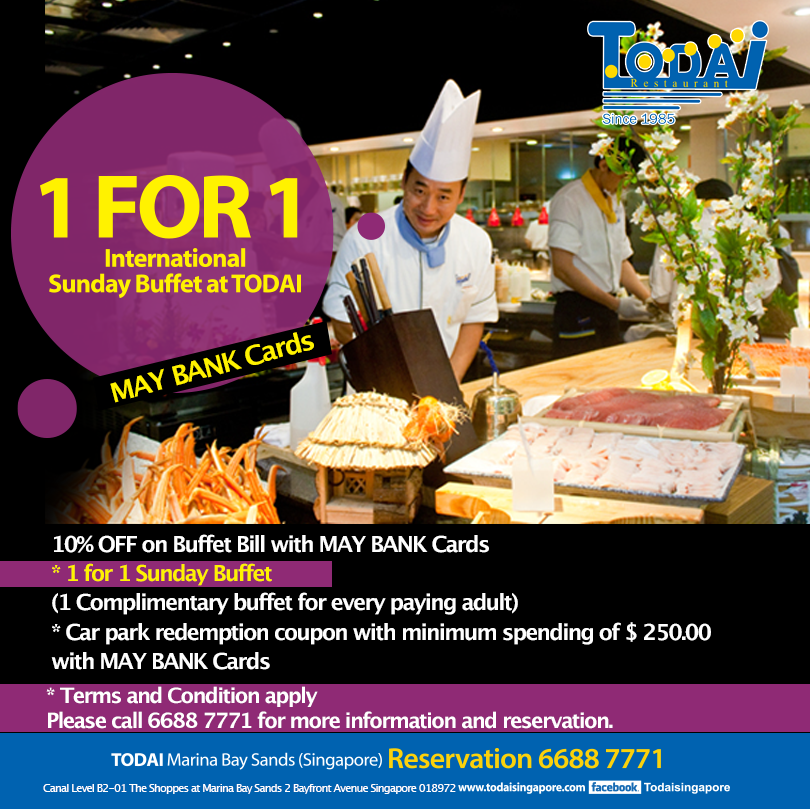 They are currently having different promotions in their 4th anniversary. Besides their promotion of 3+1 buffet, Maybank Cardmembers enjoys a 1-for-1 buffet on Sunday.
Day
Monday to Thurs
Friday
Sat/Sun/PH/Eve of PH
Lunch
Adult $42++/Child (Below 1m 30cm) $22++
 Adult $42++/ (Child Below 1m 30cm) $22++
Adult $64++/ (Child Below 1m 30cm) $26++
Dinner
  Adult $58++/Child (Below 1m 30cm) $26++
 Adult $68++/Child (Below 1m 30cm) $26++
 Adult $68++/Child (Below 1m 30cm) $26++
Make your reservation online here: http://goo.gl/AAjiYx
Todai Restaurant
2 Bayfront Avenue, #B2-01 The Shoppes at Marina Bay Sands, 018972
6688 7771
(Note: Currently they have only open the month of April for booking, but they are fully booked when i last checked on 14 Apr 2015. Maybank has informed that Todai have yet to open up May for booking, so if you want a slot in May it is your due diligence to check back with Todai as the date draws nearer. You got to be fast though as they are fully booked as soon as the slots are opened)