Calling out to all jewellery lovers, the biggest jewellery warehouse sale is happening from 28 – 31 March 2019! This is definitely not a sale to be missed, as one can expect 1-for-1 solitaires with prices as low as $499, exclusive Brilliant Rose rings at 1-for-1, and a pair of wedding bands with prices starting from $299 for brands like SK Jewellery, Love & Co. and Soo Kee Jewellery! If you have been hesitating to bling yourself due to the price tag, now may be a good time to bag a good deal!
There will definitely be a huge variety of jewellery to choose from at this warehouse sale, and to hype you up for this sale, here is some information on the promotions and deals running throughout their sales period!
Buy 1 Get 1 Free For Solitaire, Wedding Bands And Snoopy Jewellery
Yes! Pay 2 for the price of 1.
Expect 1-for-1 wedding bands from over 300 designs with choices of white gold, platinum and rose gold! If you have been hunting for the perfect wedding bands for you and your partner, you may be able to get one you like at the warehouse sale at a fraction of what you had intended to pay for!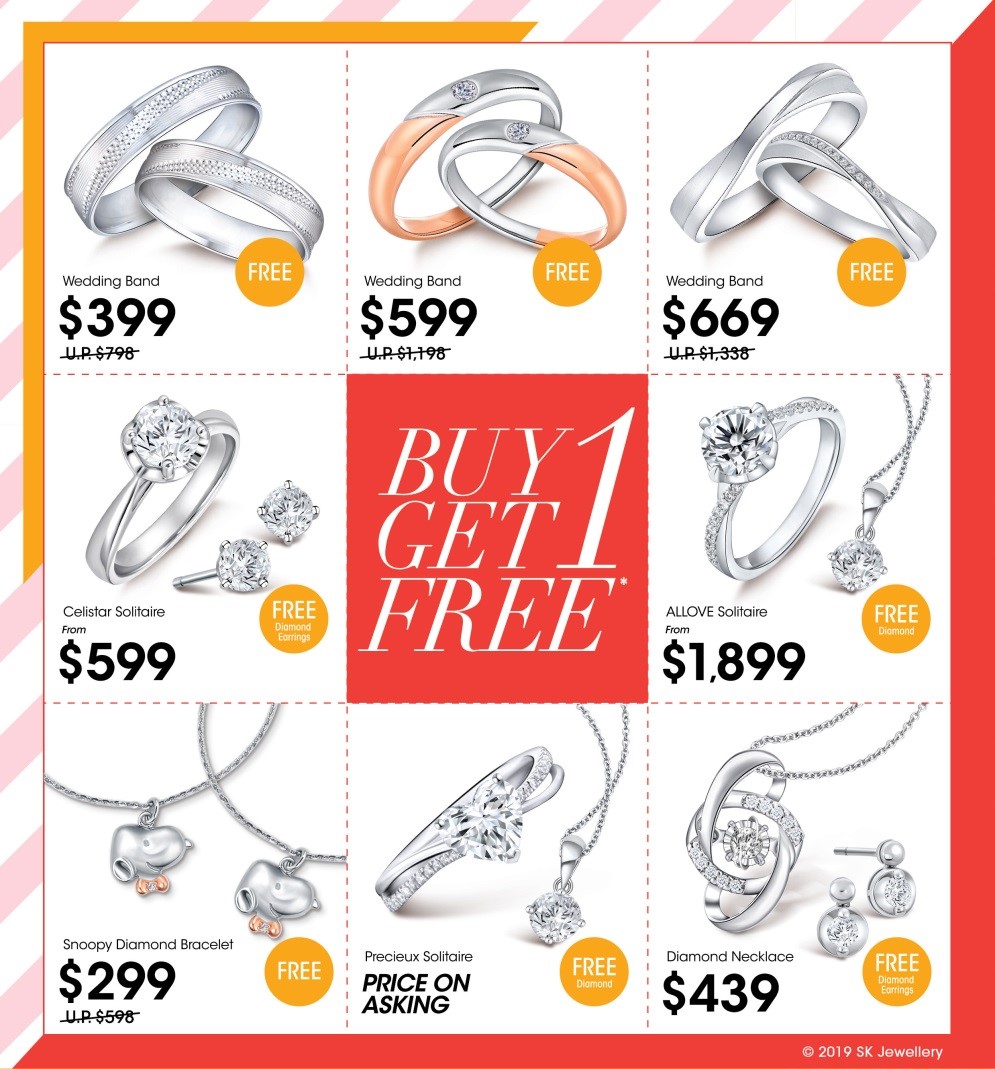 Solitaires will also be going for 1-for-1 and you get to pick branded diamonds such as Brilliant Rose, and ALLOVE. Diamonds are definitely a girl's best friend, and a perfect accessory for anyone to shine bright like a diamond every day. What's more, you will be getting not 1, but 2!
For snoopy fans, you will also be thrilled to know that you can also get 1-for-1 Snoopy diamond jewellery during this sale! Choose from necklaces, earrings, rings and pendants – these jewelleries are just perfect for snoopy fans, and even for kids' birthdays or gifts, with prices starting from as low as $199.
To give you a better understanding of how much you can actually save with the 1-for-1 promotion, here is a table drawn up with the promotion you can find at the warehouse sale and the actual savings:

Daily Super Deals
Definitely not to be missed.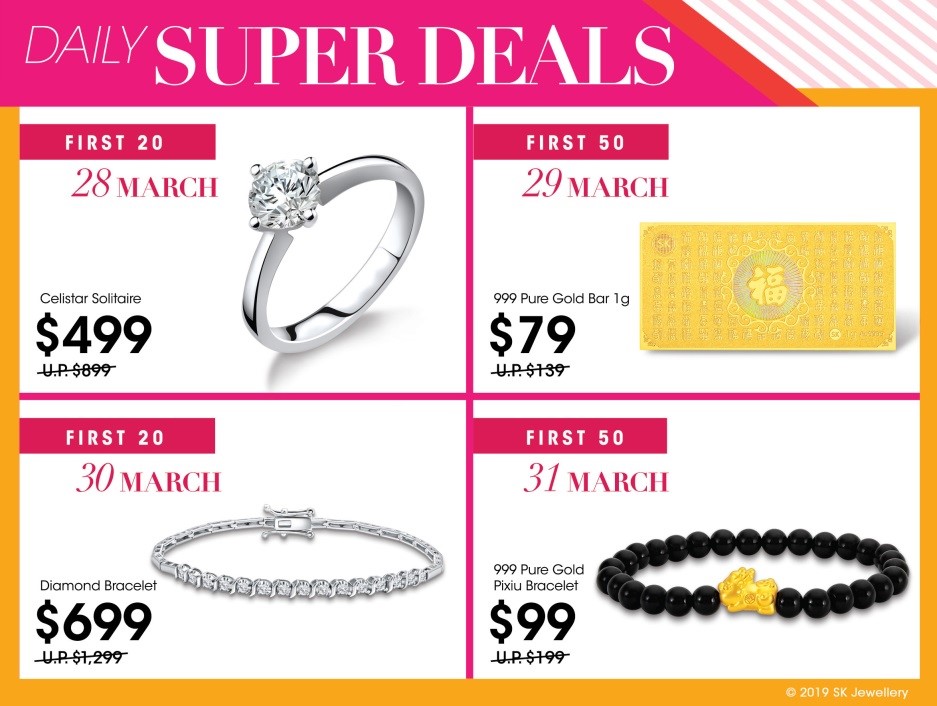 Amazing deals will be running between 28 – 31 March 2019, for early birds only! These Super Deals offers are crazily priced – and would definitely make you want to get up bright and early to visit SK Jewellery's warehouse sale. Be sure to not miss out on the daily limited star buys listed below!
Up To 70% Off Designer Jewellery And Other Promotions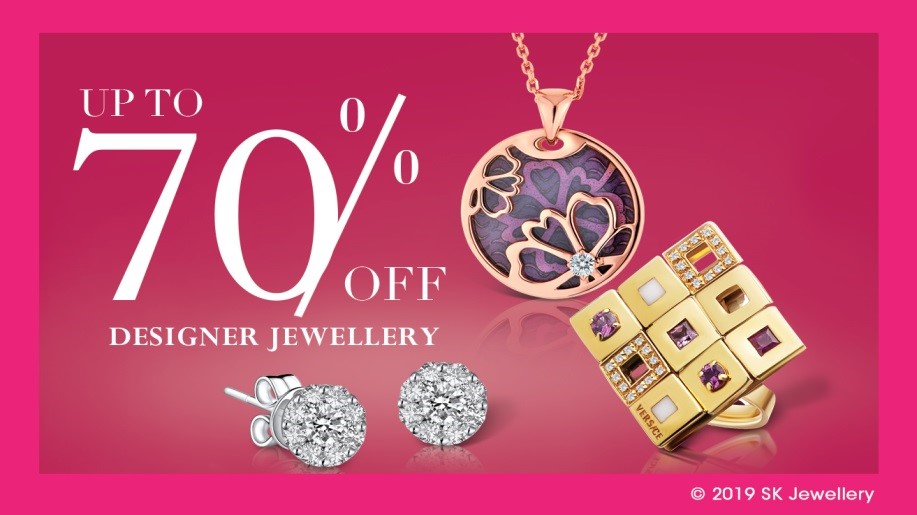 Besides their house brands, other brands like Versace and Korloff would also have promotions running at the warehouse sale. If you have been eyeing any jewellery pieces from them, or just love these brands, be sure to head down to take a look!
There will also be other jewellery promotions besides the ones stated above. Deals for gold bars would be going for as low as $79, and even free workmanship on selected 3D 999 Pure Gold Bars. Diamond jewellery deals starts from as low as $99 (Grab a diamond earring for just $99!!), and those who purchase would also get to receive exciting freebies such as diamond earrings, 999 pure gold coin and more. There will also be 10% + 5% off workmanship on 999 pure gold jewelleries!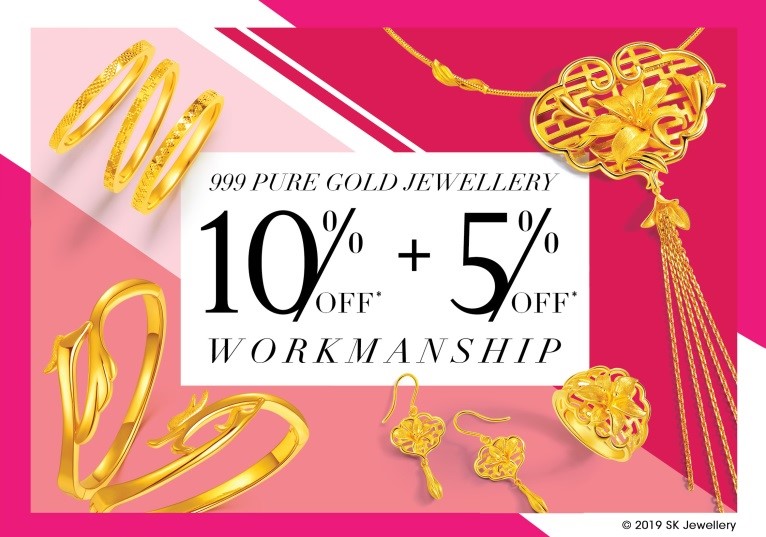 Aside from these amazing discounts, OCBC Cardholders will also receive free diamond earrings with any purchase from their Dancing Star collection, and Alipay shoppers would also enjoy 10% off workmanship on Gold Legacy collection! Be sure to utilise your benefits if you have one of the abovementioned cards! Also, to make your visit even sweeter, there will be free parking available for those who are driving down to SK Jewellery's warehouse sale too!
So, what are you waiting for? Head down now to the biggest jewellery warehouse sale!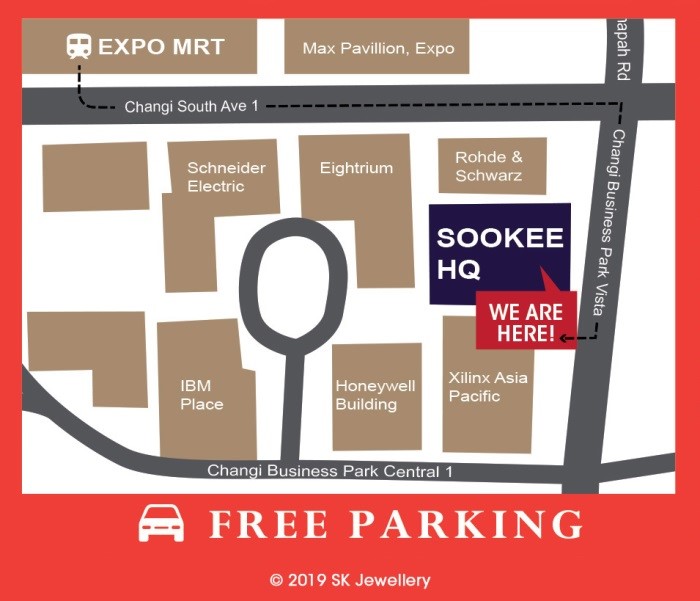 Event Date & Time: 28 – 31 March, 10.30AM – 9PM
Address: Sookee HQ, 7 Changi Business Park Vista, Singapore 486042
Nearest MRT: Expo Station