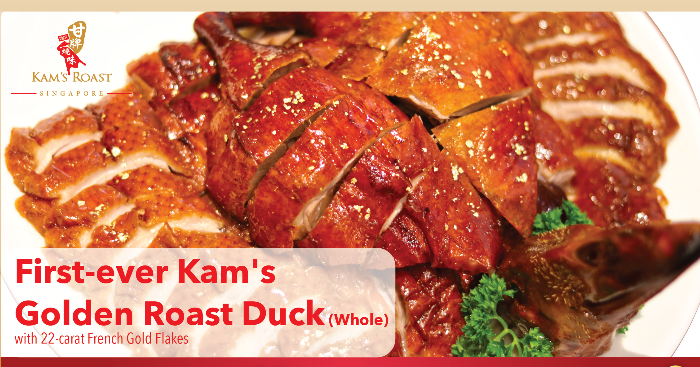 Kam's Roast is proud to introduce Kam's Roast Golden Duck (贺年金鸭) – the-first-of-its-kind dish in Singapore!
The duck is prepared with Kam's Roast's secret marinade, roasted to perfection, and then flecked with the golden flakes for an aesthetically pleasing sparkle.
This auspicious dish is a symbol of abundance, wealth and luck and makes a perfect gift for corporate partners and loved ones.
Kam's Roast Chinese New Year Takeaway Menu is also Open for Pre-Order Now! Collection can be made on the eve of Chinese New Year or from the 2nd to the 15th Day (17 Feb to 2 Mar 2018) of the Lunar New Year calendar. Usher in the Year of the Dog with our new takeaway set of Kam's Roast Prosperity Trio at a special takeaway package price at $108! (Usual ala carte price: $123.60) This showcases Kam's Roast whole signature roast duck, and regular portions of exquisite Iberico Char Siu and super crispy Roast Pork.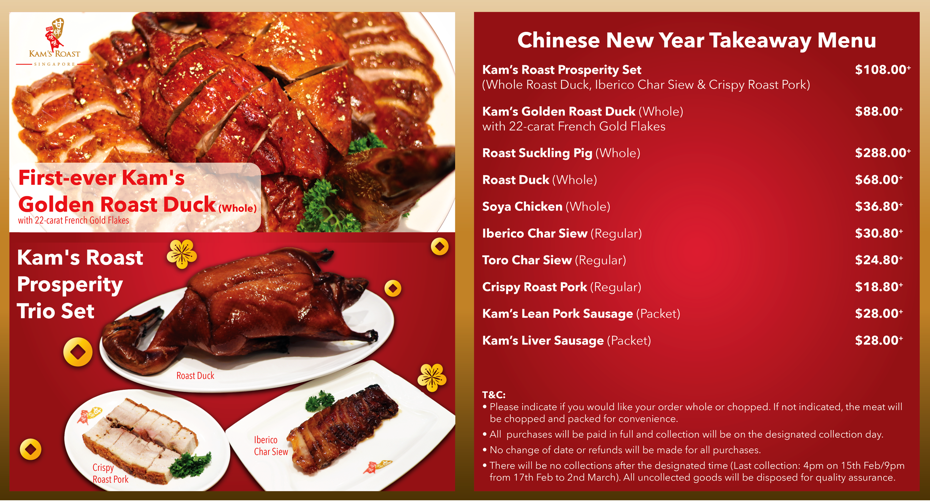 Pre-orders can be made online at Chope: https://cho.pe/kamstakeaway or in person at the restaurant.
Kam's Roast Singapore is offering the same quality and recipe of roast meats as Kam's Roast Goose, the flagship outlet in Hong Kong which was awarded a Michelin Star within 4 months of opening in 2015 and has kept its star every year since.