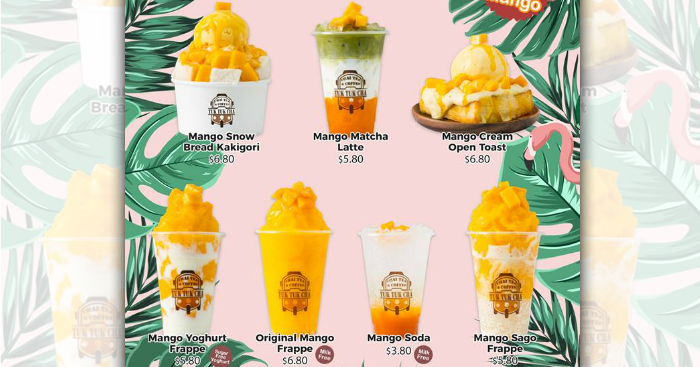 Let's Tango with Flamangoes!
Check out our latest range of seasonal line-ups made from REAL mangoes.
Featuring Mango Matcha Latte, Mango Snow Bread Kakigori, Mango Cream Open Toast and many more.
Available at all Tuk Tuk Cha stores near you
Choose from the following mango drinks and desserts!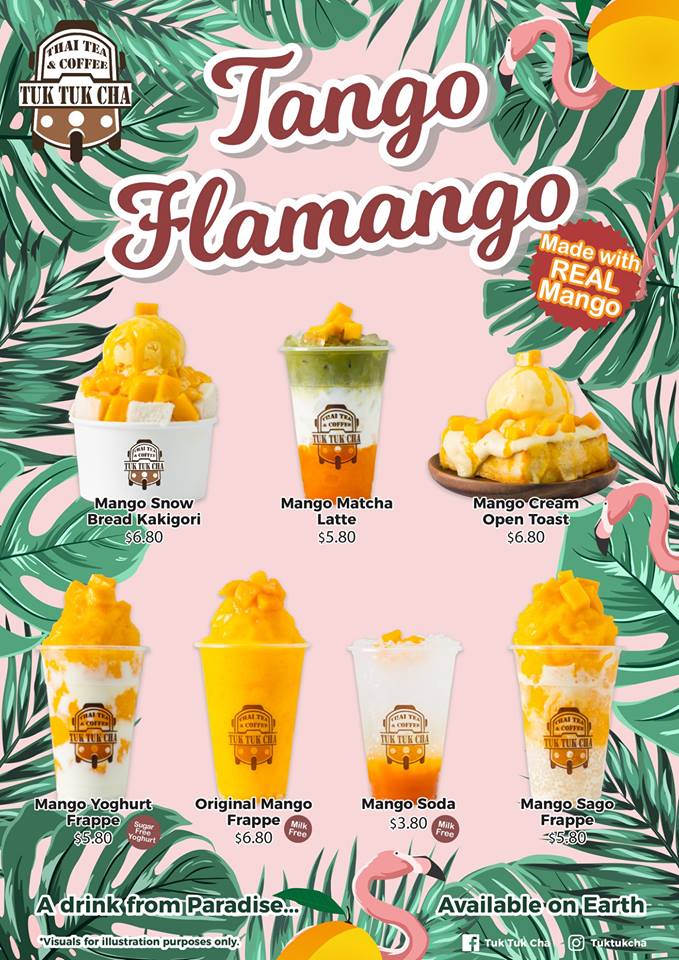 Share this news with your friends and loved ones!
Outlets
1. SUN PLAZA #01-15
(At the main entrance)
Monday – Thursday : 10am – 10pm
Friday – Sunday. : 10am – 10:30pm
Last Noodle Order : 60 mins before closing
Last Toast Order : 30 mins before closing
Last Drink Order : until closing
2. RAFFLES CITY #B2-16
(Near to escalator to B2 to Esplanade MRT)
Monday – Friday : 8am – 9pm
Sat – Sun : 9am – 9pm
Last Food Order : 60 mins before closing
Last Drink Order : 30 mins before closing
3. TAMPINES 1 #B1-K2
(Beside Ya Kun Toast)
Monday – Sunday : 10am – 9:30pm
Last Food Order : 15 mins before closing
Last Drink Order : until closing
4. JUNCTION 8 #02-20A/21
(Opposite Regina)
Monday – Sunday : 10am – 10pm
Last Food Order : 60 mins before closing
Last Drink Order : 30 mins before closing
5. JURONG POINT #K9/K10
(Between JP1 and JP2)
Monday – Sunday : 10am – 10pm
Last Food Order : 45 mins before closing
Last Drink Order : 30 mins before closing
6. [email protected] #B3-54
Monday – Sunday : 10am – 10pm
Last Food Order : 15 mins before closing
Last Drink Order : until closing
7. WATERWAY POINT #B1-K8
(B1, open space)
Monday – Sunday : 10am – 10:30pm
Last Food Order : 45 mins before closing
Last Drink Order : 30 mins before closing
8. NEX #02-12
Sunday – Thursday : 10am – 10pm
Friday – Saturday : 10am – 10:30pm
Last Food Order : 45 mins before closing
Last Drink Order : 30 mins before closing
9. HILLION MALL #01-03/04
(Beside Level 1 Entrance / Taxi Stand)
Monday – Thursday : 10:30am – 10pm
Friday – Sunday & P.H. : 10:30am – 10:30pm
Last Food Order : 45 mins before closing
Last Drink Order : 30 mins before closing
10. BUGIS JUNCTION #M01-K1
(Open space, facing Victoria Street)
Monday – Sunday : 10am – 10pm
Last Food Order : 60 mins before closing
Last Drink Order : 30 mins before closing
11. HARBOURFRONT CENTRE #02-01/02
(Beside DBS)
Monday – Friday : 8am – 10pm
Saturday, Sunday, P.H. : 9am – 10pm
Last Noodle Order : 90 mins before closing
Last Food Order : 45 mins before closing
Last Drink Order : 30 mins before closing