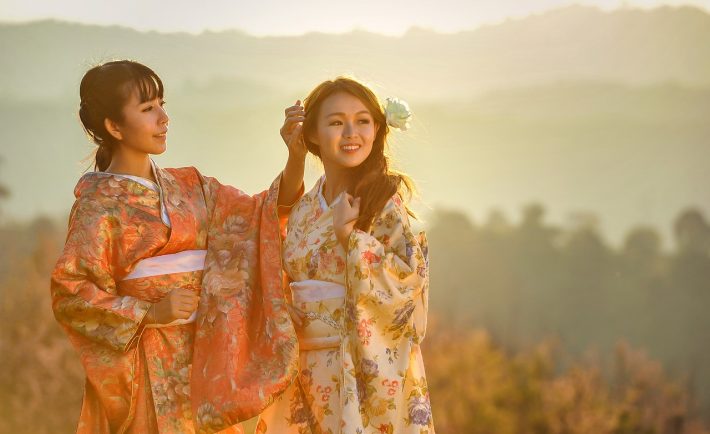 Image Credits: pixabay.com
The global interest given to Japanese companies such as Shu Uemera and Shiseido paved way for the entrance of lesser-known Japanese brands. More and more Singaporeans are embracing these imported products into their vanity kits. You see, Japanese beauty products shine above the rest due to its adorable packaging and unique design.
The idea is perfectly encapsulated by Ms. Anna-Marie Solowij – the BeautyMART Co-Founder. She once said: "Their cosmetics and skincare products are exciting because they're novel and exotic and they're popular thanks to their high quality and innovation, for the same reason as their cars and electronics before them."
On that note, here are 5 Japanese Beauty Products That Are Worth Every Dollar:
1. DHC DEEP CLEANSING OIL
Get it at Watsons Singapore for a discounted price of S$30.70.
A beauty product that is ever-present in the "best" lists, DHC Deep Cleansing Oil has a water-soluble formula to completely rinse any pore-clogging materials from your skin. Let say you came home from a formal wedding ceremony. Massage the product to your face using your fingertips to remove your waterproof mascara and wipe off other clingy cosmetics. You will never see a greasy residue again!
The formula is suitable for people with sensitive skin as it was made from natural ingredients and is free from Paraben or fragrance.
2. BIORÉ CLEANSING WATER MAKEUP REMOVAL

Get it at Watsons Singapore for S$18.90.
Bioré Skincare made a bold claim when they highlighted that the Cleansing Water Makeup Removal can lift off a significant amount of makeup with just one swipe! I am not entirely sure that one swipe is enough as it depends on your skin type. However, this remover will easily cleanse your face from your pores to your lashes. This is because it is enriched with natural mineral water from the Northern Japanese Alps.
The formula's weak acidity proves that it is gentle and safe on the skin. Thus, it is suitable for young people.
3. MUJI COSMETIC PAPER
Get it at Muji Singapore branches for S$1.90. 
When I was in secondary school, oil blotting papers were all the rage! It originates from Japan and has been use for years by Geisha and actors (to freshen their faces before their performances). The traditional version was made from Abaca leaf, but modern technology is able to make it from pulp or rice paper. Muji's version is made from the former.
The thinness of Muji's Cosmetic Paper makes it more efficient at absorbing oil. Furthermore, the product and its packaging is environmentally friendly. Feel free to put it on the composting bin!
4. SUMI HAIGOU SETTUKEN CHARCOAL BAR SOAP
Get it at Qoo10 Singapore for about S$23.79. 
Putting black charcoal on your face may seem "unglam", using this ingredient properly can provide many health benefits. Some of its benefits include minimizing the pores, soothing skin irritations, and cleansing oily skin. A top soap infused with activated charcoal is the Sumi Haigou Settuken Charcoal Bar Soap.
This bar soap has powder, which comes from the Kishu region of Japan. The makers begin by burning and cooling oak branches for several days. The end result is an activated charcoal powder that users claim to make their skin brighter and more even-toned. See for yourself!
5. TSUBAKI DAMAGE CARE CONDITIONER
Get it at Watsons Singapore for a discounted price of S$14.37.
Shiseido Company Limited houses a myriad of skin care, hair care, cosmetics, and fragrance brands under its roof. As one of the oldest cosmetic companies in the world, Shiseido introduced Tsubaki as its master for hair. The Tsubaki Damage Care Conditioner relies on age-old ingredients such as the Japanese camellia oil.
It is high in oleic acid to moisturize and strengthen your hair strands. It is also full of antioxidants to beat free-radical damage. Regularly using this products will help you achieve a softer and shinier "crown".