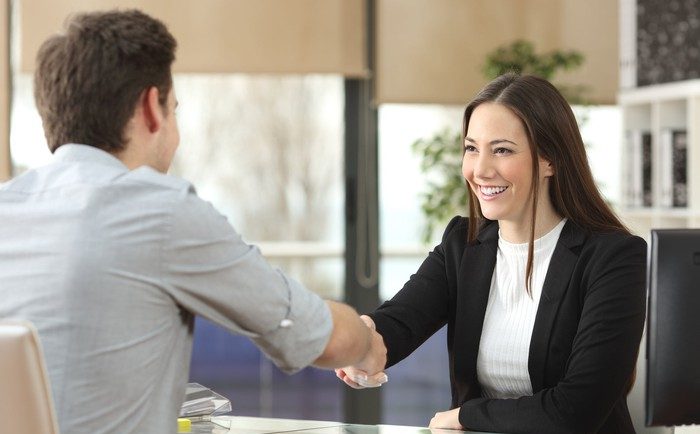 Image Credits: fool.com
You've scheduled an interview for your dream job? Congratulations!
Now, it's time to focus on making a remarkable impression.
But what if you're not sure what's appropriate and what is not? Allow us to share some tips on how to make a lasting impression at your next job interview.
Make sure you are well-rested
The night before your job interview, make sure you get a good night's sleep. Being well-rested will help you look and feel your best, and you will be less likely to feel stressed. Before leaving for the interview, take a few deep breaths and remind yourself that you are prepared and you have nothing to worry about.
Arrive early and dress for success
One of the most significant things you can do to make a pleasing impression at your job interview is to arrive early. Not only will this show that you value punctuality, but it also gives you a chance to calm your nerves and get settled in before the interview starts.
Other than arriving early, another key factor in making a great first impression is dressing the part. It's necessary to wear something that makes you feel confident and professional. For men, this might mean a shirt and tie, while women may want to choose a skirt or formal slacks with a classic blouse.
Be prepared to answer common questions
Are you prepared to answer the most common questions and beyond? Here are a few suggestions:
Prepare and practice your answers to common questions.

Do your research. Familiarize yourself with the company's history, values, and products.

Be yourself! Most interviewers want to get to know you better and see if you would be a good fit for the company.
Have questions of your own for the interviewer
One of the fundamental methods to make a lasting impression during a job interview is to ask questions of your own. This shows the interviewer that you're interested in the role and that you've done your necessary prep. It also helps to build a rapport and makes you appear more engaged in the conversation.
Some smart questions to ask include:
What are the long-term goals for this role?

How would you describe the company's culture?

What are the biggest challenges faced by this department?

What are the most prominent projects this team is working on right now?
Never ever forget to follow up after the interview
Just landing the job interview of your dreams is not enough. Now's the time to seal the deal! One of the most crucial things you can do to make a distinguished impression is to follow up after the meeting.
Thank the interviewer for their time, reiterate your interest in the job, and mention anything you may have forgotten to mention during the interview. This will leave a positive final impression and show that you're serious about the position.
As we close, don't underestimate the importance of making a fabulous first impression. As mentioned earlier, be sure to arrive on time because being punctual is not only respectful but also reveals your time management skills. And even if the company has a more casual dress code, it's always best to err on the side of professionalism. Also, do your due research on the company and come up with questions to ask your interviewer. Once you've done all that, all that's left to do is be genuine and let your personality shine!