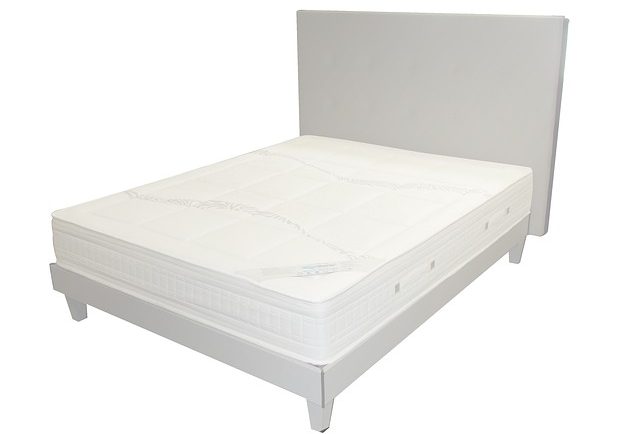 Image Credits: pixabay.com
One of the most important things that you have to consider when moving to a new home is finding the right mattress for your bedroom. The right mattress that will provide you a well-rested sleep is something that we all need nowadays given the hustle and bustle that we face every single day.
However, for younger new homeowners, this is one of the purchases that we don't take much time in considering. We often have the thinking, 'I'll settle for the cheap one as long as I'm able to sleep on it".
But did you know that having this line of thinking can really affect your daily lives? This may sound weird at first, but have you thought of just how much time we actually spend sleeping? According to studies, in an average lifetime, a person would spend around 24-26 years sleeping.
Knowing the actual numbers would make you think again about finding the right mattress. Which then leads us to the question: How should new homeowners choose their mattress?
In this article, we are going to look into the different factors that you should consider when choosing a new mattress for your new home. We will then identify the best places where you can get your next best mattress.
Are cheap mattresses any good?
There are times when shopping for cheap items makes you thrifty and there are times it won't. When it comes to shopping for mattresses, it would be the latter. This is one example of "getting what you pay for" especially for cheap and non-branded mattresses that cost around $500.
Cheaper mattresses provide minimal comfort and tend to wear out fast when compared to branded mattresses. Most of these are the innerspring mattress types and often lose their quality within just months.
Still, if you are on a tight budget and really need to get a cheaper mattress, then the best thing that you can do is to make sure that you read customer reviews as much as you can. In this way, you will have an idea which would be the best one that can last you a bit longer.
But if you are one of those who would like to get your money's worth, opt for quality branded mattresses. These mattresses are made with high quality and durable materials which give them a longer lifespan. A branded mattress, unlike their cheap counterparts, can last up to 10 years, which would actually save you money in the long run since you won't have to change mattresses every 2-3 years.
What are the different mattress types to choose from?
If you are still torn and vaguely have an idea on what mattress you should buy for your new home, now is the tie to introduce you to the different types of mattresses around. Each mattress type provides different levels of comfort and support—two of the most important things that you should look for.
 Innerspring mattresses
This type of mattress are the traditional ones that have been around for a long time and make use of coil type springs all throughout the mattress area. It provides a springy and bouncy feel to the mattress but tend to create some noise when the mattress has been used for a long time.
Standard innerspring mattresses are the cheapest types around since they are made with lesser materials and wear out easily compared to other types. If you have back problems, an innerspring mattress would not be your best choice since they provide minimal support and tend to "bounce" with your every movement.
If you will also be sharing your bed with someone, an innerspring mattress can be annoying eventually since you will feel every movement while sleeping. Light sleepers tend t have difficulty in having a good sleep in innerspring mattresses since not only do they lack support, they bounce with every movement that you make.
Latex mattresses
Latex mattresses are a great choice for homeowners who live in warmer areas and want to keep cool at night since the latex material retains minimal heat. This material also provides a firmer comfort by contouring to your body shape so your body can get better support.
Another advantage of latex mattresses is that they are dust and dirt resistant, which makes it a great choice especially if you have kids around. They are made with natural materials, compared to the synthetic ones use in other mattress types, which makes them much pricier.
This is one good choice for your home if you will be sharing your bed since it has very minimal motion transfer. You can be assured that you can still get your good night's sleep even if your partner moves around at night.
Memory foam mattress
Perhaps the most popular mattress in recent years, memory foam mattresses have been received well by homeowners because of the "hugging" feeling you get when you lie down on it. Much like the latex foam, a memory foam mattress conforms to your body shape, which is why it gives the feeling that you are "sinking" in it.
This is a great choice for you if you are looking for maximum support to your back and shoulders since it provides a pressure point relief by distributing your whole body weight. Another advantage of this type of mattress is that it also has minimal motion transfer to keep you asleep at night.
One thing to take not of when considering a memory foam mattress is that they retain heat as compared to latex mattresses. So if your area tends to be a lot warmer at night, you should consider how these can affect your sleep especially if you have a warm body temperature.
Hybrid mattresses
Another good option when shopping around for mattresses are the hybrid types that incorporate multiple layers of different materials like innerspring with either latex or memory foam. This type of mattress fits individuals who are looking for the right bounce that innerspring mattresses provide, but with the comfort and support of latex or memory foam materials.
This would be a great choice for homeowners who want to have the benefits of all the mattress types and still want to have the comfort and support they need while resting. The memory foam or latex top layer would give them the advantage of contouring to their body shape but still get the bounce that is provided by an innerspring mattress.
Pillow top mattress
Not really a whole mattress type, pillow top mattresses refers to any type of mattress but with an extra layer of foam on top. They provide additional comfort, especially if you are one who likes your bed to be a bit "fluffy". Oftentimes, pillow top mattresses are paired with innerspring types as the base, much similar to the hybrid mattress type.
What are the different mattress sizes?
Now that we have looked into the different mattress types, and you probably already have an idea which type you would like to have in your new home, it's time to consider the sizes.  Knowing the size and dimensions of your mattress would really help to ensure that you will have enough space in your bed to move around and sleep, especially if you tend to toss and turn at night. This would also ensure that you will get the correct mattress size for your bed frame and avoid the hassle of returning an incorrectly sized mattress.
Use this quick guide when choosing your mattress size for your new home:
| | | |
| --- | --- | --- |
| Size | Dimensions | Best for |
| Single | 190cm  x 90cm | 1 child or small adult |
| Super Single | 190cm x 107cm | 1 adult |
| Queen | 190cm x 152cm | 2 adults |
| King | 190cm x 183 cm | 2 adults + 1 child |
Top mattress choices in Singapore
Excited to get your new mattress for your new home but still can't find which brand you should choose? Read on to find out the top mattress choices that you can choose from to ensure that you will really be getting only the best sleep ever. Here we will be looking at the best mattresses from each brand that has been getting great customer reviews.
Getting rave reviews since they launched their first mattress, the Origin hybrid mattress provides the comfort and support that everyone wants without you breaking the bank. Designed in Germany, this mattress is made with pocket innersprings, multiple layers of latex foam, and cooling gel memory foam.
New homeowners who have tried and tested the Origin hybrid mattress were greatly satisfied with the technology of putting in together all the benefits of the different mattress types to provide maximum comfort for all types of sleepers. Its cooling gel memory foam is also guaranteed to keep you comfortable and cool al throughout the night, even during those warm and lazy summer nights.
They also provide a 120-Night trial so you can test out the mattress and find for yourself if this would be the perfect choice for you. Still, with its premium materials and a price of just below $1000 for a King-sized mattress, customers quickly decide to stick with this mattress the first night of sleeping on it, especially since every mattress comes with a 1-year warranty.
Order the Origin Hybrid Mattress from: https://originmattress.com.sg
HipVan Levitate Mattress
Launching their first mattress in 2016, the Levitate mattress is another great option with its combination of latex and memory foam that uses premium materials to provide great comfort and support. It comes with a sewn-in pillow top that provides additional comfort and plushness while still ensuring that it is firm enough for your back support.
The base of the Levitate mattress comes with individual pocket springs to provide bounce but limit motion transfer so you can still have a peaceful sleep even if you are sharing your bed with someone. It also comes with an adaptive fabric to provide cooling properties for those warm nights by diffusing the heat from the surface.
Each mattress comes with a 12-year guarantee as well as 100 nights free trial. This would be less than the 120 nights free trial from the Origin hybrid mattress, but you can still get to return the mattress if you feel like it's not the right pick for you. Another service that they provide is their mattress disposal service so you won't have to worry about disposing of your old mattress.
King Koil Mattress
Sold in 70 countries around the world, King Koil Mattress has gained quite a reputation of being a good-quality brand that provides comfort but at a pricier cost. They provide different options like pocketed spring, latex, or memory foam.
Ranging from $400 up to $2000, King Koil Mattresses lets homeowners choose mattress models based on the type of mattress that they prefer.
Haylee Mattress
Another good choice when shopping for mattresses comes from the Haylee brand that gives a medium rating when it comes to the firmness. This is actually a good choice for you if your preferred mattress to sleep on is not too firm.
Their mattresses also come with a cooling gel layer that guarantees to keep you cool all throughout the night, making it perfect for the weather in Singapore. They also boast of their high-density memory foam that ensures great support for your back and spinal region, as well as minimizing motion transfer. Haylee mattresses also come with 100-night free trial and a 10-year warranty.
Seahorse mattress
Being around since 1987, Seahorse mattresses are very well-known around Singapore. With mattresses around $2000, they are popular for being a luxury brand but delivers in the longevity of their mattresses.
They have a wide array of mattress types that you can choose from, so you can easily pick which one would work for you, especially if you are on a tight budget. Their cheapest mattress is around $600, making them a good mattress choice—if you have more dollars to spare.
Where to shop for a mattress?
Now that we have identified the important factors that we should consider when buying a mattress, the next question is—where should you shop for one? Good thing nowadays we have two options to choose from when shopping for mattresses. Let's find out which one would work best for you.
In store
You can do the conventional way of shopping or mattresses by going to mattress stores or home depots if you are the type of person who would want to actually see and feel the mattress before making a purchase. Majority of stores offer free delivery and even removal of your old mattress which is very convenient.
One downside of shopping for mattresses in store is when it comes to comparing prices. Most of the time, stores only carry a limited number of brands to choose from, which doesn't really give you the diversity to pick from the different types. There is also the tendency in some stores to prefer one brand over the other even if another mattress brand is what's better for you.
For those who are rushing in buying, this can be a huge downside since you can easily be talked into buying a mattress and stick with it. So if you prefer to purchase your mattress in store, make sure to take a few minutes to actually lie down and recline on the mattress and see if you will feel any pressure or discomfort.
Online Shops
The wonders of online shopping! This newer way of shopping for mattresses has becoming more preferred by many since they can actually choose from a wide array of mattresses without having to deal with salesmen who talk you into buying a specific mattress brand.
When purchasing online, these mattresses are delivered to your preferred address within a few days. Another benefit from online shopping is they often provide free shipping and money-back guarantee since you can directly purchase from the supplier. This is actually great for new homeowners who still don't have an idea what to look for in a mattress since you can get to try it out first then have the option to return it.
Just one downside of online shopping is that you won't be able to actually feel the mattress until it is delivered to you. This is why it is important to check reviews from other customers to learn from their feedback.
After reading all the necessary information in getting a mattress for your new home, then you are now ready to pick which one would work best for you. Have great nights ahead!