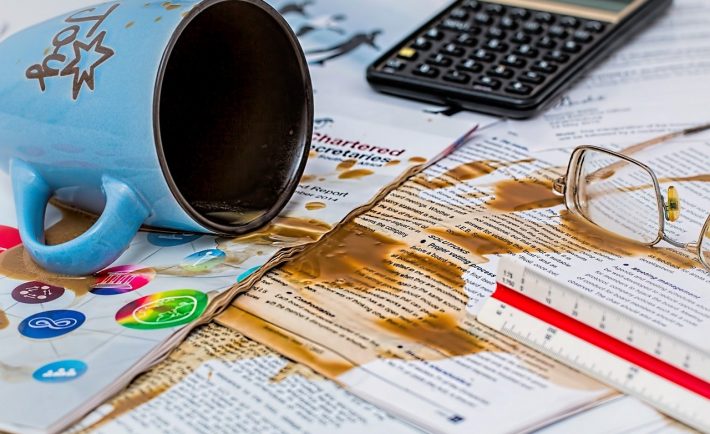 Image Credits: pixabay.com
Take a step back. We all make mistakes at work, and no one is perfect!
Depending on the gravity of the mistake and your tenure with the organization, a timely resolution may solve your problem. Whether you missed a deadline or came unprepared to a client meeting, the most important thing is to act and address the situation sooner rather than later.
On that note, here are eight steps you can take to deal with your costly mistakes at work.
#1: BE ACCOUNTABLE
There is no point in hiding your mistakes or finding a scapegoat to cover up your problems. Be accountable for the mistakes you have made. These are part of the learning process that can help you become better at your job. Assess your part in the situation and acknowledge where things went wrong.
#2: BE ABLE TO EXAMINE THE SITUATION
Look into the issue with fresh lenses. Pretend as if someone else made the mistake to evaluate what happened with an objective eye.
Ask yourself these questions:
What actions led to the mistake?
What is the severity of the situation?
What should the person have done instead?
What are the consequences of the mistake?
How can the situation be prevented in the future?
#3: BE OPEN TO A PRIVATE MEETING WITH YOUR SUPERIOR
Setting up a private meeting with your boss may not always be necessary, but you could schedule one if your mistake led to serious repercussions.
Be direct, factual, and honest during this meeting. Apologize for your mishaps and explain what happened. Your boss does not need to listen to your excuses!
#4: BE APOLOGETIC
A sincere apology goes a long way. Other people can still be held accountable for the mistake you made. Your boss and co-workers may step in to fix the issue too. So, being apologetic is important in maintaining these professional relationships.
#5: BE ABLE TO COME UP WITH SOLUTIONS
Instead of whining about your mistake, focus on finding a solution. Once you determine where things went wrong, you can figure out how to fix it. Leaders appreciate people who bring solutions instead of problems. These types of people are usually considered to rise to the top.
#6: BE ACTIVE IN SOLVING THE PROBLEM
Do everything within your power to ensure that the issue gets remedied or fixed quickly. List all the viable solutions and review which one offers the best outcome. Stay in the path throughout the process even if the resolution has been taken out of your responsibilities. It is still vital to know how the solution was executed for future references.
#7: BE OPEN TO CHANGE
You should constantly adjust your flow until you find a work routine that suits you best. If you are always late in submitting your reports or if you are always sending the wrong proposals, you must do something to turn things around. Incorporate healthy habits such as using a planner or meditating for a few minutes. Apply healthy habits to improve your focus, concentration, and productivity.
#8: BE KIND TO YOURSELF
You can be your harshest critique. Eliminate any negative self-talk, learn from the mistake, and move forward. The mistakes you make will not ruin your career. Instead, your reaction to these mistakes can break you!