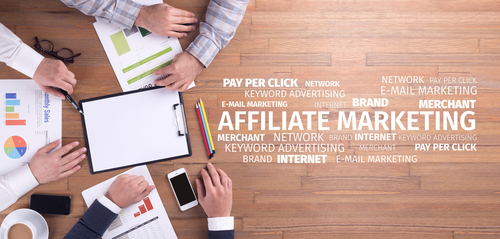 The digital age has indeed paved the way for many people who would like to venture into different types of business, including those involving more innovative ways to earn online. Thanks to the internet, it is now made more accessible to find the right tools, platforms, plus a legit group of experts that can help ensure that your business will thrive or flourish.
Affiliate Marketing (plus hard-work, of course) is a sure-fire way to earn money online. But how does it guarantee your online business' success? All the information that follows will yield the best highest paying affiliate marketing programs out there for you. Learn more about them on journalreview.org, and you'll be amazed by the endless possibilities of making your next online business a hit.
What is Affiliate Marketing?
Affiliate Marketing is one of the most in-demand ways to make your online business succeed. But how do you go about it? Affiliate Marketing happens almost every day—when you're online shopping or making your purchases on the web or your phone, clicking through links and whatnot. This process is what link owners do to promote a specific product or brand online and get something like a portion of the payment in exchange—say, through a commission.  Referrals are another example that involves discounts on purchases by promoting the company or brand to other customers—talk about a 'win-win' situation.
Here are some of the highest paying affiliate marketing programs:
The Amazon Associates program allows its partners to sell whatever Amazon sells, and in return, partners will earn a sales commission. This platform is extremely potent in terms of sales, because of its massive product catalog and top-of-the-line technical support. However, stiff competition can make it difficult for sites that are not yet optimized.
For you to be successful with Amazon Affiliates, you must have a highly centralized niche site. However, secondary sales will also be viable. This program also offers commissions for links that made it through to Amazon, even if the linked product was not purchased. Although this program provides large commissions, the downside to this program will be its performance-based structure—you will have quotas to meet for you to reach the highest commission tiers.
Most people are under the impression that eBay is only an auction site, where sellers post items for sale for buyers to bid, leaving no room for affiliate marketing. However, eBay found a solution to incorporate affiliate marketers into its system.  Certain product sales are now made on the storefront rather than the traditional auction basis; these storefront sales can be used to earn affiliate commissions.
Here are two essential benefits to this partner network program:
eBay commission rates are relatively high when compared to competitors' affiliate programs.
eBay offers a double-the-commission bonus for first-time user referrals.
Previously known as Buy.com, Rakuten is growing leaps and bounds. Rakuten has been ranked amongst the top e-commerce companies around the world. This platform is also known for their support and legitimacy when it comes to affiliate networks.
Rakuten's platform is packed with excellent platform options and tools that you can utilize to easily and quickly optimize your website. Additionally, like the platforms mentioned above, Rakuten allows its partners to have access to its massive product catalogs.
iTunes is an excellent media platform to make use of as an affiliate, mainly because of its support from Apple. If you're into selling music, movies, apps, and digital products; then you'll have your niche through iTunes.
Apple offers commission on both in-app purchases and apps. For example, linking to Clash of Clans can earn you commission from sales made from in-app purchases. This program is unique for its commissions coming from in-app purchases on free apps.
Peerfly has one of the highest commission offers in the CPA network, and if you're on the lookout for high-value individual sales; then Peerfly is the way to go. However, if you're new to affiliate marketing with no history of notable traffic, this platform may not be for you.
That being said, Peerfly is more of an exclusive platform for affiliate marketing superstars. However, If you're lucky enough to get in, Peerfly can be an excellent platform for you to make a living. But always remember to follow their rules and keep away from black hat techniques.
Closing thoughts
Affiliate marketing, like all other marketing strategies, will need hard-work and perseverance—it's definitely not a get rich quick scheme. However, having the right approach and high-quality content can easily make you a few thousand dollars per month from affiliate marketing alone.