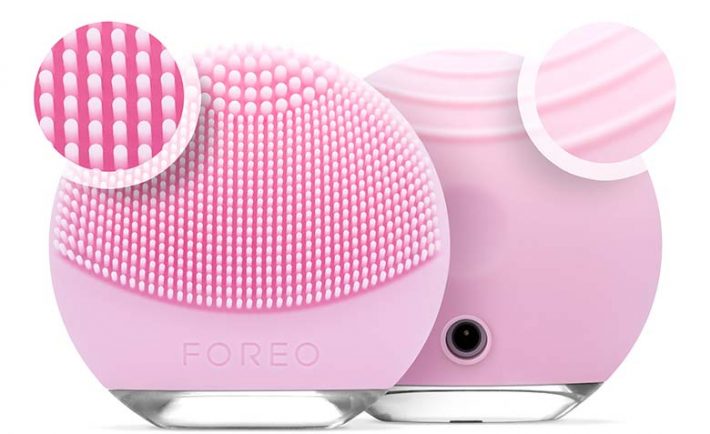 Image Credits: foreo.com
Have you been staring at yourself too much in the mirror lately? Are you noticing more fine lines and sagging skin? You're probably not alone. Men and women alike, we don't have the superpowers to defy gravity. Neither do we have the ability to slow down time the way the characters do in The King: Eternal Monarch.
But we can at least attempt to improve our skin condition using some handheld beauty gadgets. Some of us might think that the product price is too much to bear. But we urge you to think long-term. Like your money investments, think of this as a beauty investment for yourself. Coupled with some time and effort, you might be able to see positive results in the long run.
#1: LA VIE EN ROSE FACE ROLLER
La Vie en Rose Face Roller is part of the Angela Caglia series and the bestselling product. If you're wondering, Angela Caglia is a celebrity esthetician with fans like Hillary Duff who have sworn by her products.
The roller is made from the ancient rose quartz, which is a type of gemstone that helps to boost circulation and improve elasticity. To see the best results, use it daily on your face and neck. Simply use the roller in gentle upward strokes on the target area. If you'd like, you can use it together with a detox serum.
Product price: 72 USD (100 SGD)
#2: LUNA GO SERIES
The LUNA go series is a creation by FOREO. The brand is headquartered in Sweden since 2013. They are all about discovering the potential of technology to improve daily living.
There are four types to choose from based on your skin condition – normal, combination, oily, and sensitive. The lightweight device combines T-Sonic™ cleansing and anti-ageing technology to give you radiant skin. Use the LUNA go's massaging surface during cleansing and activate the anti-ageing mode onto wrinkle-prone points after. For the guys, FOREO has a special edition created just for you.
Product price: 159 SGD
#3: JADE ROLLER + GUA SHA TOOL SET
Price does not always dictate quality. For the price-conscious consumers, how about trying out an all-natural jade roller and gua sha tool set? We've previously explained how to use a roller so look back at point one if necessary. Let's focus our attention on the gua sha tool.
If you're unfamiliar with the term 'gua sha', just know that it's commonly known as scraping. Using the scraping method, it helps to promote blood circulation and drainage of the lymph nodes. Try keeping to the long-stroke routine, moving upwards and outwards. If you're not sure how to use it, there's always YouTube.
Product price: from 10 SGD
Let us know if you've tried any of the above-mentioned products or other gadgets that have worked for you? Sharing is caring!