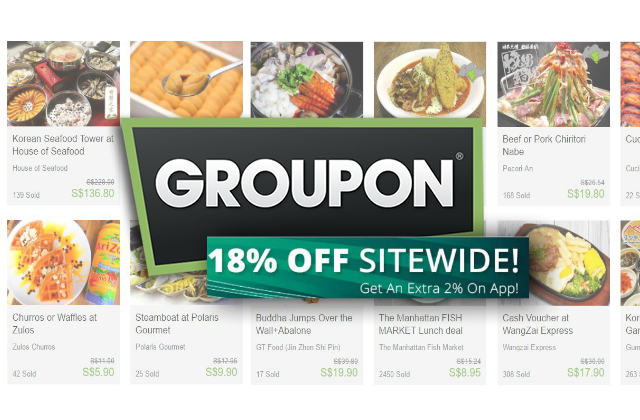 Groupon has been aggressively promoting their site with one-time off promo codes recently.
You don't need to be an avid shopper to snag some good bargains.
Here's the latest promo code that let you enjoy 18% off everything on the site with no minimum spending required. You can enjoy an extra 2% off if you make your purchase from the Groupon app.
Simply enter the promo code "18OFF" when you check out. Discount will be capped at $10.

With no minimum spending for each deal required, you can really grab a really good bargain for some of the deals:
1. MANEKINEKO: $10 for a 2-Hour Karaoke Session with Snacks and Drinks at Marina Square (worth $14). More Options Available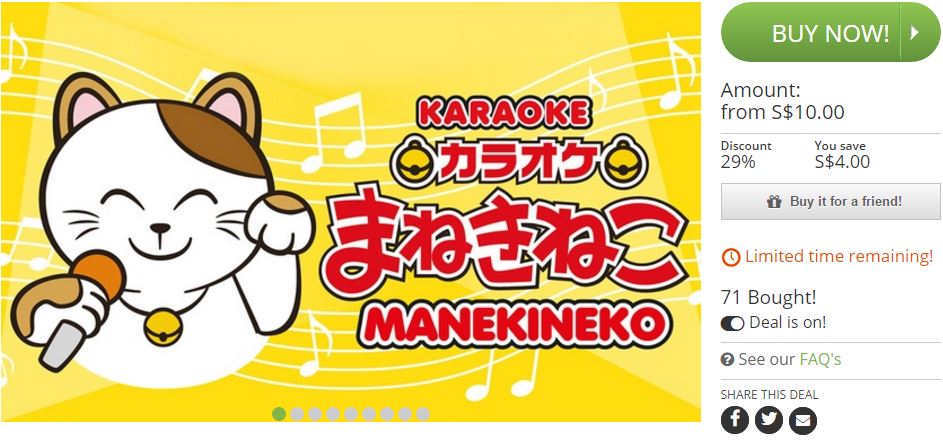 Voucher will cost only $8.20 for a 2-hour singing session at MANEKINEKO. That's even cheaper than their opening promotion at $10/2hrs!
2. $6 for a Slice of Cake at Bakerzin (worth $10) in 6 Outlets. More Options Available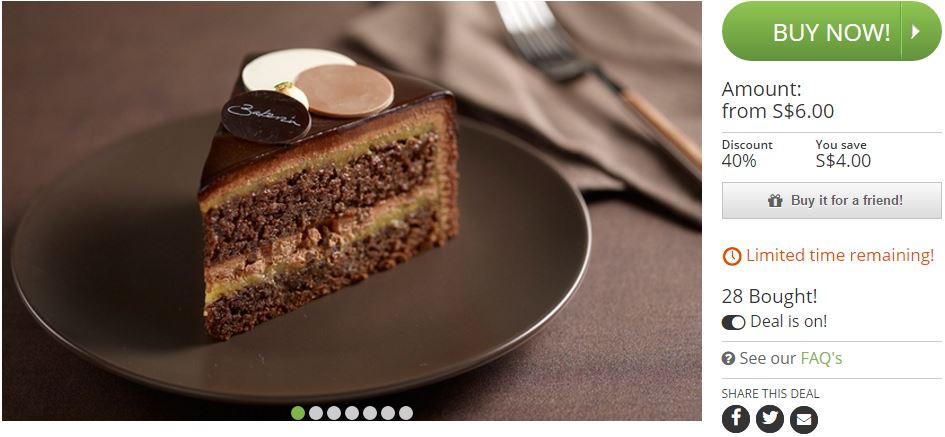 $4.92 (after 18% OFF) for a piece of cake at Bakerzin? That's a steal.
3. Popeyes Louisiana Kitchen: $10.90 for 2 Chicken Burgers and 2 Sjora Drinks (worth $15.60) in 14 Outlets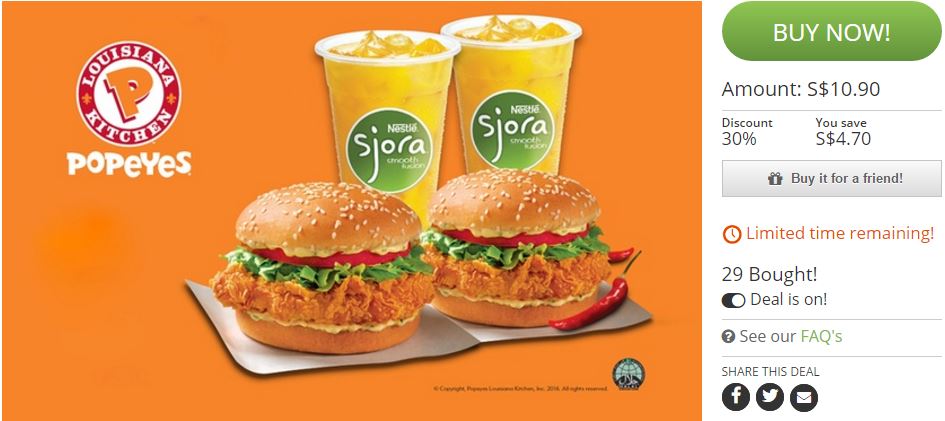 $8.94 after 18% discount. Popeyes with your BFF for lunch?
4. The Manhattan FISH MARKET: $8.95 for a Cra-Sea Island or Isle of Sun & Sea (worth $18.77) in 15 Outlets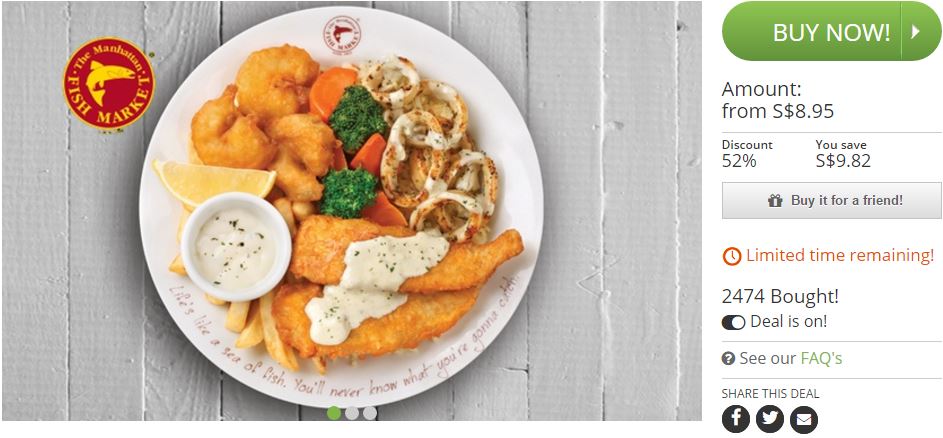 Double up with the promo code and you get more than 60% off, costing $7.34 for a Cra-Sea Island (worth $18.77)
5. Hokkaido Ramen Santouka: $15 for a $30 Cash Voucher. More Options Available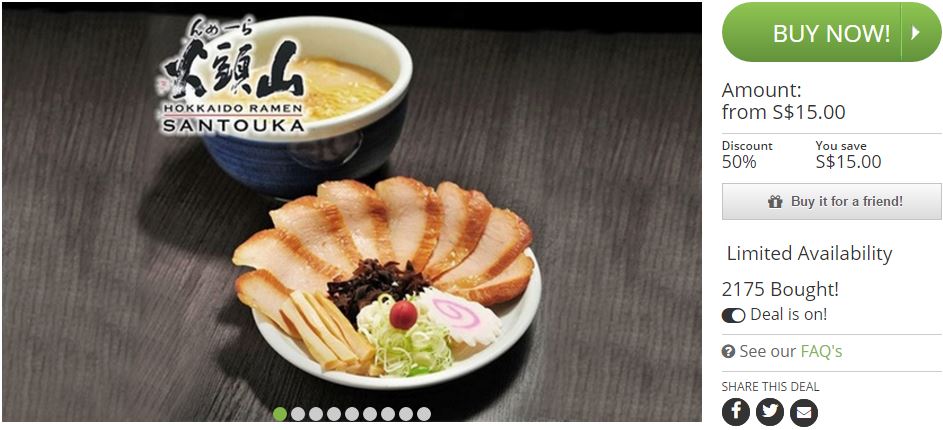 Ramen never get any cheaper. You will only pay $12.30 for a $30 cash voucher at Ramen Santouka. Easily feeds two.
6. $7 for a 2-Scoop Thai Coconut Ice Cream Set with Toppings at Wimi in Suntec City(worth $11.60). More Options Available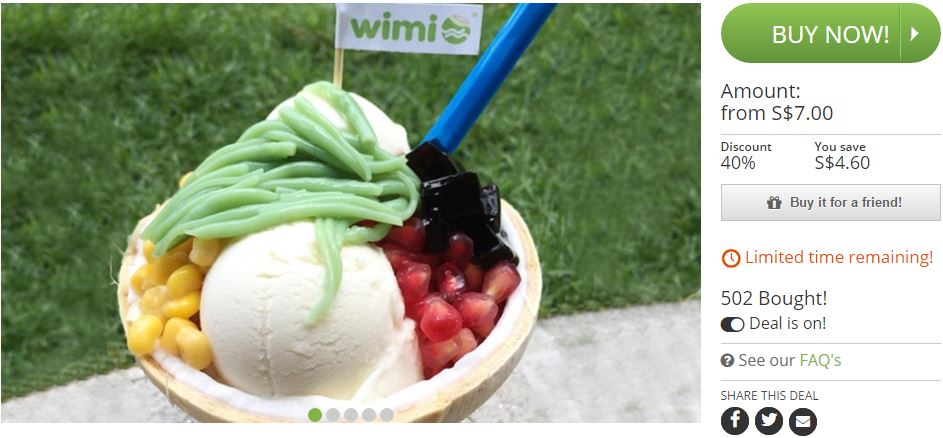 Ever tried the famous Thai Coconut Ice Cream? Here's your chance. $5.74 for 2 Sets: 2-Scoop Ice Cream at WIMI
7. $5.90 for a $10 Cash Voucher at Cocoa Colony in 7 Outlets. More Options Available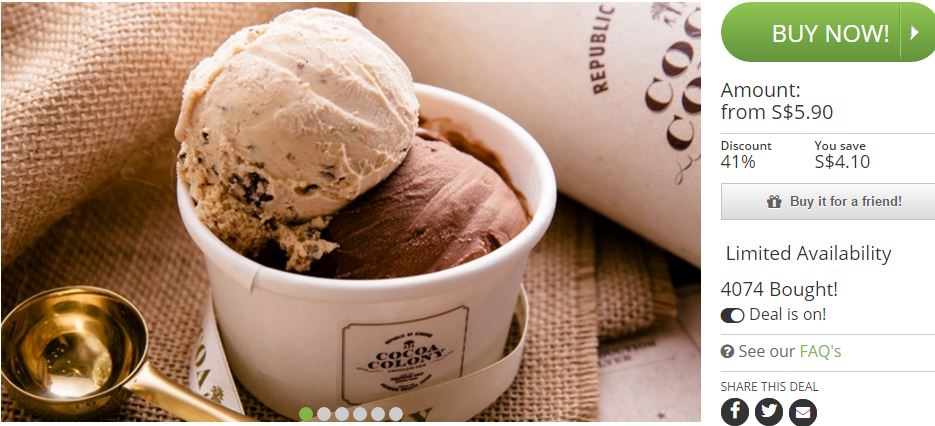 $4.84 for a $10 voucher at Cocoa Colony. That's more than 50% off!
8. Sakura International Buffet Restaurant: $19.90 for an International Buffet Lunch (worth $25.80). More Options Available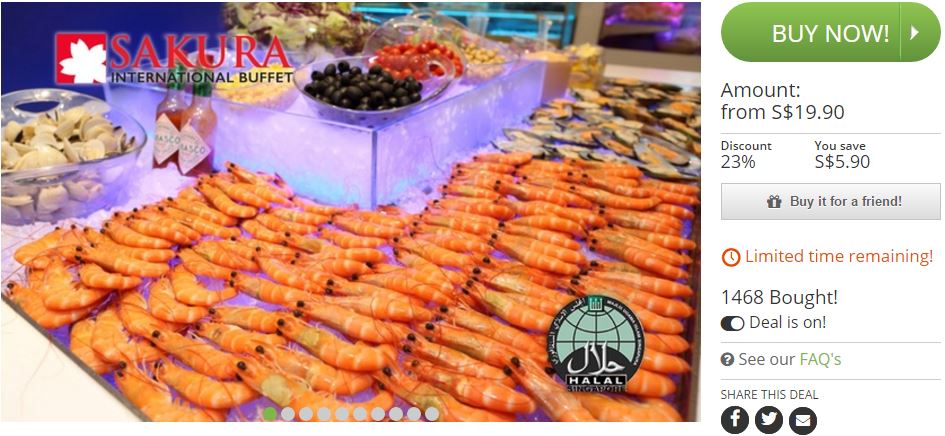 $16.32 for a lunch buffet at Sakura International Buffet. Probably the cheapest you can get.
9. $12.80 for $20 Cash Voucher at Rong Hua Bak Kut Teh in Buona Vista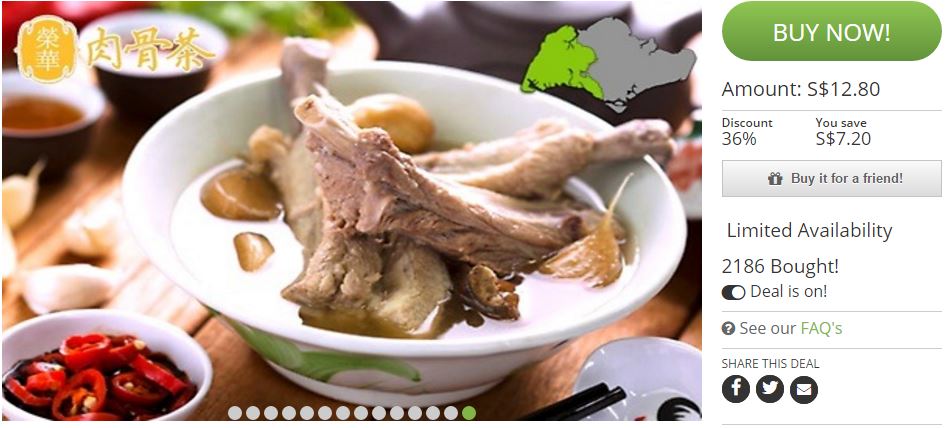 $10.50 for a $20 cash voucher at Rong Hua Bak Kut Teh
10. 1 Market: $21.90 for a Weekday Lunch Buffet at Plaza Singapura (worth $44.49). More Options Available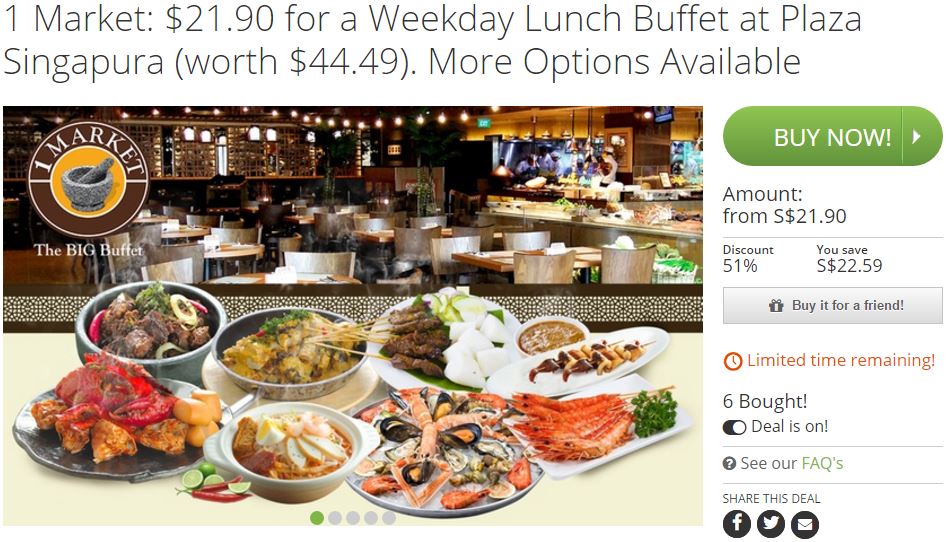 Pay just $17.96 instead of $21.90 for a lunch buffet at 1 Market
There are over a thousand deals listed, so check them out on Groupon yourself!
This is probably the best time to shop at Groupon. Don't miss it.
Let your friends know about it too. Share this with them on Facebook.