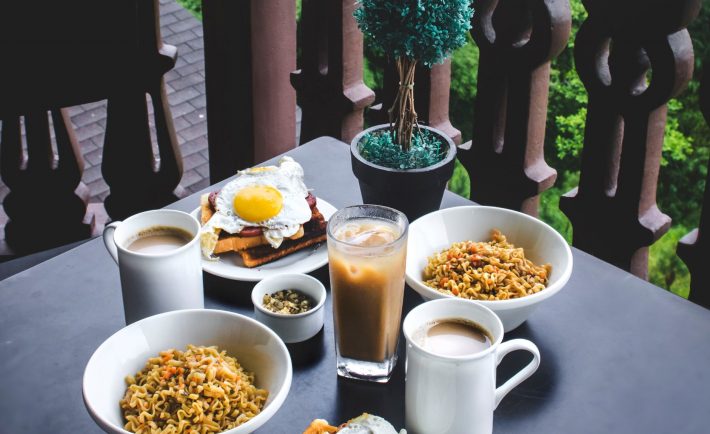 Image Credits: unsplash.com
As many of us are encapsulated in our own homes for quite some time, many shoppers have filled up their own pantries. Most flats have a wide array of tissue papers, disinfectant sprays, instant noodles, canned goods, and instant coffee sachets. It is best to put your own spin to your daily meals to stimulate your appetite.
Here are inexpensive ways to get creative with your canned goods and instant coffee options.

#1: SPAM MUSUBI
Last month, I dragged my significant other to a restaurant that serves Hawaiian cuisine. One of the dishes that we tried was the Spam Musubi. It is a popular snack that you can easily make in your own home. Simply gather these ingredients: white rice, nori, SPAM or luncheon meat, oyster sauce, soy sauce, and sugar.
Follow the steps found in the video below. What I like about this dish is its fast preparation time and its rich flavors.
#2: CRISPY SPAM FINGERS
Believe me when I say that it tastes better than it sounds! This recipe goes a little outside of the box as it incorporates flour, eggs, and bread crumbs into the meat.
Firstly, you must drench your sliced SPAM or luncheon meat into a mixture of eggs, flour, and bread crumbs. Secondly, you must fry all these "fingers" until each one reaches a golden-brown color. Its exterior ensures that each bite packs a crunch! You can serve it with rice.
#3: TUNA MACARONI SALAD
Canned tuna is a pantry staple that can transform into easy dishes that can be served for family dinners and office lunches. Spice up your usual macaroni salad by adding canned tuna. For a protein-rich lunch that kids will love, you may create a tuna macaroni salad. Just add your sauteed tuna in a macaroni salad filled with creamy mayonnaise, pepper, and celery.
#4: CREAMY TUNA CARBONARA
Complete a wine night indoors by serving a plate of creamy pasta. To make your very own creamy tuna carbonara, you will need the following: spaghetti pasta, eggs, canned tuna, parsley, salt, Parmesan cheese, and ground pepper. Start by preparing the pasta.
Bring a large pot of salted water to boil over high heat. Cook the pasta according to the instructions on the package. Drain it and set it aside. To do your sauce, you must whisk the egg yolks and add Parmesan cheese. Stir in the black pepper and add some salt. Then, add this sauce to the cooked spaghetti. Lastly, you must incorporate the drained tuna. Garnish with more cheese and serve it hot!
#5: INSTANT ICED COFFEE
It only takes five minutes or less to create your own instant iced coffee. Raid your pantry to gather these ingredients: 3 teaspoons of instant coffee, cold water, ice, and 4 tablespoons of your favorite creamer (e.g., soy creamer).
Get your trusty glass and add the instant coffee and the creamer. Fill it with cold water and stir constantly to allow the mixture to dissolve. Add some ice cubes and you are good to go!
#6: DALGONA COFFEE
Currently, the Twitter-verse and the TikTok nation have been buzzing about the Dalgona Coffee. You have probably seen several videos of people making whipped coffee by mixing instant coffee, sugar, and water together. You read that right! You have to mix everything together using a whisk, a hand mixer, or a milk frother. The result is a fluffy and delicious whipped coffee that you can post on Instagram.
Follow the steps found on the video below to make your very own Dalgona Coffee from South Korea.