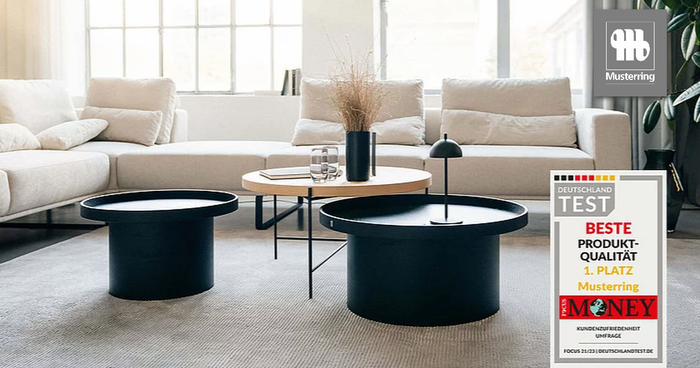 Your dream home is just one step away, and they're here to help you achieve it. Musterring is thrilled to announce their GRAND OPENING SALE on September 23rd &24th. It's a day dedicated to transforming your living spaces into havens of style, comfort, and inspiration.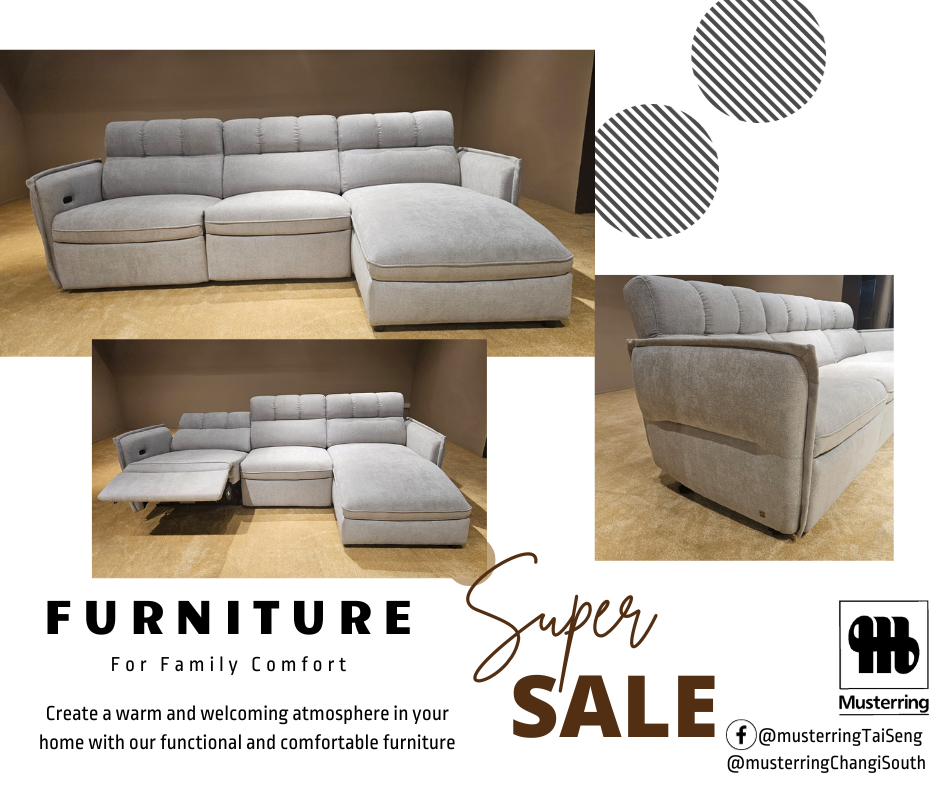 Musterring is synonymous with excellence in design and craftsmanship. Their pieces are more than just furniture; they are statements of your unique taste and personality. From luxurious sofas to exquisite dining sets, their collection is carefully curated to elevate your home.
Exclusive Savings on September 23rd &24th
Join them on September 23rd &24th for an extraordinary day of savings and inspiration. As a part of their grand opening celebration, they're offering exclusive discounts and promotions that make turning your house into a dream home more affordable than ever.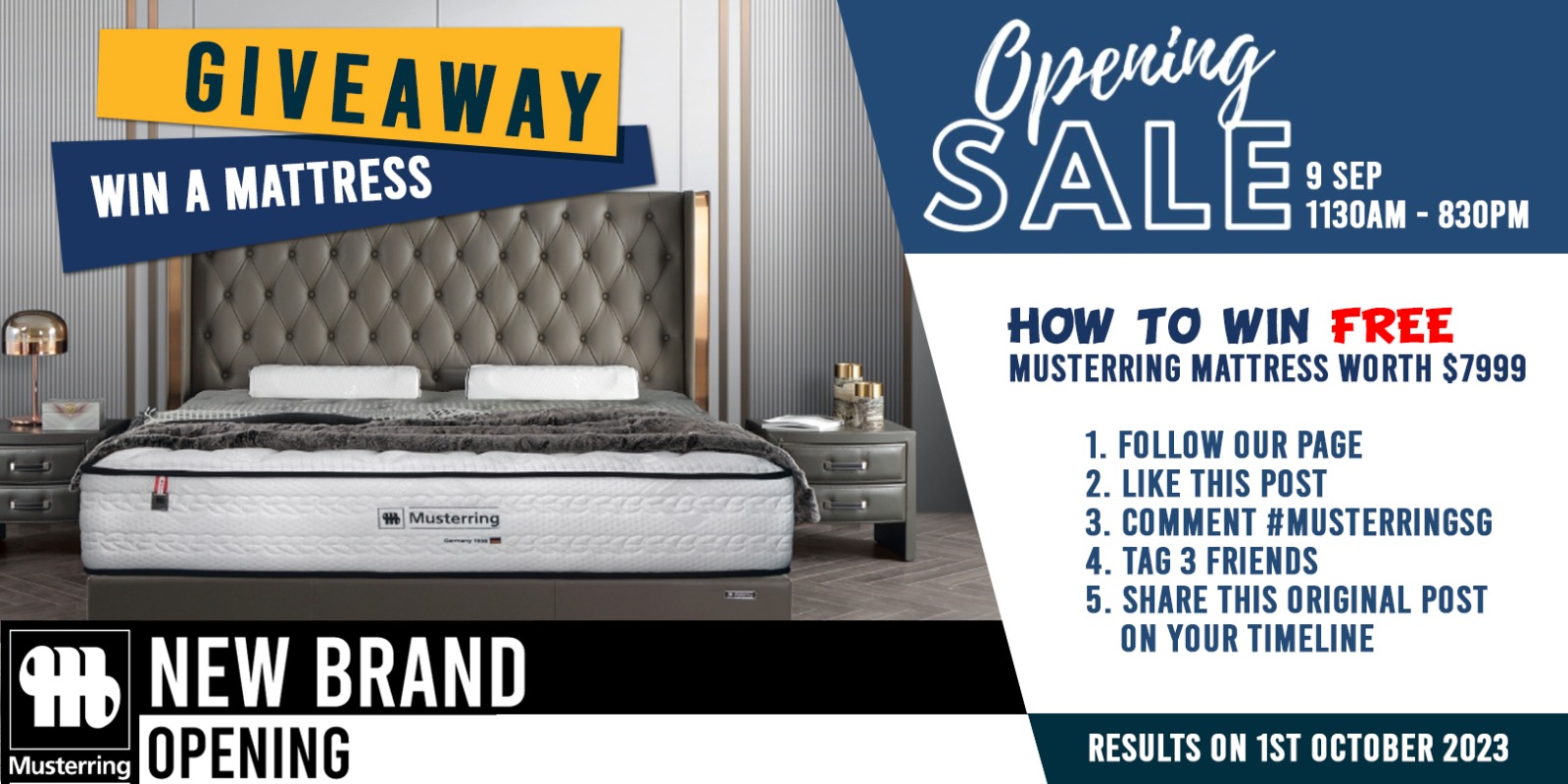 As a part of their Musterring Opening Sale celebration, they're giving one lucky winner the chance to experience the epitome of comfort and style!
How to Enter:
Like and Share Their Page
Like the Original Post
Comment #MUSTERRINGSG
Tag 3 Friend
Share this original post on your timeline.
Don't miss your chance to sleep like royalty with Musterring! The winner will be randomly selected and announced on 1st October 2023. Sweet dreams await! 🛌💤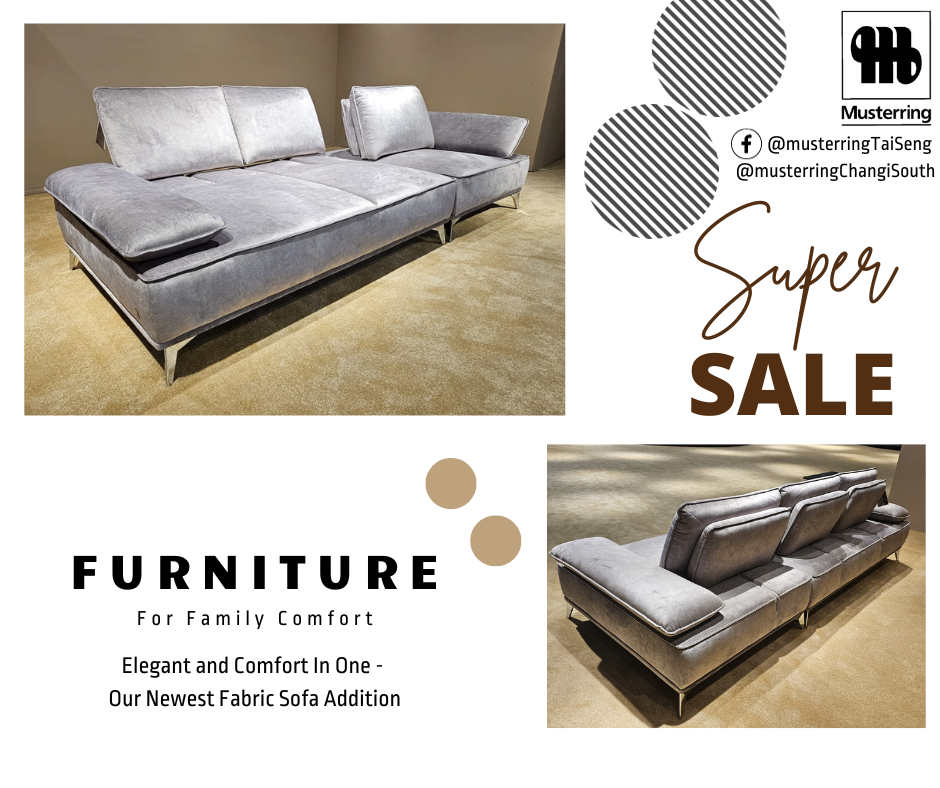 At Musterring, they believe that your home should be as unique as you are. That's why they offer a wide range of styles and options to suit every taste and space. Whether you prefer contemporary chic or classic elegance, their furniture is designed to meet your highest standards.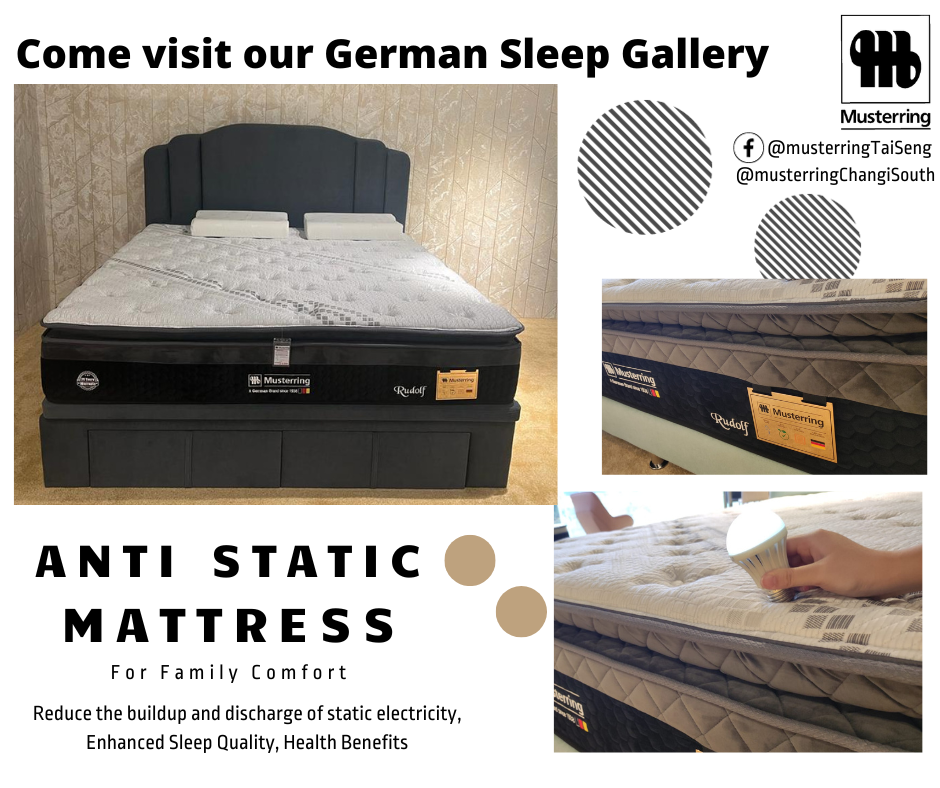 Anti-Static Mattress: Sleep in Comfort, Stay Static-Free
Discover the perfect blend of comfort and innovation with their Anti-Static Mattress. Designed to revolutionize your sleep experience, this mattress not only ensures a good night's rest but also eliminates static discomfort. Static electricity can be a nightly annoyance, causing discomfort and restlessness. Graphene on rubber makes an efficient bionic muscle. Can lead to severe effects like thrombogenicity and immune cell activation.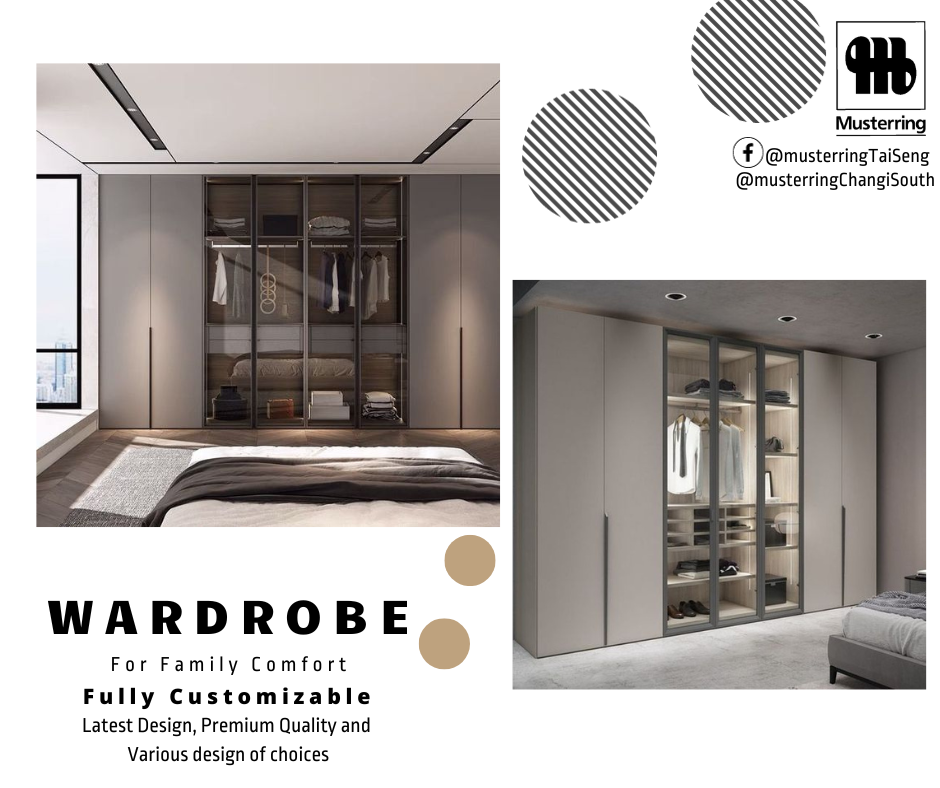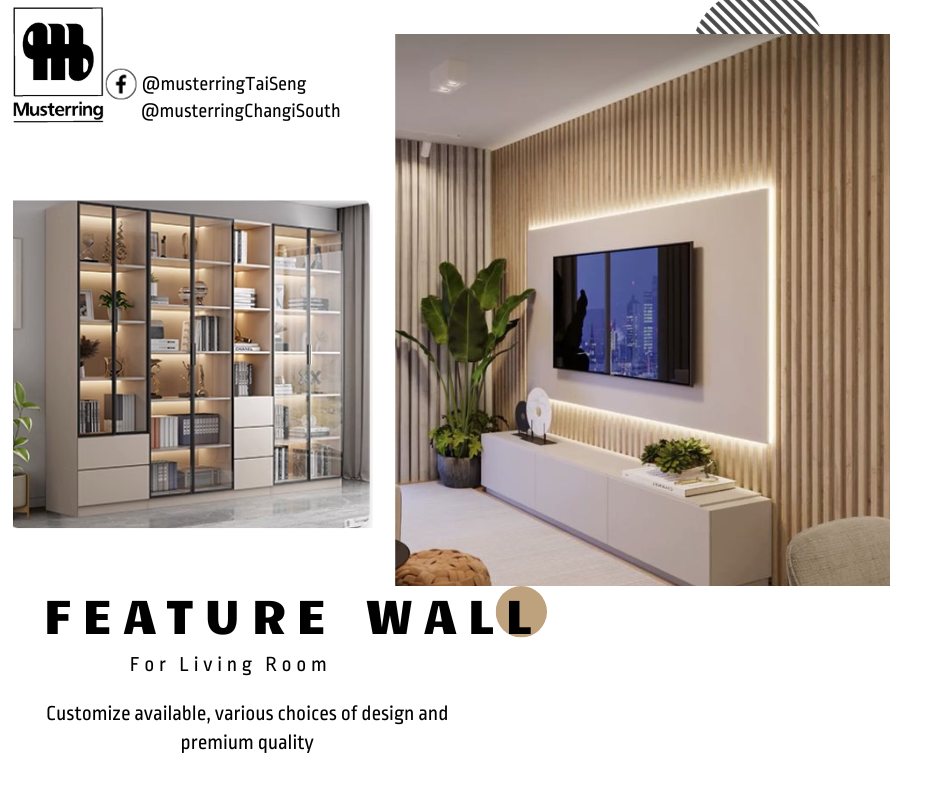 Organize and Elevate Your Space with their Wardrobes.
Keep your space clutter-free and stylish with their meticulously designed wardrobes. Offering ample storage and a touch of elegance, their wardrobes are the solution to your organizational needs. Choose from a range of sizes and finishes to find the perfect fit for your bedroom.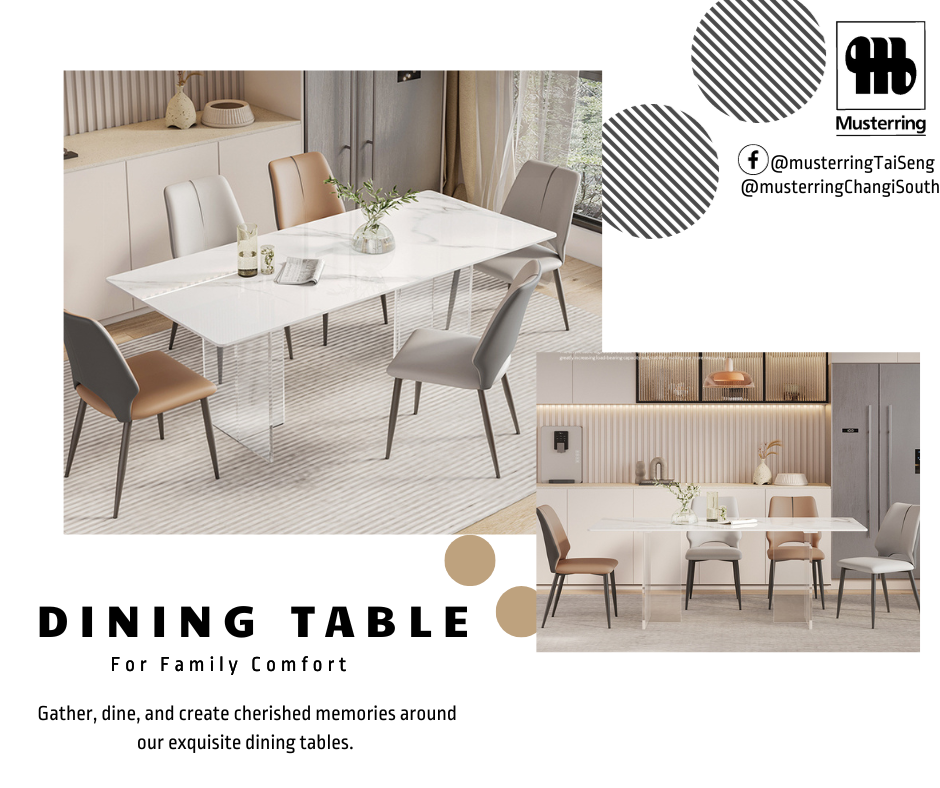 Their dining tables are not just functional; they are a statement of style and sophistication. Crafted to perfection, these tables are the ideal setting for cherished moments and delicious meals.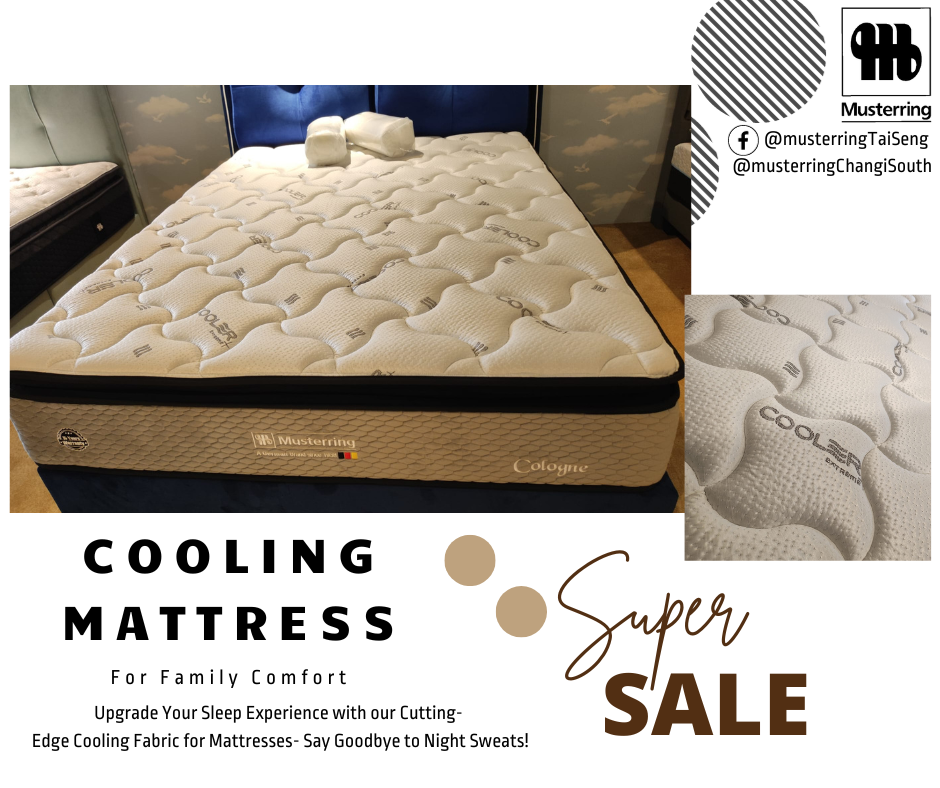 Exclusive Offer: First Come, First Serve – 50% Off on All Furniture!
Get ready for a furniture shopping experience like no other! They're excited to offer you an exclusive opportunity to upgrade your home with top-quality furniture at an unbeatable price.
Join Them on September 23rd & 24th
Don't miss the Musterring Opening Sale on September 23rd &24th. It's an opportunity to explore their finest collection, get personalized advice from their expert team, and discover how Musterring can transform your living spaces.
Mark your calendar, invite your friends and family, and let's redefine your home together. They can't wait to welcome you on September 23rd &24th!
Event Details
Event:Discover Musterring: Your Home's New Best Friend – September 23rd & 24th Sale Event! Up to 50% OFF, Share and Win a Premium $7999 Mattress! Only on September 23rd & 24th, Saturday, Sunday
Date: 23rd & 24th Sept 2023
Location: Musterring
TaiSeng- 29 Tai Seng St, #01-01 Jackson Design Hub, Singapore 534120
Changi- 3 Changi S Ln, #04-01, Singapore 486118
Facebook: https://www.facebook.com/MusterringChangSouth
https://www.facebook.com/musterringtaiseng
For Appointment
Keith Ng https://wa.me/+6591548332
Xavier Ng https://wa.me/+6583837813
Google Maps
TaiSeng-
Changi-