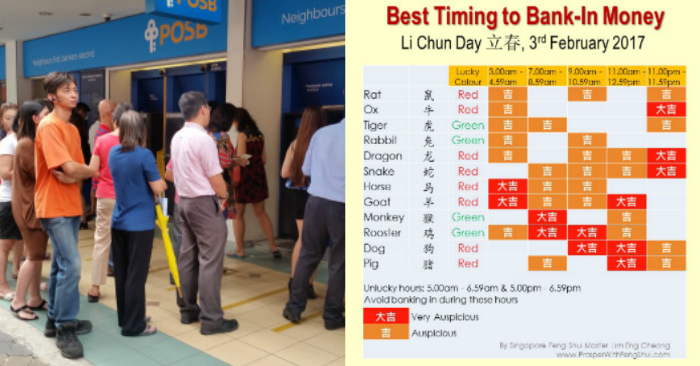 Customers can deposit funds during lucky timings via DBS PayLah! or avail themselves to over 350 DBS/POSB cash deposit machines islandwide
SINGAPORE, 1 February 2017 – On 3 February this year, also known as "Li Chun" on the Chinese calendar, Singaporeans will be able to make deposits to their bank accounts while on the go via their DBS PayLah! mobile wallets. Available to users from all Singapore banks, DBS PayLah! users can skip having to bank in cash physically on "Li Chun" and simply make electronic money deposits during their "lucky timings".
Depositing on "Li Chun" with DBS PayLah!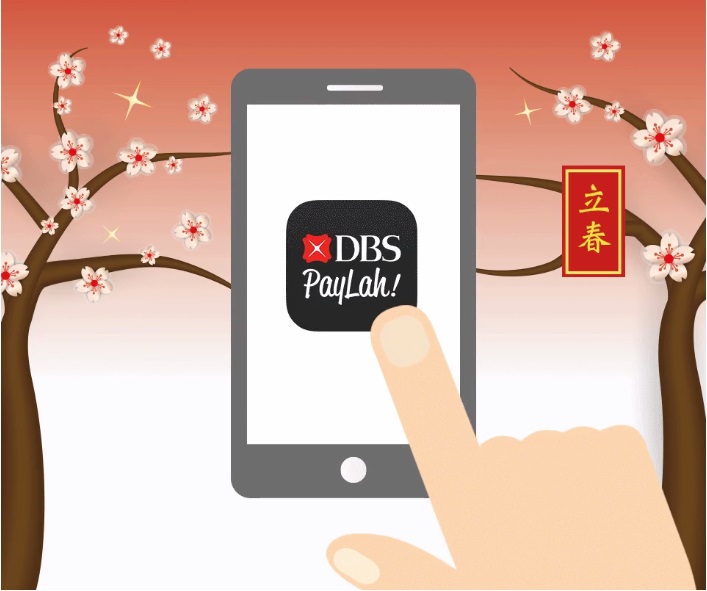 Over the last few years, Singaporeans have taken to the practice of making cash deposits to their bank accounts on "Li Chun". According to a guide put up by fengshui firm Chang Consultancy, different timings are advised for people to bank in money on 3 February based on their Chinese zodiac sign. This year DBS PayLah! users stand to win SGD 88 when they send an eAng Bao during this Chinese New Year, and double their chances when they deposit money into their bank account from their PayLah! wallet on "Li Chun" day. The draw is open to 100 lucky winners. New users also get SGD 5 when they download DBS PayLah! with the promo code 'PAYLAHCNY'. For more details, please visit www.dbs.com.sg/personal/promotion/paylah-cny.
Mr. Jeremy Soo, Managing Director and Head of Consumer Banking Group (Singapore), DBS Bank, said, "We've been very encouraged by how quickly customers have come to embrace our alternative and digital channels for the Chinese New Year.  Last year, customers were quick to take advantage of the convenience provided by DBS PayLah! during Li Chun, with the number of account deposit transactions spiking a whopping 47 times on that day. We also understand that this is the time when parents and younger customers start to deposit cash from their red packets. With this in mind, we have converted some of our popular new notes pop-up ATMs so they have now cash deposit functions, alongside our network of some 350 cash deposit machines. Our aim is to provide customers with more innovative and convenient options to help meet their banking needs during this festive season."
POSB new notes pop-up ATMs converted to accept cash
Eight POSB new notes pop-up machines will also be converted to accept and dispense cash, and will be available for use in time for "Li Chun". These eight machines will be located at eight community clubs – Toa Payoh West, Toa Payoh Central, Bedok, Yew Tee, Chong Pang, Henderson, Clementi and Jurong Spring. The machines in Toa Payoh West and Chong Pang will open from 9am to 10pm daily while the remaining machines in other locations will be fully operational round-the-clock – a key benefit to customers who wish to deposit their Chinese New Year funds. Customers can also avail themselves to over 350 DBS/POSB machines with cash depositing functions islandwide. To find out where these machines are located, please visit www.dbs.com.sg/index/locator.page.
Sending eAng Baos with DBS PayLah!
DBS was the first in Singapore to introduce eAng Baos via DBS PayLah! in 2015 and it was quickly adopted by users for the Chinese New Year season. The eAng Bao provides customers with a digital alternative that allows them to carry on the tradition of red packet-giving with their families and friends even if they're apart. Last year, during the Chinese New Year season, some 20% of DBS PayLah! money sending transactions were in the form of eAng Baos. More eAng Baos are also used – up to 3.5 times as much – during festive seasons. The number of eAng Bao transactions last year also grew by 30% compared to 2015.
POSB new notes pop-up ATMs return to massive demand in 2017
This year, the POSB new notes pop-up ATMs saw a record number of transactions flow through averaging more than 22,000 transactions a day, some 67% higher than last year, and more than double than in 2015.  Since its debut in 2015, the POSB new notes pop-up ATMs continue to see large increases in demand. The ATMs served more than 138,000 customers this year, 61% higher than last year. Total withdrawn amounts increased 80% this year with over 14 million in new notes issued, compared to 8.6 million for last year, and 6 million in 2015.