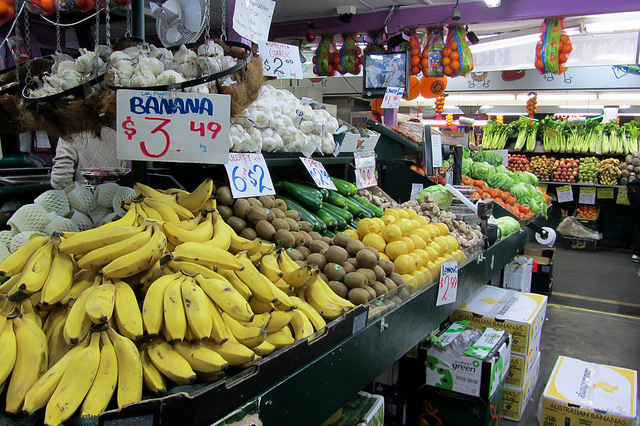 Image Credits: Jocelyn Kinghorn via Flickr
Investing on organic produce that is GMO-free and freshly grown with fewer pesticides sounds like a good yet pricey idea. Not anymore. Nowadays, you can get organic vegetables and fruits in local grocery stores or online for affordable prices. Prices are decreased to suit Singapore's needs.
1. BESTORGANICFOOD
BestOrganicFood, established in 2010, is one of Singapore's leading distributor and retailer of organically grown produce. Dishing over 60 varieties of organic vegetables and fruits that are grown locally or overseas, BestOrganicFood is a green paradise for those who want to change their lifestyle without breaking the bank.
Here are some of their products:
a. Organic Australia Beet Root (600 grams), Price: S$5
b. Organic Baby Bitter Gourd (400 grams), Price: S$3
c. Local Organic Bai Cai (500 grams), Price: S$5
Free delivery for orders above S$35! Visit BestOrganicFood at Blk 681, Hougang Avenue 8, #01-865 Singapore 530681 or at bestorganicfood.sg.
2. GREEN CIRCLE ECO FARM
A place with luscious greenery and farm animals, Green Circle Eco Farm not only welcomes educational tours for the public and schools but it also sells food without artificial chemicals and pesticides. These produce are mostly locally grown.
Here are some of their products:
a. Kang Kong (300g), Price: S$2.50
b. Lettuce (200g), Price: S$3
c. Lemon grass and Pandan (100g), Price: S$1
There is a minimum amount of S$30 for home deliveries of products listed on their vegetables, fruit, herbs, and condiments tabs. Delivery fee of S$5, is one of the lowest delivery service among other organic groceries in Singapore.
Visit Green Circle Eco Farm at 41 Neo Tiew Road Singapore 719028 or at greencircle.com.sg.
3. QUAN FA ORGANIC FARM
Much like Green Circle Eco Farm, Quan Fa Organic Farm abstains from the use of pesticides and harmful fertilizers. Since 1999, Singapore has been enjoying their nutritious and healthy produce. They offer about 40 varieties of hard vegetables, herbs, leafy greens, and fruits that are from our local roots. Aside from Asian produce, they also sell imported organic produce from Malaysia, Australia, and Thailand.
Here are some of their products:
a. French Bean (200g), Price: S$2.50
b. Romaine Lettuce (300g), Price: S$3.50
c. Cauliflower (100g), Price: S$1.50
Quan Fa's products are at available at Sheng Siong outlets. Visit Quan Fa Organic Farm at 35 Murai Farmway Singapore 709145 or at quanfaorganic.com.sg.
4. BONUS: PASAR ORGANIC BY FAIRPRICE FINEST
A brainchild of FairPrice, Pasar Organic products are available at the "Just Organic" section at FairPrice Finest. There are over 800 varieties of organic products including vegetables, fruits, canned goods, beverages, condiments, snacks, and infant food. What's more? FairPrice Finest offers the best prices for organic pasta, noodles, and sauces.
Visit them at the FairPrice Finest outlets or at fairprice.com.sg.