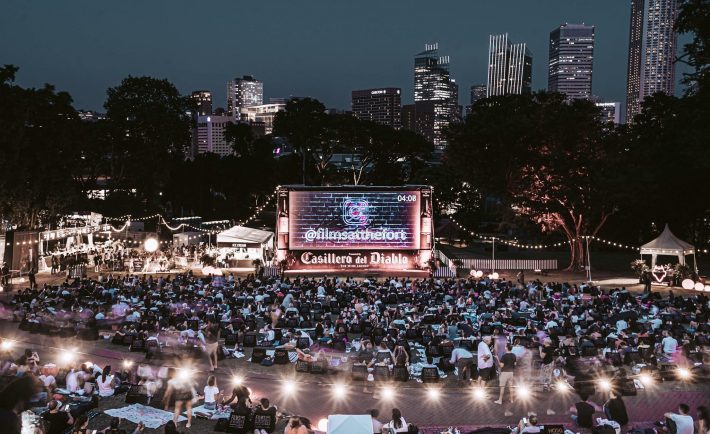 Image Credits: facebook.com/filmsatthefort
Queues for the latest blockbusters are often seen at Cathay Cineplexes, Shaw Theatres, and Golden Village. Change the scenery and enjoy the cool breeze as you take your date on a romantic outdoor cinema experience at Fort Canning.
Its three-year hiatus may be due to the pandemic, but the long wait is over. The eighth edition of Films At The Fort will be airing eleven films daily from 10 to 21 August 2022. It will take place at Fort Canning's restored amphitheatre and will be presented by Casillero del Diablo. All movies will begin at 7:45pm and the gates will be opening at 5pm. As a friendly reminder, you can enter the gates early to secure good seats. You can look forward to live performances by DJs and instrumentalists as you wait for the films to start.
TICKETS AND OTHER DETAILS
Tickets are currently sold for S$36.80 per person (exclusive of GST). Apart from tickets, you can enjoy quick bites from The Providore to enjoy deli platters, burgers, popcorns, mains, beverages, and ice cream. What's more? There is also a fully stocked bar that sells wine, sparkling wine, beer, and cider.
Event-exclusive menu includes Grass-Fed Beef Burger (S$24.50), piping-hot Hand-Stretched Pizza (S$22.50), Charcuterie Platters (S$23.50), and Cheese Croquetas (S$14.50). You can share these delicious snacks with your friends and loved ones as you enjoy the show.
SCHEDULE OF MOVIES
To give you a preview of what is to come, here are all the movies that will be showing at the Films At The Fort event:
Aug. 10 – Official Competition
Aug. 11 – The Survivor
Aug. 12 – Licorice Pizza
Aug. 13 – The Unbearable Weight of Massive Talent
Aug. 14 – Everything Everywhere All at Once
Aug. 16 – Petite Maman
Aug. 17 – Operation Mincemeat
Aug. 18 – A Hero
Aug. 19 – Another Round
Aug. 20 – Forrest Gump
Aug. 21 – Ali & Ava
As an added bonus, you can purchase reusable inflatable cushions during checkout at S$14 or S$16 when you purchase it on the event day. Alternatively, you can bring along your favorite picnic mat and save some bucks.
Address: Fort Canning Green, River Valley Road, Singapore 179037
Website: filmsatthefort.com.sg