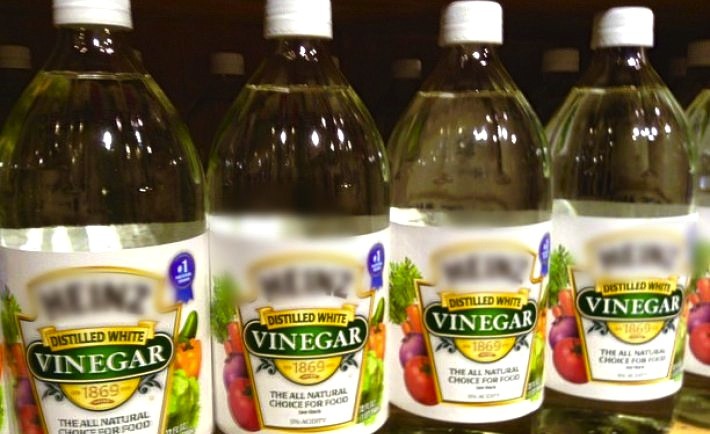 Image Credits: Mike Mozart via Flickr
Who would have thought that S$2-3 bottle of white vinegar can lighten your teeth, clean up your toilet, and soften your feet? This all-purpose kitchen spice can do so much more to help you save time, effort, and money.
1. GET THE SHINY SMILE
Lighten your teeth by brushing it once a week with distilled white vinegar. Also, it helps to fight bad breath.
2. AVOID CRACKED EGGS
Cooking hard-boiled eggs with your Kaya Toast? Try adding two tablespoons of white vinegar to the water. The eggs and its shells will stay in place.
3. CLEAN UP YOUR BATHROOM
To clean the toilet, pour a cup of distilled white vinegar into the bowl and let it stay there for 5 hours or overnight. Then, scrub it well and flush. To clean your tub and kill the germs, spray white vinegar around the tub. Then, wipe it with wet cloth to clean.
4. STOP ITCHING FROM INSECT BITES
Treat your mosquito or insect bites with a cotton ball soaked in white vinegar. This helps disinfect the area and stop itching sensations.
5. GET SHINY COFFEE CUPS AND TEA CUPS
Easter is coming up! Showcase bright cups to your guests by scrubbing stains with ½ white vinegar and ½ salt solution.
6. RESTORE PAINT BRUSHES
Repainting your flat? There is no need to buy new paintbrushes because the old one has paint stuck on them. Simply place the brushes in a pot or vessel with white vinegar. Let it soak there for an hour then, turn the stove on and let the white vinegar simmer. Rinse the brushes to clean.
7. REMOVE CRAYON MARKS
Sometimes, children get too excited that they draw on the wall with crayons. Believe me, it is hard to remove crayon marks. For an inexpensive and non-toxic route, dip a toothbrush in white vinegar and gently scrub the surface.
8. UNSTICK OLD SCREWS
Loosen up some old screws easily by pouring white vinegar on it.
9. GET SOFT AND SMOOTH FEET
What to go to the Siloso Beach but afraid of your callused feet touching the sand? Say goodbye to calluses and cracked heels by soaking your feet in one part white vinegar and two parts lukewarm water at least 20 minutes a day. It works as the vinegar removes your dead skin.
White vinegar, you are a life saver!
Source: AllYou