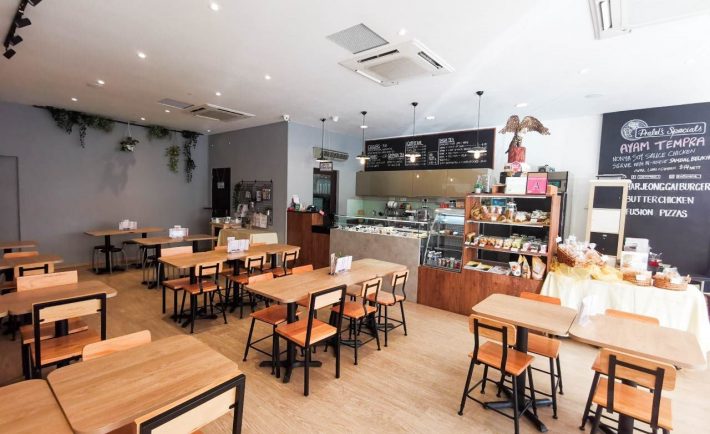 Image Credits: hungrygowhere.com
Most of us are still working from home or at times, at the hotel. In need of a different work environment to shake things up a little? How about a brief work-from-cafe experience at one of the cafes located in Tiong Bahru? Get a morning cuppa, brunch bowl, or snack break while you answer a few work emails or get started on that weekly report.
Here are seven cafes in Tiong Bahru for a short work-from-cafe experience.
Address: 78 Yong Siak Street, Singapore 163078
Forty Hands is open from 7am on weekdays, and 7.30am on weekends, so it's perfect if you want to head out early to grab an ideal work spot. The cafe serves an all-day breakfast menu with prices starting from S$16. Pair your breakfast plate with a cup of hot coffee or iced beverage!
Address: No. 41, Blk, 78 Guan Chuan Street, Singapore 160078
You can find PS.Cafe Petit along Guan Chuan Street. It's just a few steps away from Forty Hands so you can cafe-hop conveniently. PS.Cafe Petit opens slightly later at 9am but closes late till 10.30pm. They have limited seats, so it's probably okay if you're looking to spend just a short hour or two away from home.
Address: 78 Moh Guan Terrace, #01-25, Tiong Bahru Estate, Singapore 162078
In close vicinity is Flock Cafe. It's open from 8am daily, giving you ample time to settle in before clocking in at 9am for work. Similar to Forty Hands, they have an all-day breakfast selection, but we're eyeing their delicious waffles with scrambled eggs & crispy bacon. Or should we go for the Pork Cheek Rigatoni?
Address: 71 Seng Poh Road, #01-35, Singapore 160071
TIANN'S is situated opposite Tiong Bahru Market, along Seng Poh Road. They are open every day except on Mondays. No Monday blues for the team at TIANN'S, we guess? Ha! Anyway, if you're a fan of Korean cuisine, their Grandma's Bibimbap might win you over. It also comes with add-on options like kimchi pork stew and beef bulgogi.
Address: 56 Eng Hoon Street, #01-70, Singapore 160056
Tiong Bahru Bakery along Eng Hoon Street opens daily from 8am. They have a range of viennoiserie, savoury treats, fresh pastries, and bread. Other than the usual coffee, tea, and juices menu, the cafe also offers exclusive beverages like beetroot roselle latte and turmeric ginger latte to awaken your taste buds.
Address: 17 Eng Hoon Street, #01-04, Eng Hoon Mansions, Singapore 169767
If Tiong Bahru Bakery gets too crowded, consider heading to Caffe Pralet, also located along Eng Hoon Street. Their opening hours are from 11am to 8pm from Monday to Saturday. They are closed on Sundays. We think you will be in love with their signature rice bowls, gourmet sandwiches, and monthly specials. 
Address: 82 Tiong Poh Road, #01-05, Singapore 160082
Drop by Drips Bakery Café if you want to get your hands on some sweet treats for a mid-day perk-me-up. Whether it's a baked lemon tart or a choc truffle tart, the 10-year-old cafe is ready to welcome you daily at 9am. Before you leave, consider getting their signature mini tarts special (six in a box) to share with your loved ones!