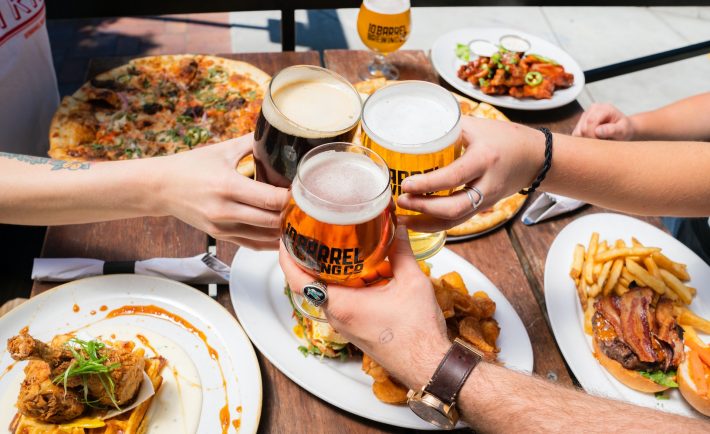 Image Credits: unsplash.com
Finding the perfect gift for Dad can be a real challenge, especially when he insists, he wants nothing. Although your dad claims he needs nothing, he'll never turn down the opportunity to spend quality time with you. So, here are some fun ideas to make Father's Day special!
Don't forget, Father's Day is tomorrow – June 18.
#1: WRAPPED CHOCOLATES
What better gift for a father who loves indulging in chocolates? Hello Chocolate offers a delightful collection of Father's Day gift sets featuring chocolates from around the world. You can choose from the "Chocolate Gift Creator", which allows you to handpick the chocolates for the gift, or the "For the Best Dad" set that includes alcohol-infused chocolates. And if you feel tempted to order a set for yourself on the side, we completely understand. The price starts at $17.
Buy it here: hellochocolate.asia
#2: PERSONALIZED CUSHIONS
Does your dad love to relax after a long day? Make this day even more special by conveying your heartfelt love for your dad with a personalized cushion, starting from just $42.00. This thoughtful gift is sure to bring a smile to his face and let him know how much he means to you.
Buy it here: fnp.sg
#3: FRESH WORKOUT CLOTHES
If you're thinking about getting your dad a fresh set of workout outfits, you don't have to search far! Decathlon Singapore is the place to go, offering a fantastic selection of affordable yet top-notch options that are just right for him. Surprise your dad with the DOMYOS Men's Fitness Eco-Friendly Shorts and KALENJI Men's Running T-Shirt, both priced under $50. These choices are not only comfortable and lightweight but also designed to elevate his workout experience to a whole new level. He'll appreciate the effort you put into finding him the perfect exercise gear.
Buy these here:www.decathlon.sg
#4: BOOK ABOUT COFFEE
Written by World Barista Champion James Hoffmann, The World Atlas of Coffee takes you on an incredible journey through the world of coffee, from the humble bean to the perfect brew. Priced at $37.80, this book is a coffee lover's dream come true. With detailed insights into coffee production in over 35 countries and beautifully illustrated pages, it's not only an informative read but also a stunning addition to any coffee table. If your dad is a coffee geek, this book is an absolute gem that he'll truly love. It's the perfect gift to support his passion for all things coffee.
Buy it here: singapore.kinokuniya.com
#5: INTELLIGENT TRACKER
Baseus, renowned for their power banks, doesn't disappoint in the gadget department with their T2 Mini Intelligent Bluetooth tracker. What's more? It's lightweight at a mere 5g. And here's a neat trick: when the battery runs low, simply pop open the case and replace it with a CR2032 battery that you can easily find at minimarts.
For under S$12, it's a handy little tool for tagging all your precious knick-knacks. Android users can pair up to 4 Intelligent T2 trackers using the Baseus Smart app, while iPhone users can link up to 6. With this tracker, your dad will never lose track of his belongings again!
Buy it here: lazada.sg
#6: DELICIOUS CHEESE
Whether you're planning a Father's Day lunch at home or a picnic outdoors, here's an idea to make it extra special – assemble a board filled with delicious cheese and charcuterie. And for a truly indulgent treat, why not include this exquisite truffle-infused brie imported directly from France? It boasts a rich and creamy texture, complemented by its distinctive earthy and mushroom flavors. The best part? You can get this gourmet delight for just $17.00. It's a delightful addition to any Father's Day celebration!
Buy it here: littlefarms.com
#7: COVETED TICKETS TO BREWNANZA FEST
Get ready to be blown away with your father at the ultimate beer event, the Brewnanza Fest by Brewlander. This vibrant festival brings together over 20 of the most innovative craft breweries from America, Asia, Australia, Europe, and United Kingdom. From August 3rd to 6th, 2023, the Bayfront Event Space will be transformed into a buzzing hub of excitement. Get ready to indulge in an expertly curated selection of over 100 unique beers, including never-seen-before brews crafted by renowned international breweries.
But that's not all! Your ticket to this incredible event includes a complimentary beer redemption, allowing you to savor the flavors of your choice. Don't miss out on this unforgettable experience and secure your early bird tickets now, priced at just $25.
Buy it here: brewlander.com