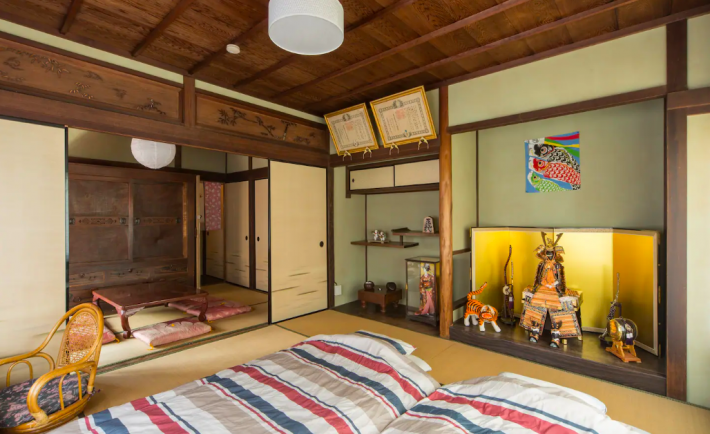 Konnichiwa.
In this week's Travel Thursday series, buckle up because I'm about to take you on a virtual journey through some handpicked ryokans in the heart of Kyoto, Japan.
With a blend of history, hospitality, and comfort, each of these ryokans gives you a taste of the authentic Japanese lifestyle for less than $120/night.
Can't wait to view the listings?
I can't wait to introduce them to you too.
Let's start the ball rolling!
Price: $98/night
Just an easy 8-minute stroll from the subway station, this accommodation offers a Japanese-style room on the second floor, complete with a balcony for those serene morning views or evening reflections.
It's a space okay for 2 to 4 guests, though do note it might feel a little snug if you max it out. While your room is all yours, it's all about the community here. Shared spaces include toilets, a shower room, and a comfortable lounge where you can meet fellow travelers and make small talk. The shared kitchen is good for those who love to cook or just enjoy a cup of coffee in the morning.
To ensure your stay is as comfortable as possible, their staff resides in the house, always ready to assist.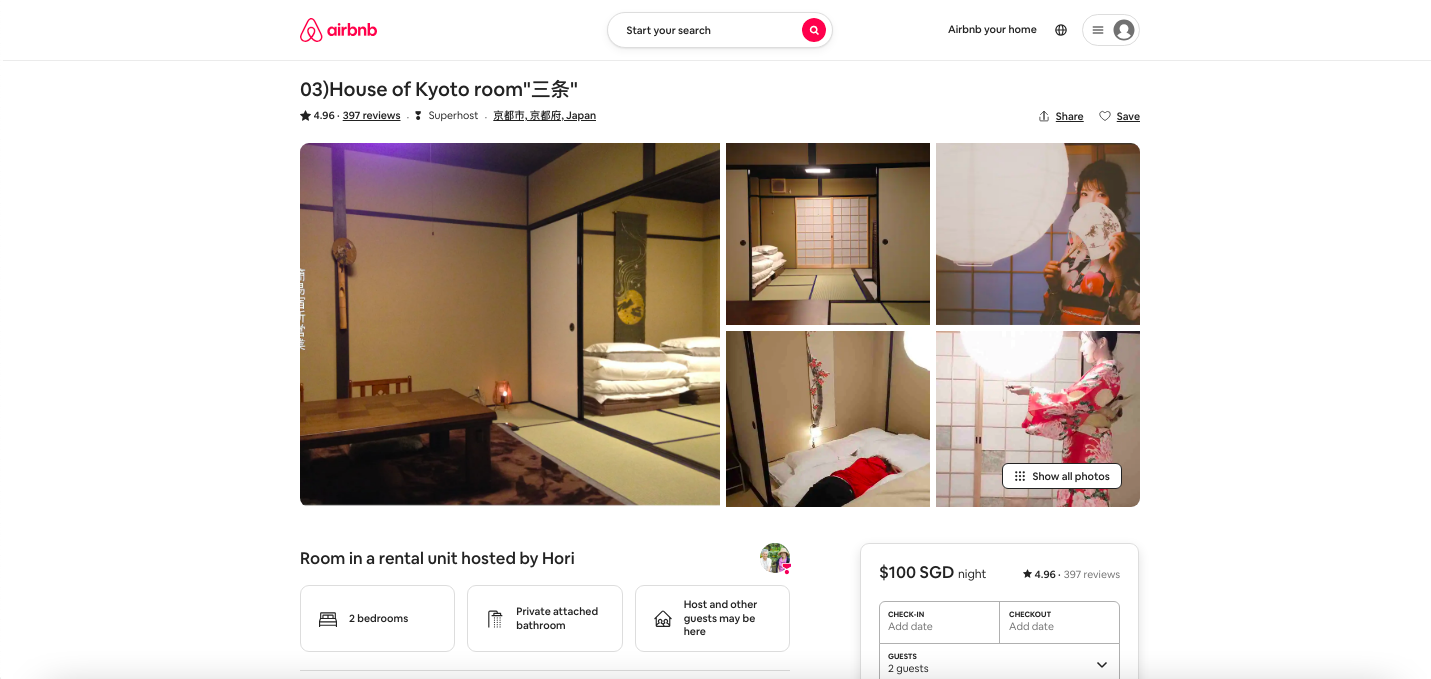 Price: $100/night
Just a few steps away from this Airbnb, you will find Nishiki Market, a feast for all senses. And with numerous stations nearby, you're never far from the city's must-visit tourist destinations.
This ryokan is more than just a place to sleep; it's a taste of the Kyoto lifestyle. Despite being close to the city center, they are tucked away on a quiet street, ensuring a peaceful night's sleep after a day of exploration.
Experience the traditional Japanese ryokan in Kyoto that's been loved by guests from around the world. With close to 400 glowing reviews and an impressive near-perfect 5-star rating, I'm confident you will love it here too.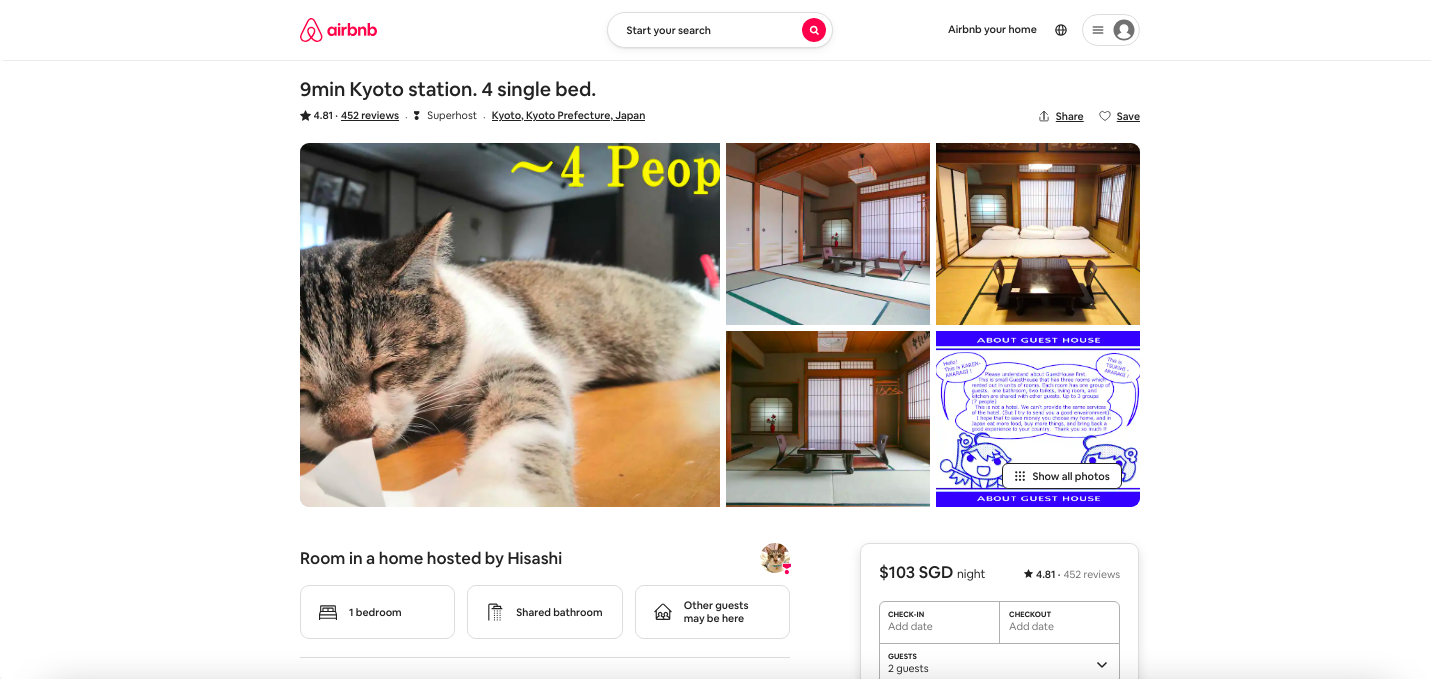 Price: $103/night
This guesthouse is located in the heart of Kyoto, just a skip away from Kyoto station, making your exploration of the city a breeze.
Here, you will have your own private room decorated in timeless Japanese style. Sink into the comfort of the futon beds, complete with mattresses, pillows, and clean sheets. Your room comes with a lock for added privacy and peace of mind. The house is a shared space and you will have access to a kitchen and two bathrooms.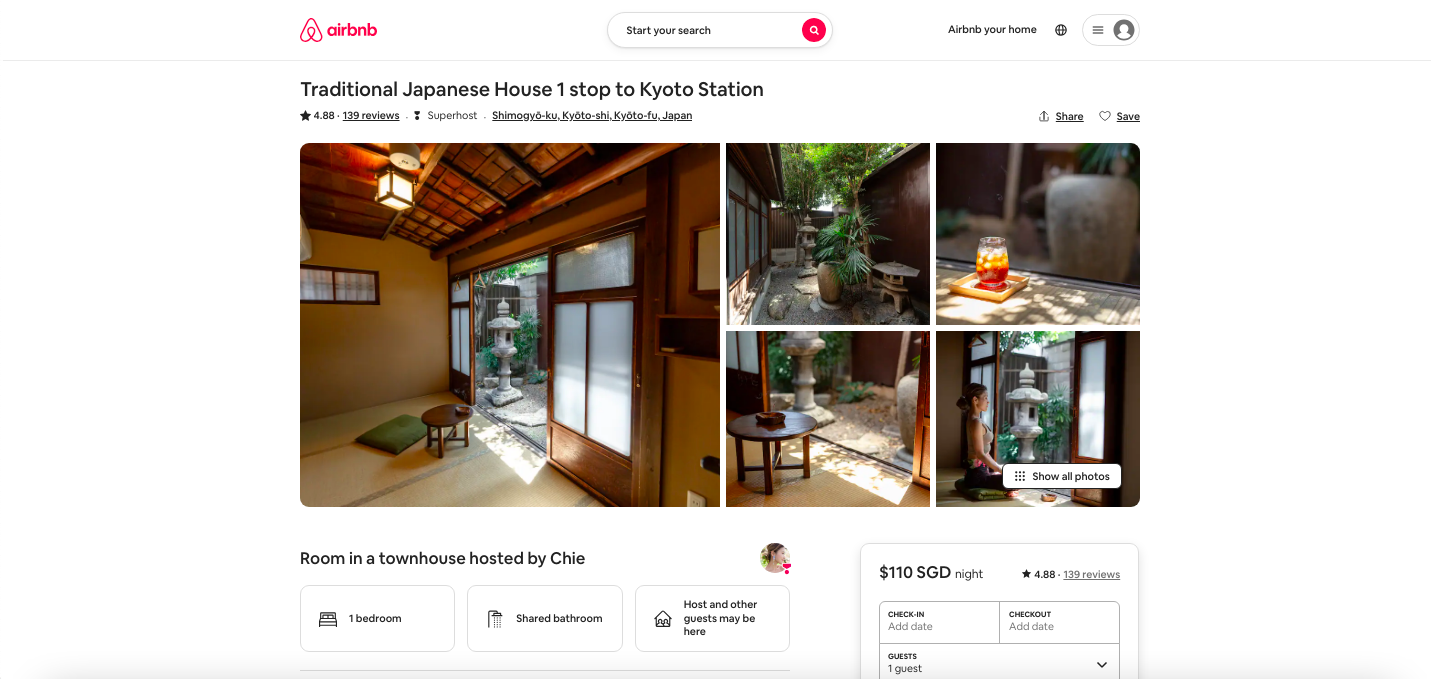 Price: $110/night
B&B Hachi is your retreat in the historically rich Shimabara area of Kyoto.
The host offers you a traditional Japanese room complete with a view that opens up to a garden. The room is furnished with a comfortable, single-size futon, perfect for unwinding after a day of exploration. For your peace of mind, it's equipped with a number lock, ensuring privacy as you venture out into the city. Feel free to stretch out in the spacious living room, whip up a quick meal in the fully-equipped kitchen, or enjoy a meal in the dining room.
It's just one stop away from Kyoto Station, or if you're up for a bit of exercise, it's walkable from the station.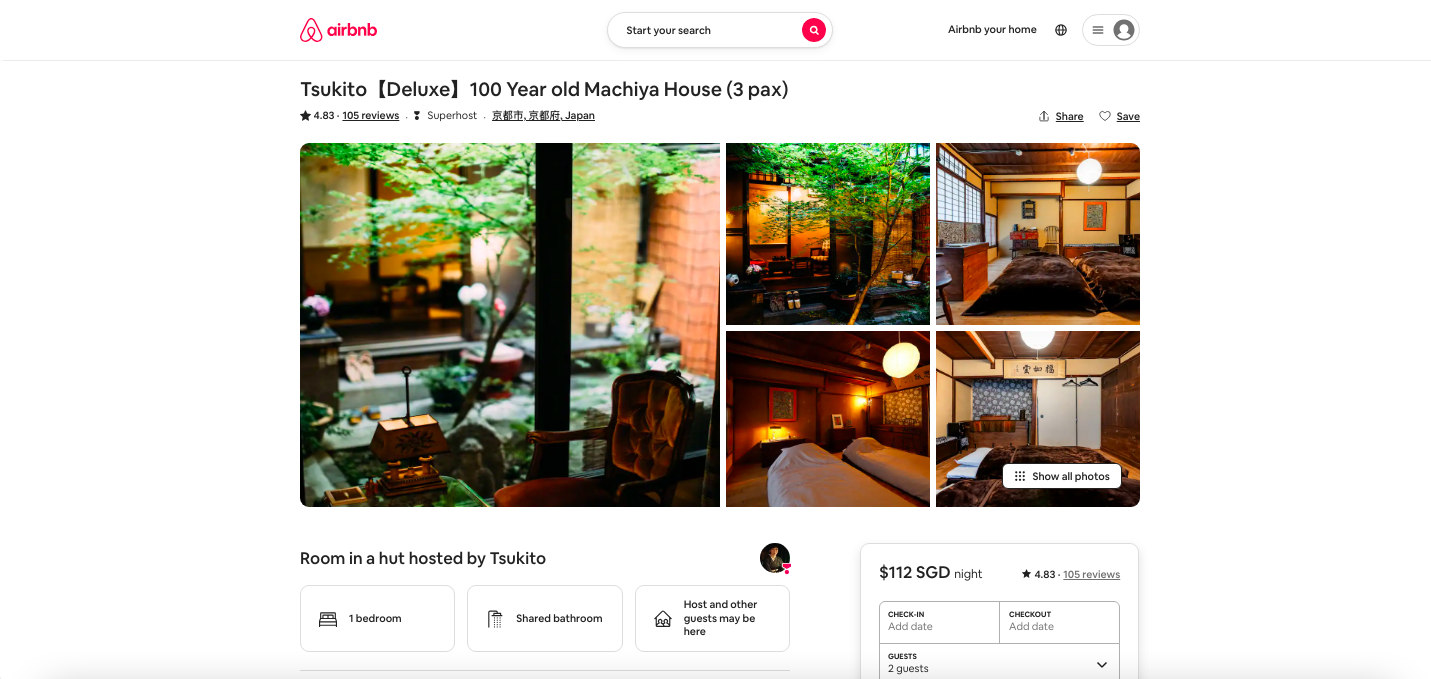 Price: $112/night
This century-old townhouse is sited in the heart of Kyoto's historic district near the iconic Heian Shrine. It makes the ideal spot to truly experience the spirit of Kyoto from the inside out.
For your convenience, they are just a short stroll away from practical amenities. You will find a laundry service for your clothing needs, a drug store for any health or beauty essentials, and a convenience store for those late-night snacks or early-morning necessities.
And babies are welcome so that's wonderful news for parents!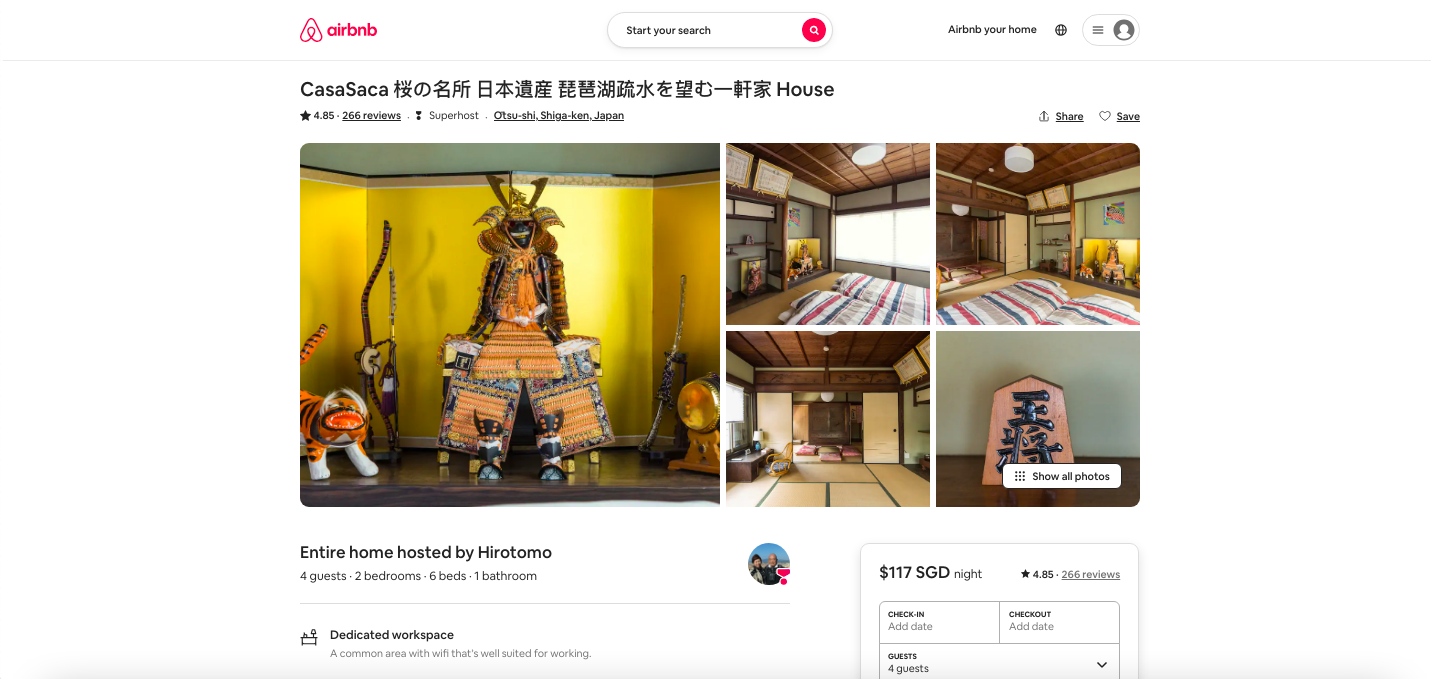 Price: $117/night
Fancy staying in an 85-year-old traditional Japanese wooden house in a quiet and safe neighborhood in Kyoto? Well, I've got this historical gem to round up this post.
It offers two bedrooms and is apt for those seeking to embrace history while enjoying modern comforts like fully equipped cooking facilities, a washer and dryer, and snug beds that promise a restful slumber.
Despite its peaceful surroundings, this ryokan is just a short train ride away from the heart of Kyoto. In 20 minutes, you can swap the tranquility of Otsu for city life.
These six ryokans offer you the chance to get a taste of traditional Japanese culture and hospitality for under $120 a night. Each one, with its uniqueness and convenient location, serves as an inviting home base for all your Kyoto adventures. So it's probably time to stop hesitating, pack your bags, book your flights, and get ready for a tok kong journey in Japan.