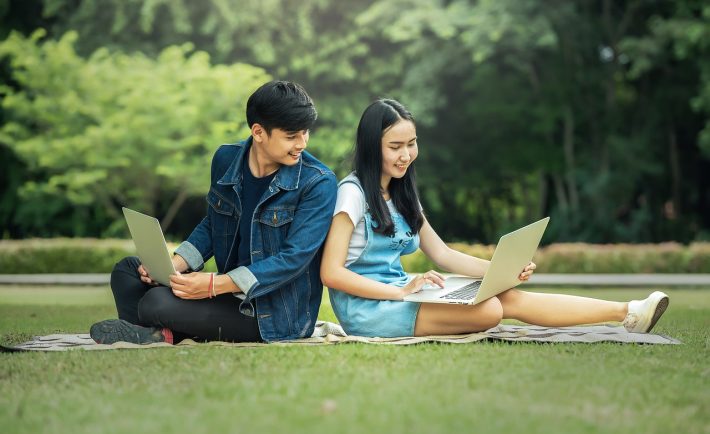 Image Credits: pixabay.com
If you cannot ask for a boost in your school allowance, you need to get creative to stretch your dollar!

TAKE ADVANTAGE OF FREE COMMUNICATION
I recently savored a blissful lunch with my long-term friend. Our conversation took an interesting turn as we shared our childhood stories. When she was a teen, she made countless overseas calls to the Philippines. Her father was immensely surprised that her bill amounted to S$400. A plane ticket would have been cheaper!
Many students are fueled by social interactions. This explains your attachment to social media. Rather than flushing hundreds of dollars down the drain, use the free services provided by WhatsApp and other similar apps.
BE YOUR OWN BEAUTY EXPERT
As a female student, you may perceive spa packages and beauty treatments as luxurious expenses. Imagine the financial impact that these treatments can cause on a regular basis. It will certainly get out of hand! Fortunately for you, you can maintain a beauty regimen with a tight budget. Simply do the treatments by yourself.
Let us start with nails. Purchase an inexpensive manicure kit to revamp your look in the comfort of your own home. I recommend Sephora's manicure kit as it includes several essential tools – nail file, cuticle stick, nail clippers, and a classic red polish. Get all these for only S$17!
Afterwards, you can have flawless skin with coffee grounds. Dip a wet cloth into your leftover coffee grounds. Massage it from your neck down to your body to wash off the dead skin.
BUY AND SELL USED TEXTBOOKS
Textbooks or reference books tailored to tertiary students can cost as low as S$50 each. It is a hefty price to pay for books that you will use for merely 120 days. There are three different strategies to save money on these said books.
Firstly, consider purchasing a second-hand book at carousell.com. Secondly, you may rent the book for free at the National Library. Lastly, you may sell your old books to purchase a new one. The premium time to sell your used books is right after you finished your modules. Waiting too long can harm your chances of pawning your books to the next batch of students.
EMBRACE THE BENEFITS OF WALKING
Play a significant part for Mother Earth by opting to walk to school. When I was a university student, I spared 40 minutes of my day for travelling. I walked to school every morning with music in my ears. I can either feel the breeze or focus on my thoughts. Walking, a form of physical activity, was healthy for my body and my wallet. Do the same thing if you are going to travel short distances.
As a friendly reminder, stay safe by having someone accompany you while walking to isolated areas. Let a family member or a friend know about your whereabouts at all times.
REAP THE STUDENT DISCOUNTS

One thing that I miss most about being a student is the discounts that come along with it. Use the Internet to locate the great offers on restaurants, cinemas, museums, clothing shops, and more. Take advantage of your special privileges while you still can!
If you adore the movie theater as much as I do, you would be glad to know about Golden Village's student promotion. It extends to various types of films. Kindly note that this promotion is valid until December 29, 2017.
Throwing all your school allowance on new clothes from trendy online shops or on drinks from the clubs at Clarke Quay is tempting for youths. However, it will make your life easier if you focus your youthful zeal on saving money. Employing the strategies mentioned above and earning extra cash can help you build a brighter future ahead.