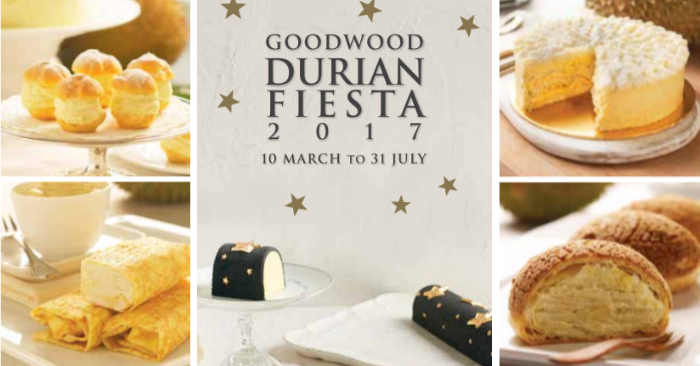 Excite your palate with bold combinations and familiar favourites for this year's Durian Fiesta! A total of 14 premium confections – out of which six are new – using quality D24 and 'Mao Shan Wang' durians, will be presented from 10 March to 31 July 2017 over various periods at The Deli.
Charcoal, sunflower seeds, matcha and salted caramel are just some of the clever ingredient twists in the new durian pastry creations, which will be introduced progressively during the fiesta. There will always be something to look forward to every other month, including the inaugural launch of an adorable furry fiesta mascot!
Classics like our D24 mousse cake, puffs and crepes will be available throughout the entire promotional period.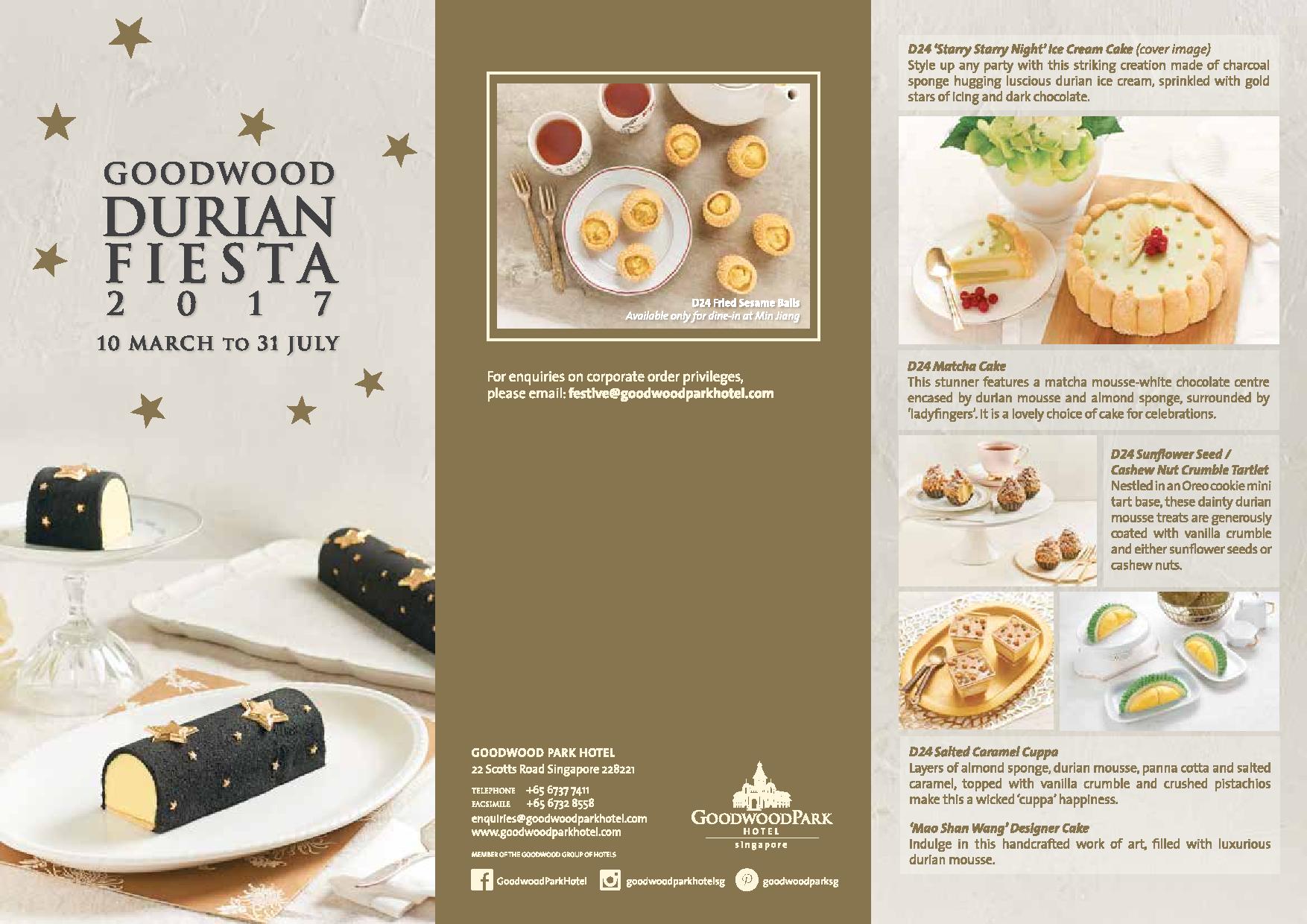 AVAILABLE FROM 10 MARCH TO 31 JULY:
NEW  D24 'Starry Starry Night' Ice Cream Cake
As mysterious as the midnight sky and irresistibly gorgeous, this 'diva' is destined for many encores. A distinctive charcoal sponge hugs a core of creamy homemade durian ice cream, while gold stars made of icing and dark chocolate add a sprinkling of sophistication to the cake. This ice cream creation will be sure to jazz up any party!
NEW  D24 Fried Sesame Balls
These scrumptious dim sum treats are only available for dine-in at Min Jiang in the hotel. Coated with sesame seeds for that incomparable fragrance, the 'shell' is made with glutinous rice flour and gently deep-fried over low heat, before fresh durian mousse is piped in for serving.
D24 Mousse Cake
D24 Puff
D24 Crepe
D24 Ice Cream Tub
'Mao Shan Wang' Ice Cream Tub
AVAILABLE FROM 10 MARCH TO 30 APRIL:
NEW  D24 Sunflower Seed Crumble Tartlet / D24 Cashew Nut Crumble Tartlet
Dainty in size but packing heaps of flavours and textures are these precious pastries of durian mousse generously coated with buttery vanilla crumble and either sunflower seeds or cashew nuts. The former provides a delightful savoury crunch while the latter adds a rounded flavour. The Oreo cookie mini tart base gives it an extra chocolatey kick.
LAUNCHING ON 1 APRIL:
NEW  The Durian Fiesta Mascot – Spiky the Bear (limited edition, while stocks last)
LAUNCHING ON 1 MAY:
NEW  D24 Matcha Cake
NEW  D24 Salted Caramel Cuppa
LAUNCHING ON 27 MAY:
'Mao Shan Wang' Mousse Cake
'Mao Shan Wang' Designer Cake
'Mao Shan Wang' Power Puff
INTRODUCTORY OFFER FROM 10 TO 31 MARCH:
Receive a complimentary pair of the new D24 crumble tartlets (one piece of each flavour) or a slice of D24 mousse cake, with a minimum spend of $60
Hotel Gourmet Cardmembers will enjoy the same above offer at a lower minimum spend of $50
10% off D24 'Starry Starry Night' Ice Cream Cake
Terms & Conditions: The minimum $60 spend requirement (min. $50 for Gourmet Cardmembers) is before discount. Complimentary items must be collected at the same time as the purchase, and are not exchangeable for other items or cash/credit in part or full. The hotel reserves the right to replace the complimentary items with another flavour of equal or lower value in the event of stock unavailability without prior notice. Promotions are not valid with other offers or vouchers, unless otherwise stated. Only valid for takeaway orders at The Deli, unless otherwise stated. While stocks last.
CARD PRIVILEGES:
For takeaway durian pastries (excluding ice cream products and 'Mao Shan Wang' products) at The Deli from 10 March to 31 July 2017,
Hotel Gourmet Cardmembers enjoy a preferential 20% discount
Citi, DBS/POSB, OCBC, UOB Credit & Debit Cardmembers enjoy 15% discount
HOW TO PRE-ORDER:
Click here to view the Durian Fiesta 2017 Brochure.
Kindly allow 5 days from date of order for collection at The Deli. Last pre-order must be placed by 26 July, 12noon. Prices stated for takeaway are inclusive of 7% goods & services tax.
CORPORATE ORDER PRIVILEGES:
For enquiries, please email to: [email protected].