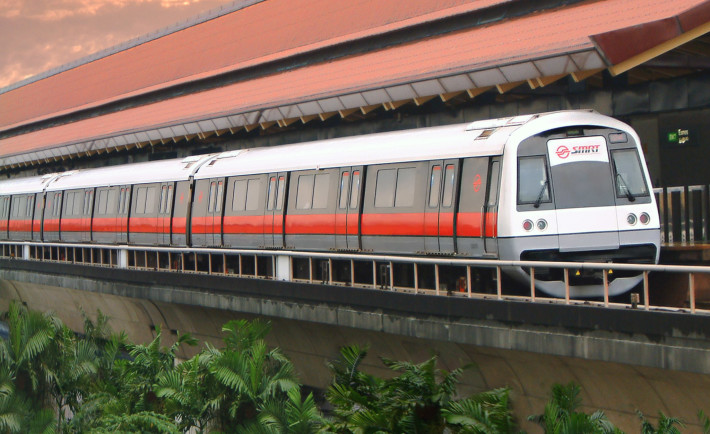 Credits: http://en.wikipedia.org/
When calculating our monthly expenses, usually the first few things that would come to mind are your utility bills, your phone bills and perhaps the few big purchases you made during the month. What may not be so immediately obvious, are the transport costs you incur on a daily basis!
I used to be one of those people who didn't really think much about my transport costs, and just topped-up my EZ-link card whenever I needed to.  However, after a few months, I realised that there was something that was really burning a deep hole in my pocket. After some calculations, I realised how much transport was costing me each month! Don't make the same mistakes I did. Here are a few tips to help you save on your daily transport costs
Take Early Morning Trains
If you take the MRT to work every day, why not wake up a bit earlier to enjoy free rides? If you tap out at certain selected stations (Bayfront, Bras Basah, Bugis, Chinatown, City Hall, Clarke Quay, Dhoby Ghaut, Esplanade, Lavender, Marina Bay, Orchard, Outram Park, Promenade, Raffles Place, Somerset and Tanjong Pagar) before 7.45am, your train ride is completely free! But what if you missed the cut-off time by a few minutes? It's alright, you'll still get 50 cents off your train fare if you tap out between 7.45 and 8.00am. For you to eligible for this fare rebate, the tap-in station cannot be any of the 16 stations that were listed.
Besides getting a free ride, you'll also be able to enjoy less crowded trains, and be able to grab breakfast at a nearby bakery or coffee shop before stepping into the office! With this scheme, you could potentially shave off almost half of your entire transportation costs each month. Imagine all the things you could do with the money you saved on MRT rides alone.
Get A Concession Card
"Wait, aren't those just for students?" you might ask. Well, now there's also a concession card for working adults. While this concession card is certainly more pricey that that of a student concession card ($120 for the adult card), you will definitely save in the long run if you use public transport on a heavy basis. This concession card applies to both trains and buses, so you're able to take as much public transportation you want without worrying about topping up.
Carpool
If you have colleagues who live in the area, and all of you drive, why not carpool? Each of you can take turns to be the driver, and pick everyone up to go to work together. Not only is this more fun than staring into space on the MRT or bus every morning, you also get to save on your fuel, as you won't be using your car every day.
If you don't have any colleagues who live in the area, why not using carpooling apps and sites, such as Tripda and Ryde. With these carpooling apps, you can find people who are going in the same direction and are willing to carpool with you. If you're a driver, you can also find people who need to go to areas near where you're going, then they can contribute a token sum to help you offset your transportation costs!