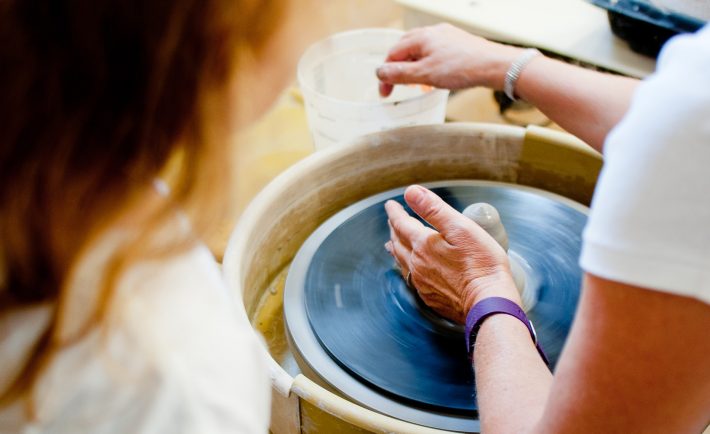 Image Credits: unsplash.com
Pottery is one of the oldest and most widespread forms of decorative arts. Despite the technological advances, the existence of pottery is far from over.
Experience the beauty of pottery as you attend one of the classes below. These classes will help you create your own plates, bowls, mugs, and more. Handmade crafts are more personalized and meaningful than store-bought products.
What are you waiting for? Make pottery your new hobby this 2021!
#1: THOW KWANG POTTERY JUNGLE
What better way to experience pottery than by going back to its roots? While most pottery studios in the country operate on electric kilns, the Thow Kwang Pottery Jungle does not. Witness the magic of the dragon kiln as you attend one of its workshops.
Built in 1940s, the Thow Kwang Pottery Jungle's dragon kiln is one of the last two dragon kilns in Singapore. Its uniqueness does not stop there! You see, it is the only dragon kiln that is fired up multiple times per year. It is made from bricks and uses a wood-firing technique to engulf the pieces in fire. This way, the ashes react with the pottery glaze to create dynamic textures and colors.
Visit this place to enjoy their tours, workshops, and retail items. One of its interesting workshops is the Paw-Stamping Workshop. This workshop allows you to personalize your pet's bowl with its paw (costs about S$65). Workshop prices start from S$28/pax.
Address: 85 Lorong Tawas, S (639823)
Website: potteryjungle.com
#2: ARUDIO
ARUDIO's story dates way back in 2014 with its founder – Poh Sin Yong. Poh Sin Yong aims to support the local art scene through providing arts to the public and job opportunities to the local artists. Nestled in Woodlands, you will find various workshops such as painting, printmaking, and pottery.
ARUDIO provides art classes to all levels and rental spaces for artists. In its core, it believes that everyone is bestowed with the gift of creativity.
Well, here is one for the books – a pottery class for couples or friends! If you are looking for an activity to experience quality time with your partner, you may book for the Ceramic Hand Building Class (about S$130/2 pax). It is a 3-hour class for people who are eager to learn about the different tools and techniques used in pottery. Nonetheless, their trial classes start at S$70/pax.
Address: 11 Woodlands Close, #09-30, S (737853)
Website: arudioceramic.com
#3: THE POTTERS' GUILT
The Potters' Guilt offers more than its eye-catching name! According to its website, it got its name by playing with the terms "guild and guilt". For them, the word "guild refers to the respect accorded to the integrity of craft" and the word "guilt refers to the pursuit of our own idiosyncratic imperfections". This studio consists of practicing artists, who are dedicated to work in the realm of three-dimensional art. They share their passions through their products and workshops.
Sign up for The Potters' Guilt Pottery On Wheels Experience (about S$55/pax) to know more about the technique of wheel-thrown pottery. This is the same tool used in the unforgettable scene in the film "Ghost". Classes are kept small to ensure everyone safety.
Best of all? Their workshops are not only for adults. Your beloved children can experience the therapeutic effect of pottery by signing up for the Children's Workshop (about S$60/pax). Let your children create monster mugs while having fun!
Address: 195 Pearl's Hill Terrace, #01-03, S (168976)
Website: thepottersguilt.com
The abovementioned art and pottery studios are just some of the options you may consider when starting out your creative hobby. If you are not yet ready to take a class, learning at home is a budget-friendly alternative. Start by gathering air-dry clay, paint, and acrylic gloss. There are countless tutorials available on YouTube. See for yourself!