(Image credit: travasis.wordpress.com)
If you might have been aware, Groupon is having a 3 hours sale for 3 days (14 – 16 Apr 2015) from 10AM to 1PM. (Today is the last day!) Shoppers can enjoy an ADDITIONAL 10% to 20% discount on their shopping by using the discount code "3HOURSALE" when you check out your cart.
Most deals are already heavily discounted, so this additional discount makes the deal even sweeter.
Let's get shopping savvy by finding out what are the current deals that are trending on Groupon. We have listed 12 of them, of which most are dining deals (Singaporeans love to eat!), with the most popular deals first!
1. Paradise Inn (6,916 Bought!)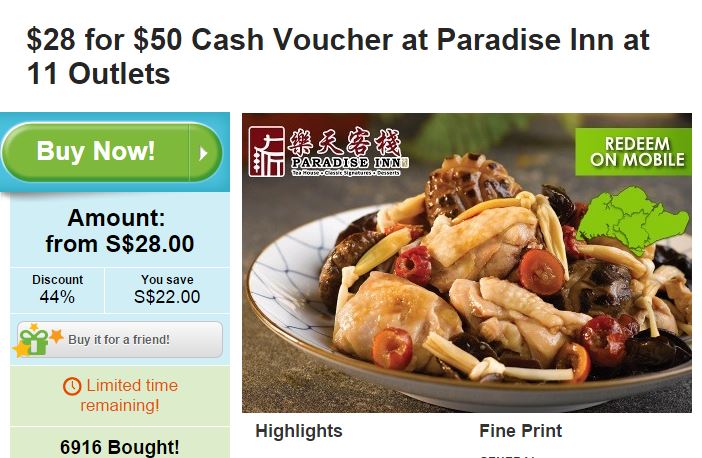 Nothing beats dining at Paradise Inn where you get to enjoy a range of delectable chinese cuisines headed by executive chefs. You must try the crisp-fried crystal prawn with pork floss when you are there!
Purchase it here: http://bit.ly/1ziDH8j
2. Tai Parfait (6,769 Bought!)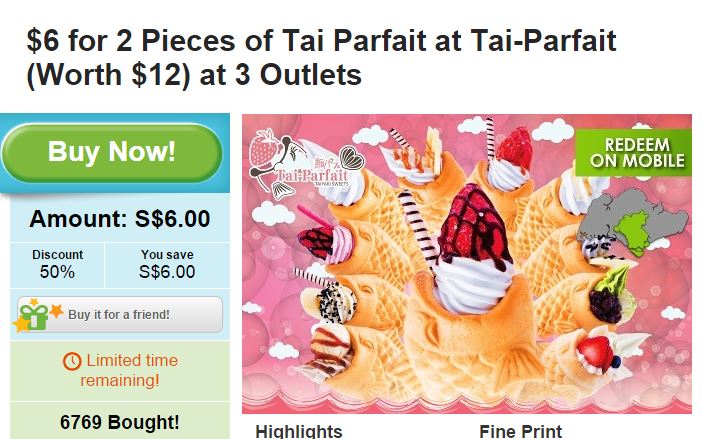 How awesome can it gets when you get another Taiyaki for free? You save $6, the cost of one piece, in this 1-for-1 Tai Parfait deal. Bring a friend along and share the goodness of a parfait topped on to your Japanese cake.
Purchase it here: http://bit.ly/1H9DJpg
3. Peranakan Buffet at Hotel Grand Pacific (5,799 Bought!)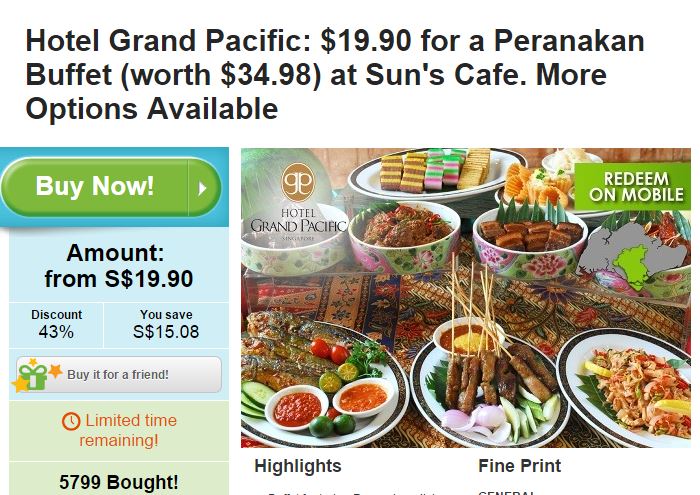 When i heard that Peranakan Food are one of the most traditional yet tasty food around, i was delighted to see this deal on Groupon. When you combine the Chinese, Malay and Indonesian cuisines together, you get a scrumptious spread of food on the table. The buffet at Hotel Grand Pacific means you can eat and try all you want from babi ponteh to ayam buah keluak.
Purchase it here: http://bit.ly/1yx1Jl7
4. Ice Skating at The Rink (5,744 Bought!)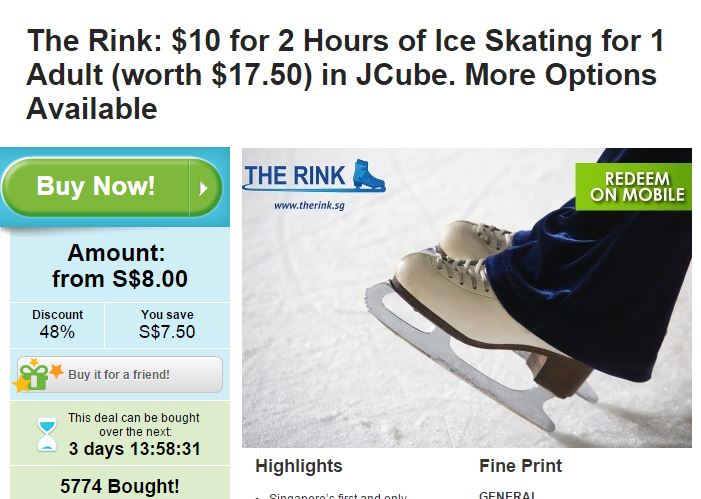 Have you tried the ice skating rink at JCube? Whenever you do your shopping there, don't you feel envious when you see a group of happy people skating in the rink? Now you can, with the deal from Groupon, that makes it MUCH cheaper and affordable to skate now. Almost at half its price, you can skate for 2 hours at just $8.00.
Purchase it here: http://bit.ly/1PQlk4S
5. Churchill Italian Single Size Bedding Set (4,326 Bought!)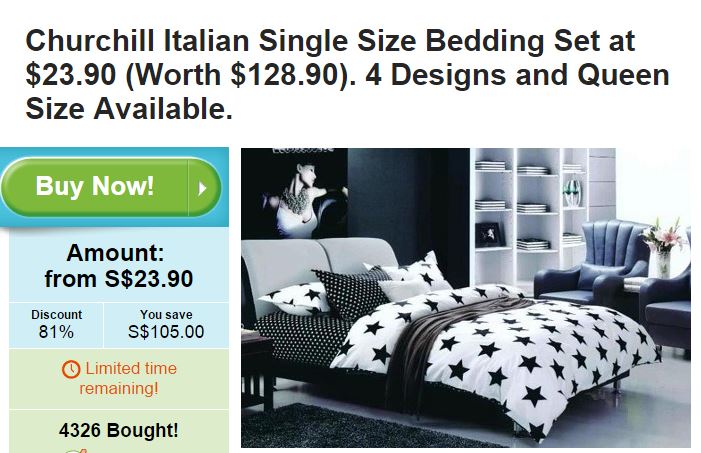 I'm not a household person, but when i saw this bedding set deal on Groupon and the amount of hype it's getting, i thought it might be a good addition to the list.
Soft, flexible and comfy tinsel for breathing material for improving sleeping quality
As we spend most of our time sleeping, i don't mind exchanging my dollars for a better sleeping quality.
Purchase it here: http://bit.ly/1OgTrPS
6. The Manhattan Fish Market (3,543 Bought!)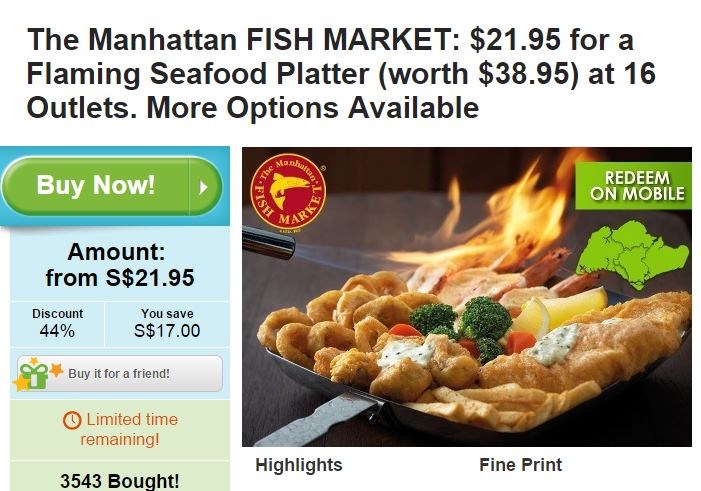 Need i say more?
Purchase it here: http://bit.ly/1cxi7rL
Read Also: The Manhattan Fish Market: Voucher Deals Save Up To 50% (Until 30 Apr 2015)
7. Howards Storage World Cash Voucher (3,220 Bought!)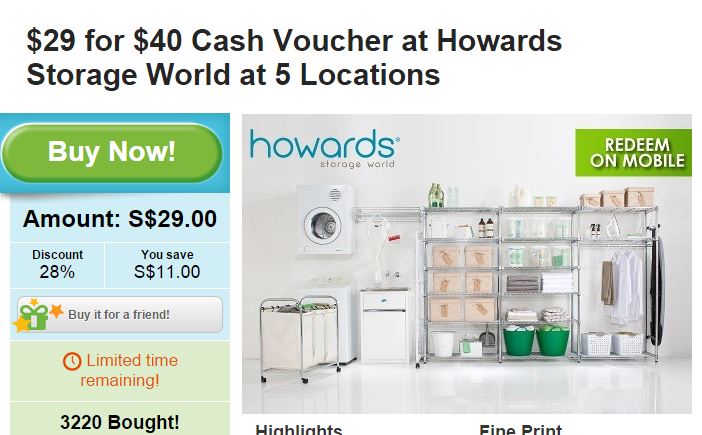 As a standard unit is getting smaller each day, you would need to maximize the space that you have in your house with efficient storage methods. Howards Storage World lets you do that by organizing your mess into neat shelves, drawers and more. Now get clutter-free and not only you save space, you save money with this deal.
Purchase it here: http://bit.ly/1E3WP1c
8. Oromo Coffee's All-Day Breakfast (2,955 Bought!)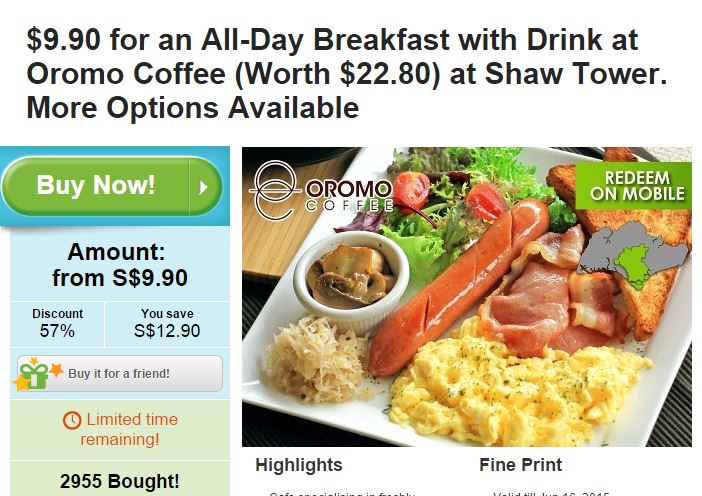 Located at Shaw Tower, Oromo Coffee aims to start your day with a hearty breakfast that comes with a drink. You save more than half the price by purchasing this deal.
Purchase it here: http://bit.ly/1FViYvT
9. Original Apple Lightning Cable (2,938 Bought!)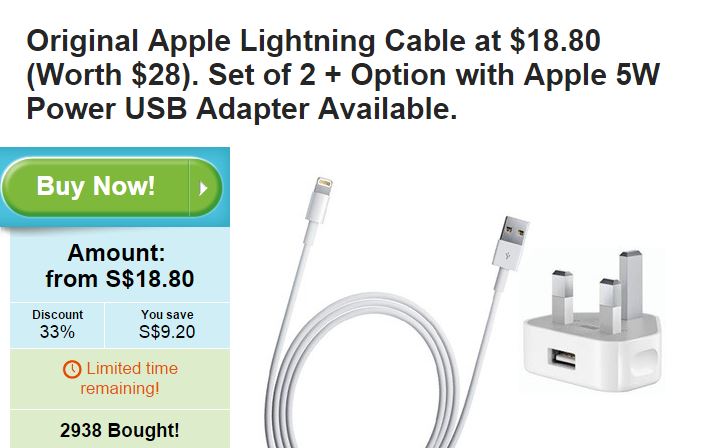 You need to sync your iPhone or Apple products with your laptop? Now get the real deal when you can get it for cheap from $18.80.
Purchase it here: http://bit.ly/1HvErhg
10. Philips Air Fryer (2,735 Bought!)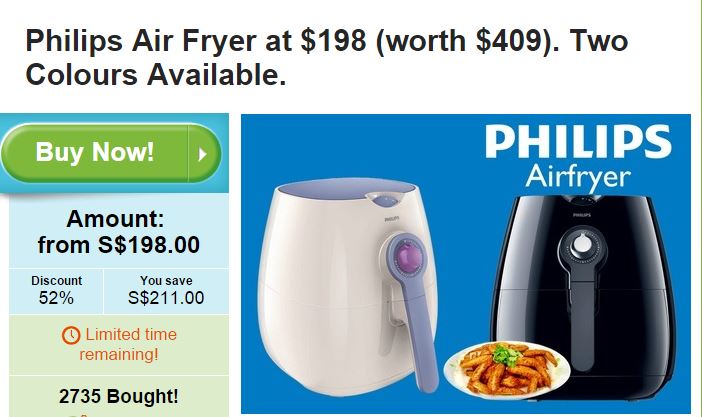 You love your fried chicken and fried food, but hates the calories that come with it? How about airfrying your food when it purportedly claims that you gets up to 80% less fat from the standard cooking method?
The Airfryer can make nearly anything – and fast. From fried chicken to french fries to breakfast muffins, with less fat and more nutrition. The airfryer's ability to fry, roast, bake or grill makes it almost unbelievable: that is, until you've tried.
Purchase it here: http://bit.ly/1H9Ebno
11. Straits Cafe International Buffet (1,811 Bought!)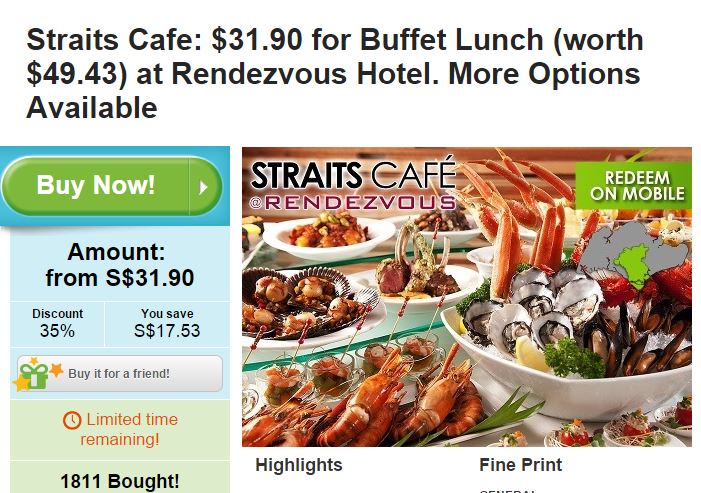 The moment i saw someone slurping down those oysters and picking on those snow crabs from the window yesterday (15 Apr 2015), i know it's a hidden treasure along Bras Basah road. I got to admit i stretched the list from a top 10 to a top 12 list because i need to add this buffet deal which you can get at a bargain. Here's your chance to savour these sea delights from mussels, scallops, gong gong, tiger prawns to oysters and snow crabs.
Purchase it here: http://bit.ly/1CQ1SuI
12. Bluetooth Smart Watch U8 (1,772 Bought!)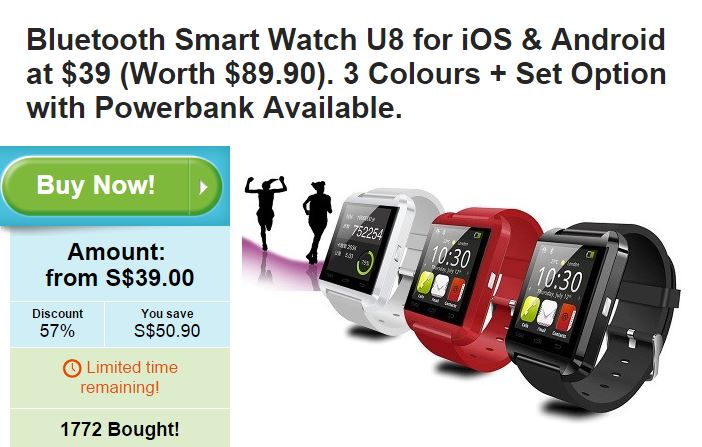 Who say you need to get the latest Apple Watch? This Bluetooth Smart Watch allows you to take calls from your wrist, play the music from your phone besides telling you the time. Get it now from $39 at Groupon.
Purchase it here: http://bit.ly/1b4Rv0E
I have round up these 12 items to make it easier for your purchase, just click on the image which it will redirect you to the product page. Just don't forget to enter the promo code: "3HOURSALE" from now till 1PM" to get an additional 10% to 20% discount on top of your purchase.