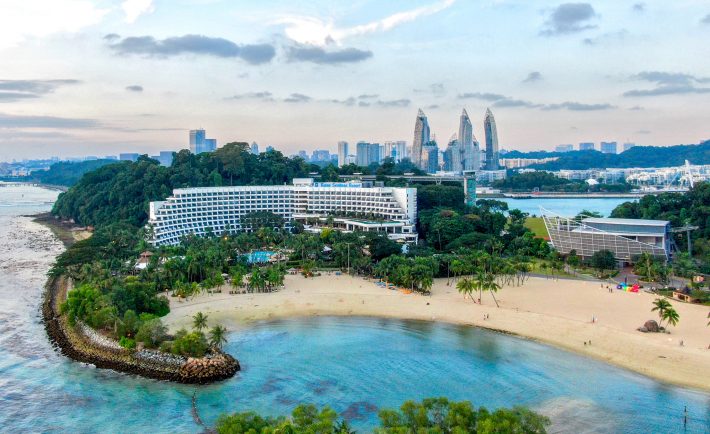 Image Credits: theworldwidewebers.com
Did you notice that we mentioned 'daycation'? Instead of a staycation where you usually stay overnight at an accommodation, Shangri-La's Rasa Sentosa Resort & Spa is offering you a 'daycation'. Termed as a '5-star day pass', you will have access to the resort's amenities and services for approximately 10 hours. To be exact, from 10am to 8pm.
The question is, would you pay 75 SGD (adult rate) to access the hotel's pools and beach area? Let us look into the details.
#1: PRICING
Adults
For adults aged 18 years and above, the cost to entry will be 75 SGD. You will also get 50 SGD worth of dining credits which can be used at Siloso Beach Bar. Think beach bites like Mini Cheese Beef Burgers, Chicken Wings, Cheesy Potato Wedges, and more.
Teenagers
Youths aged 13 to 17 years old will need to pay 50 SGD. The price you pay will include 30 SGD worth of dining credits.
Children
Planning to take on this 'daycation' with your family? A child aged between 7 to 12 years old will cost 25 SGD. You will get 15 SGD worth of dining credits tagged to the payment.
Preschoolers
Little ones from 4 to 6 years old will need to pay 10 SGD. There are no dining credits offered.
Toddlers
Those under 3 can enter for free with every paying adult.
Now, onto the perks.
#2: WHAT'S IN IT FOR YOU?
We've got to put it upfront that the main resort building will not be accessible since it's currently used as a Stay-Home-Notice facility. That being said, there will be no comfy hotel beds with this deal.
Poolside fun
You will have access to the resort's swimming pool while your kids can monkey around in the children's pool and have fun at the waters slides. There's also a splash play area.
Need a suntan? The sunbeds lining the pool area are free to use. In case you're worried, every sunbed will be sanitized after each use. You can also find them placed about a meter apart. ​​Yup, social distancing rules will be in place for your safety.
Beach access & sea sports activities
The price you pay will also entitle you access to the beachfront area. Those who want to engage in some sea sports activities can do so. There are single, double & triple kayaks, stand-up paddleboards, and pedal boats.
Free Wi-Fi & parking coupon
And of course, you will still be able to remain connected via their free Wi-Fi. Complimentary parking coupons will also be issued.
#3: OTHER THINGS TO TAKE NOTE
The prices stated at the start of this article are subject to 10% service charge and prevailing government tax.
In compliance with the law, your group size will be limited to a maximum of only five persons.
Sea sports activities can go ahead only in favourable weather conditions.
Unused dining credits are non-transferable and non-refundable.
This offer is not valid in conjunction with other offers or promotions.
So, what are your thoughts? Is this 'daycation' idea worth the price tag? If so, go ahead and place a reservation for a well-deserved break.