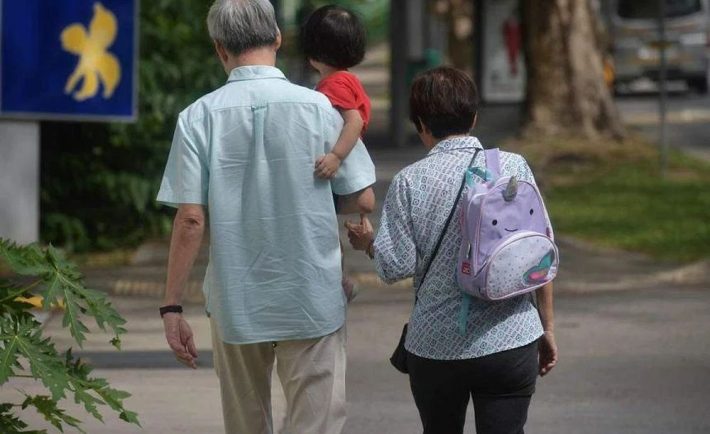 Image Credits: c3a.org.sg
Hey, hold your horses before you tell your kids they are going to be with ah gong and/or ah ma this upcoming yearend school break.
You think your parents haven't got their own lives to live? Just because they're your parents doesn't mean they are forever at your beck and call to babysit your little monsters when you and your spouse are busy with the daily grind.
Wake up your idea. Your parents have their plans and may also want to go jalan-jalan themselves instead of being stuck at home playing "maids."
The changing roles of grandparents
Times are changing so don't simply assume your parents will take care of your kids during the school holidays.
Modern grandparents usually lead active lifestyles and have their travel plans or hobbies. Their free time may not always match your kids' school breaks.
Yes, they may dote on their grandkids and don't mind babysitting them for the weekend. But if you rob them of their total "me time" and just dump your kids on them without asking first, they may feel taken advantage of.
Also, some grandparents return to the workforce or do volunteer work. Their schedules may not permit them to watch your kids, especially for long periods. It's best not to assume their availability and check with them first before making plans.
Consider your parents' needs and limitations
Taking care of kids for days on end can be tiring for anyone, let alone the elderly. Before dumping your little ones at their place:
Think about their schedule and commitments. Check with them first before making arrangements.

Consider their energy levels and health conditions. Looking after active children requires stamina and patience. Be sensitive to your parents' abilities and limitations.

Provide clear details about the kids' routines, schedules, favorite activities, and any medications or special needs. Don't leave your parents guessing and scrambling to figure things out. Give them as much information as possible.

Offer to contribute to costs for food, activities, and transport while they're at their grandparents' house. Your parents will surely appreciate the gesture.
Make backup care plans for your kids
Some backup plans in case your parents cmi:
Find holiday camps or activities
Sign your kids up for some holiday camps, classes, or activities to keep them engaged. Things like sports camps, arts and crafts workshops, or science experiments are great for learning new skills and making new kawans. The kids can try different activities throughout the yearend holiday to prevent boredom.
Organize some playdates with your children's good friends so they can spend time together. Meet at a playground, indoor play area, or each other's house. Supervise them or take turns with the other parents to look after the group.
If you need to work or run errands, consider hiring a babysitter, nanny, or tutor to watch your kids. Ask friends or family members for recommendations or check websites that offer background checks. Meet potential sitters first before leaving your children alone with them.
Or if your work schedule can afford it, why not take some time off yourself to spend with your kids? Cook their favorite foods, watch movies, play games, and just enjoy each other's company.
Your children will appreciate having your undivided attention and you will get to witness more of the little moments that make their childhood so fleeting. The school holidays will fly by, so make the most of this time with your little ones!
Your parents have spent decades raising you already, now you want them to help you take care of your little monsters? Don't be so selfish. If possible, make your own arrangements for the yearend holidays this year. Your parents deserve rest after working so hard their whole lives. If you don't show them some "sense" now, then when? Time to step up and be the parent, stop dumping the childcare work on your poor parents.