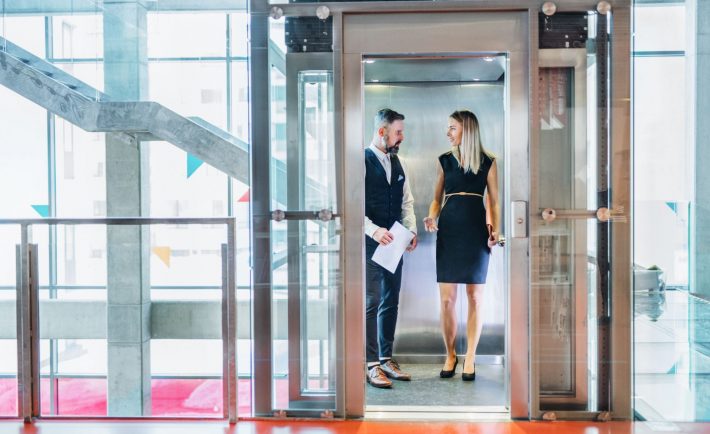 Image Credits: Entrepreneur
Do you know what an elevator pitch is? Want to make a smart guess? As its name suggests, it has got to do with a pitch you can make if you were to meet a valuable contact in a lift ride.
According to the Cambridge dictionary, an elevator pitch is "a short but effective explanation that is intended to persuade someone to buy a product or accept an idea". It could also be "a short description of a product or business idea, especially one given to a possible investor".
With a rough idea of what an elevator pitch is, let's zoom in on the steps on how to create one you can use in the context of a job search.
#1: Pen down one sentence
If you're reading this while waiting in queue to get your daily takeout, you might want to type this down on your phone somewhere. For those who are sitting at your desk right now, reach out for a pen and paper. Then, write down just one sentence why you think you're worthy of entering XYZ company.
This move will help you get started on revolving your elevator pitch on that one idea. In other words, it's the crux of your talk. It should be confident, optimistic, showcases your strengths, and reveals how your previous experience can assist you to be a top achiever in the new position.
Here are some examples for your consideration:
I'm a sales executive with extensive retail experience of the kind this role requires.

As a CFO in three consulting firms, I bring substantial industry experience to this crucial role.

I have a strong track record in HR, and I believe my accomplishments will be an asset to your firm.
#2: Craft an opening
Once the heart of your elevator pitch is ready, it's time to move on to craft an opening. Ideally, one that is warm and has the potential to build rapport with the contact you're speaking to.
Should you be using this opening pitch at an interview session, then your opening to your recruiter could be something like: "I've studied this position at your company, and I am excited by what I see."
If you're meeting an acquaintance who's working in the same company you've applied to, and you're thinking of gaining a tip or two, maybe you can try saying: "It's nice to meet you here. I'm getting ready for an interview at your company and wondering if there is any advice you can give on how I can land the job I've applied in the HR department."
#3: Get into the specifics
By now, you should have your core message and an opening all written down. Great work! Now, moving on to the halfway mark. In this step, you will want to go into the specifics. By that, we mean the experience and successes you've had in your job positions.
To prove that you're serious about contributing to the company because you've done similar tasks at your previous one, list it. Give a few concise reasons why you think you should get the contract.
Here are some for your reference:
My track record includes administering our benefits program.

It also involved designing and overseeing an employee satisfaction program.

Finally, I have led a team of 12, and we have surpassed all our targets.
Job seekers who have been through several jobs can still get into the details by chronologically listing down your achievements from one position to the next.
#4: Add a call to action
Marketers would know this very well. A call to action (CTA) is a marketing strategy that involves using words or phrases to induce immediate actions from the target audience. This is crucial for job seekers because you're now attempting to market yourself to your potential employer.
It's not an easy task, either. Let's say you happen to meet a useful contact who's working in the same firm you're planning to apply to. In this case, your CTA might be for that particular individual to provide you with a reference email or call to be made on your behalf.
For interviewees, your CTA after a seemingly pleasant conversation should be something like: "I love what I've heard, I'm looking forward to next steps, and I trust that you will be in touch soon. When can I expect to hear from you?"
#5: Customise according to situations
So you've successfully created your personalised elevator speech. Now, it's time to string them together and check for coherency. Be mindful that you can customise the different sections based on the situations you're in.
Also, lest you think you have to deliver the entire script word for word, do not misunderstand. In a conversational context, especially an impromptu meeting, time may not necessarily be on your side. But having a written elevator pitch can provide you with a narrative thread at the back of mind for you to retrieve when the opportunity presents itself.
Play it by ear when the time calls for it!