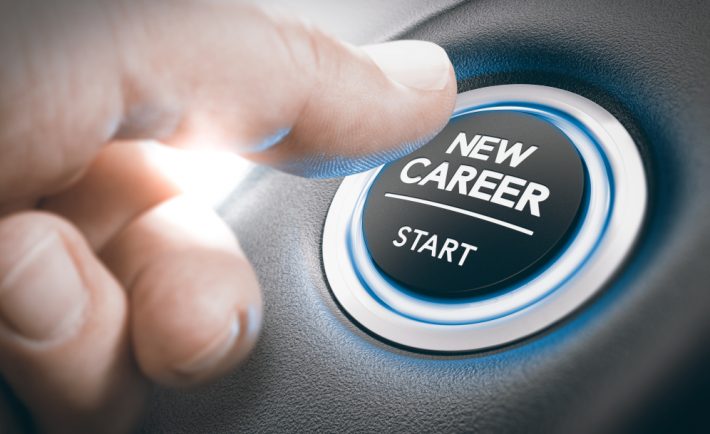 Image Credits: e2i.com.sg
So you want a mid-career switch? Or you're in the midst of considering jumping into a different field? Kudos to you for even having the courage to want to take a step forward.
But hold your horses because you will have to find your ikigai (ee-key-guy) first. In short, ikigai is a Japanese concept referring to "finding joy in life through purpose". You can read more about the philosophy of ikigai here.
According to Adrian Tan, a human resource practitioner, folks thinking about a mid-career switch should approach the matter via the ikigai concept. These are the main elements that make up the idea:
Loving what you do

Doing what the world needs

Getting paid for it

Being good at it
Need some inspiration? Let's look at two mid-career switchers who have successfully done it.
From journalist to a veterinary surgeon
Amanda Tan is the name to note. The 34-year-old recalled her experiences of frequently visiting the vet because of her pet cat. She said she was impressed with how knowledgeable the doctor was and how meaningful the profession helped pet owners like her gain reassurance.
Dr Tan took the leap of faith in her mid-20s and is now a veterinary surgeon at the Gentle Oak Veterinary Clinic along Ghim Moh Road.
At this point, some of you must be thinking if Dr Tan had some prior qualifications to becoming a veterinary surgeon. Well, the quick answer is no.
After Dr Tan left journalism, she took on a part-time job that provided her with volunteering opportunities at a veterinary clinic. The valuable hands-on experience thus led her to the decision to move forward with the career switch.
She then furthered her studies through a five-year Doctor in Veterinary Medicine course at Murdoch University in Perth, Australia.
"Whatever effort that you put in is going to directly affect your outcome. You're not too old to make a change… It just requires a bit of sacrifice and courage," she noted.
Dr Tan also mentioned that she had met a few colleagues who graduated in their late 30s after a mid-career switch. Hence, don't let age become a stumbling block for you to take that next step forward.
Still unsure if you should risk your current job stability? Read on for Mr Law Kia Wei's story.
A switch from engineering to sales
What prompted Mr Law to switch to sales is his realisation of a missing essential soft skill – interpersonal communications. Therefore, when he was presented with an opportunity to become a medical equipment salesperson at IDS Medical Systems, he took it in stride.
Of course, not without a little hesitation because he lacked both sales and medical field skills.
The 36-year-old said he did not have it easy for the first year. He struggled a great deal before getting into the hang of things. Seven years have passed, and he now has his own business unit at the same company.
Ready for a pay cut?
Yes, we have not forgotten about the drop in salary. "If you jump industry, it's expected since you have not proven yourself. It was something I had to make peace with," Mr Law shared.
To that, Ms Carmen Wee, a veteran human resource practitioner, highlights that the salary crawl could take a few years. Thus, the risks and financial trade-offs for a younger professional might be lower than for someone older. One should also factor in their current financial commitments and the readiness for drastic lifestyle changes.
Ms Wee also added that older workers should be realistic about the level of seniority that they can achieve as they make a job jump. Since it will take a while to catch up, she advised mid-career switchers to do their due diligence in the new field. Remember that you are in competition with other people who already have the relevant experience.
But with all that said, Mr Tan encourages older workers not to be discouraged. "If you've done logistics but wish to get into marketing, what are the things you learned in logistics that are applicable? Perhaps it is the way you plan things, which can be applied to a marketing department running a webinar?" the HR professional remarked.
Final thoughts
Cameron Brett, Managing Director of Randstad Technologies in Japan, suggests, "Something I recommend for everyone is to do a skills assessment – to better understand where they are today, where they need to be in five years. Take a look at the skills they currently have and what they are lacking."
You can easily find out your strengths and weaknesses with an online test using the Career Explorer or Myers-Briggs Type Indicator (MBTI). The results could be your answer to your next career move based on your aptitude and interests.
Next, find a reliable mentor or someone you look up to. LinkedIn is one good way to reach out to professionals in a specific field. Connect sincerely and ask for practical advice so you can decide for yourself if a switch makes sense for you.
Before you go, allow me to quote from an article, "It's never too late to give it a try. Changing careers at 40 is not uncommon. 40s are the new 30s. 30s are the new 20s."
Here's wishing you the best of luck in taking that plunge!