If you are planning to travel anytime with Scoot soon, listen up. Stop all your fares search from their site and try this instead.
This method could potentially save you up to 30% of your fares if you do it right.
Scoot has collaborated with ZUJI, an online flight search platform, to provide discounted airfares for bookings made from now till 12 February 2017.
We compared the fares with different destinations with different travel period: we promise you that there is no gimmick and the fares are lower than booking from Scoot directly all the time.
Sale period: Now till 12 Feb 2017
Travel Period: 1 Feb – 31 May 2017
What's more, enjoy up to 5% rebate + an extra $50 rebate with Mastercard! Find out more here.
* Note: For bookings made with ZUJI, it will usually include a travel insurance plan by default. You need to make sure you uncheck it if you want to compare the fares booked directly with Scoot.

1. Bangkok (8 – 15 Feb 2017)
ZUJI – $119.17 (after taxes and surcharges, credit card fees and ZUJI Booking Fee)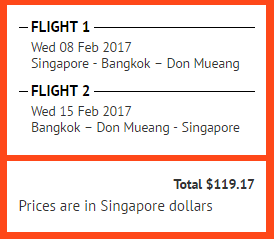 Scoot – S$144.17

2. Taipei (24 – 26 Apr 2017)
ZUJI – $307.57
Scoot – $356.57

3. Melbourne (3 – 7 Apr 2017)
ZUJI – $417.08
Scoot – $490.52

Search for the lowest Scoot's airfares on ZUJI here.
Share this trick with your friends and loved ones!