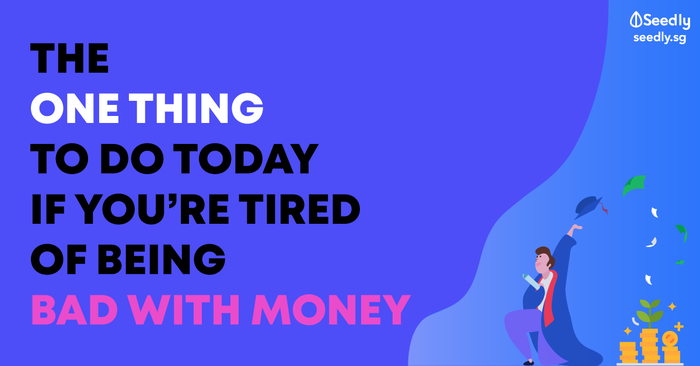 Do you look at your bank account at the end of the month and wonder where all your money went?
Are you tired of having to deal with banking, choosing a debit card or credit card to use, investments, paying your utilities and bills, getting sufficient insurance, settling your loans and more?
(Man… I got tired just typing this list out.)
In fact, does sorting out your personal finances stress you out so much because you don't know where to start and have no idea what you need to do?
Well, if you're tired of being bad with money, then you just need to do one thing today: visit Seedly.
Be Part of Singapore's Biggest Personal Finance Community
Seedly is home to the BIGGEST personal finance community in Singapore and it's the only resource you need to sort out your personal finances.
The coolest thing about the Seedly site is that it knows exactly what you need…
All you have to do is just ask. See that Search Bar?
Just type in your query and you'll find all the relevant information about whatever you wish to find out.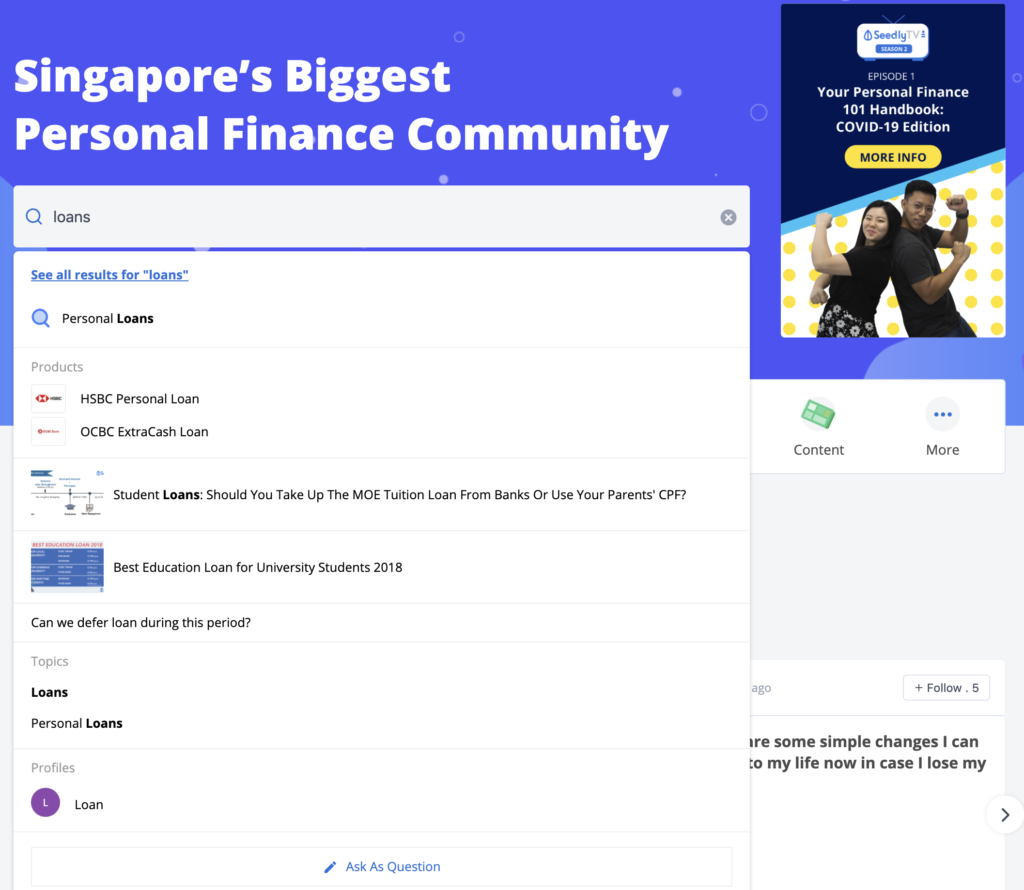 For example, if you're looking for information about loans, just type in 'loans' and you'll find:
Product information and reviews about loans
SeedlyReads content about loans
Questions asked by the Seedly Community about loans, and even
A Seedly Community member named… erm… Loan
Basically, everything you ever need at a glance.
Alternatively, you can also find what you are looking for by Category.
Let's say you're looking for a new credit card.
All you have to do is click on the 'Cards' category icon: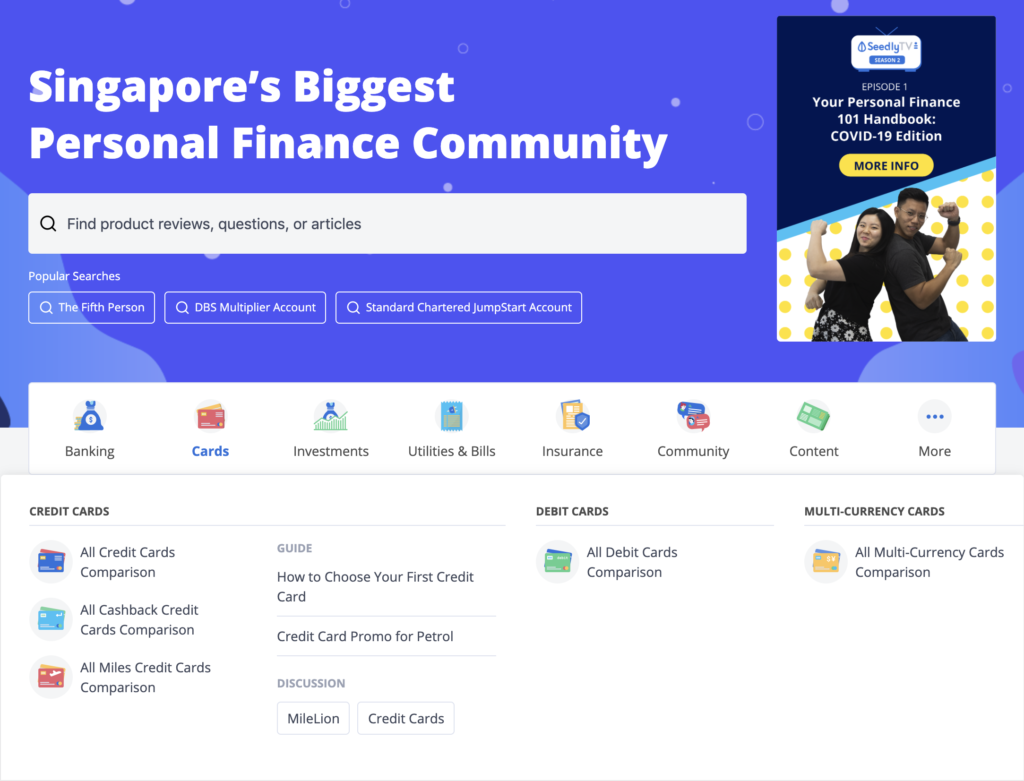 And you'll be able to compare between credit cards and read guides on how to choose your first credit card.
There's no need to waste time trawling the internet in search of information that may or may not be helpful or relevant.
Level Up With the Savvy Seedly Community
Let's face it, personal finance is a subject that was never taught in school.
So the fastest way to get good at it is to talk to other community members, discuss, and learn the best practices and money-saving hacks from each other.
On the Seedly site, you'll notice that there are Recommended Questions.
That's where you'll find questions which the Seedly community is actively talking about and discussing.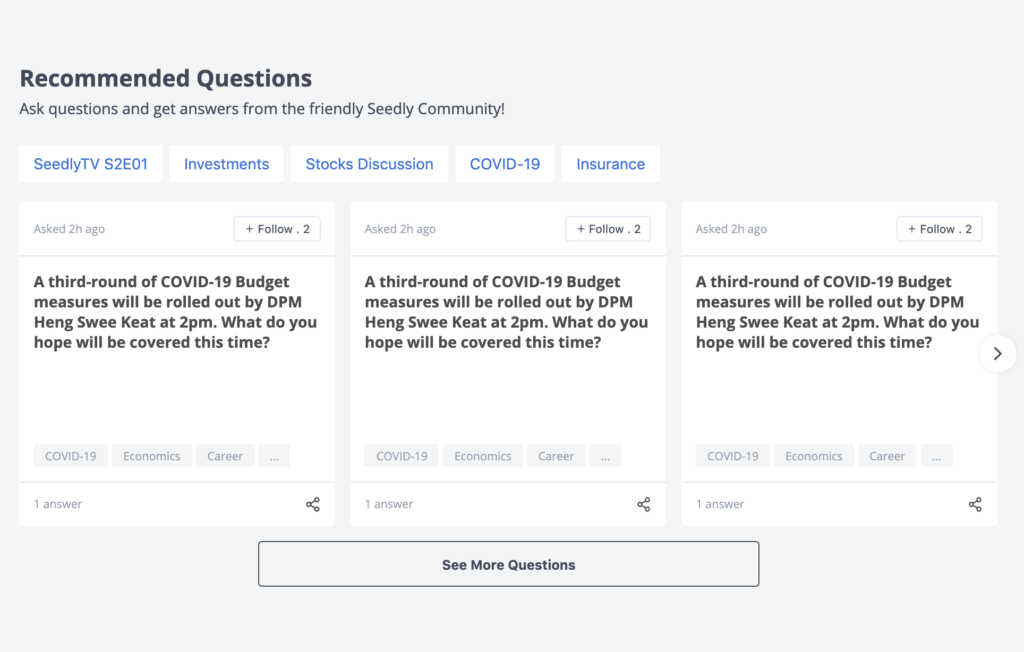 It's also the perfect place to learn about the newest developments in personal finance and level up by finding out new ways to do things that you might never even have thought of.
Find a topic that you like?
You can follow the topics and questions which you are interested in and receive notifications once someone has something to share.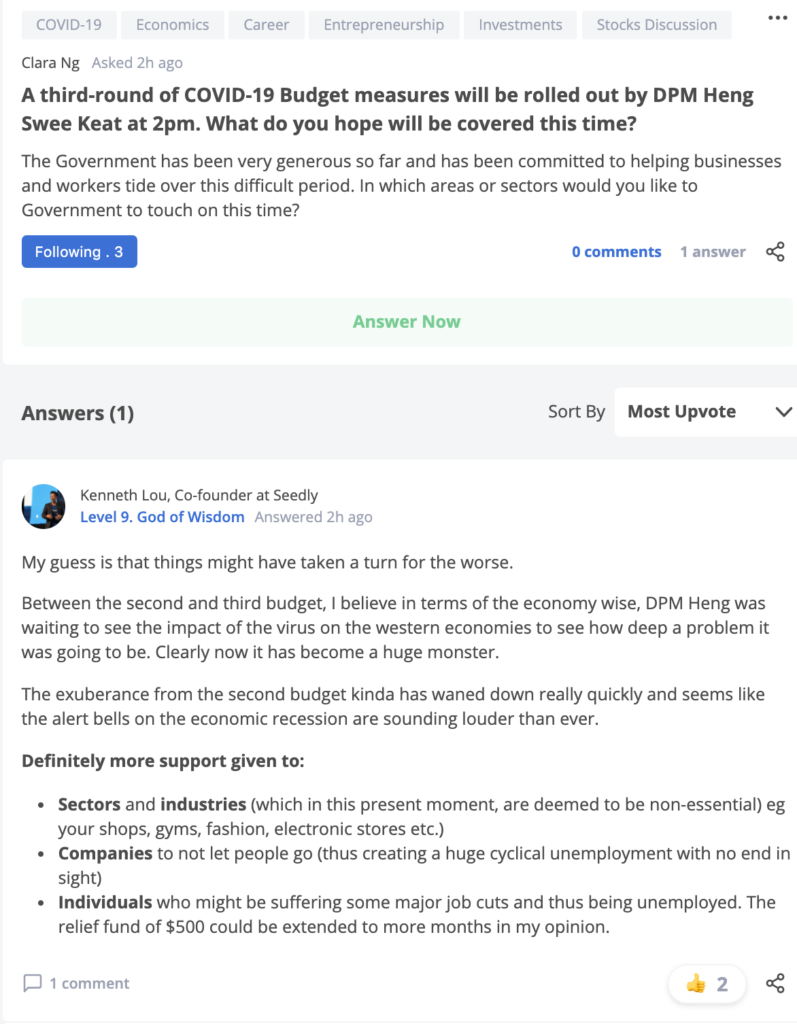 Oh, and if you see a question which you know the answer to, you can also answer questions to help out a fellow community member!
Read Real User Reviews Left By The Seedly Community
You know how every bank, insurance company, mobile telco and etc. out there claims to have the best product?
Under Recommended Product Reviews you will find honest and unbiased reviews which provide great insight into whether you should REALLY buy that product or not.
Yep. You no longer have to try it out for yourself in order to find out if something's as good as it looks.
Learn The Latest Money Hacks and Read Useful Guides
Last but not least, you can also get quality personal finance-related content under Recommended Articles.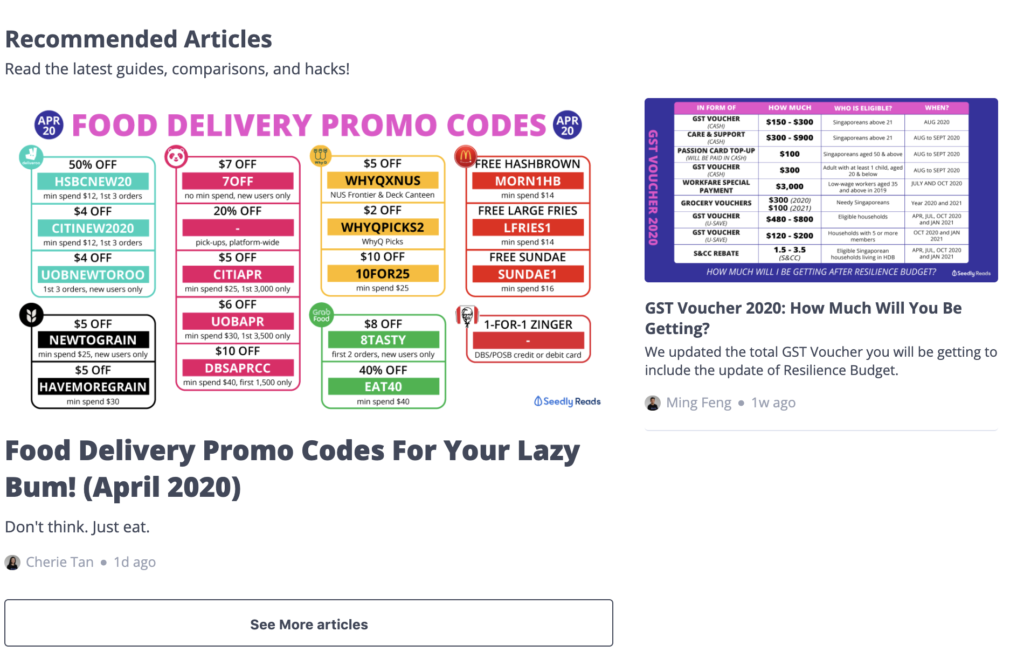 There, you'll only find relevant, easy to read, hard-hitting personal finance content that is sure to turn you into a personal finance pro in no time.
Start Today
Having control over your money is one of the best feelings ever.
So if there's one thing you should do today…
It's to visit Seedly, be part of the biggest personal finance community in Singapore, and start being in control of your finances.