Do you take Uber and Grab often because of its cheap fares?
Here comes SWAT, a new ride-sharing service, that has recently launched and promises to take you anywhere for a flat fee of $5 regardless of the distance.
Too good to be true? Read on.
SWAT aims to provide low cost and convenient transport that is accessible to everyone. To achieve this, they analysed millions of commuters' data to identify repeated group travel patterns.
The data shows that most of us travel from and to the same destinations more often than we think. SWAT technology adopts a data driven approach to pool commuters real time to achieve highest vehicle utilisation rate at the lowest cost for commuters
SWAT is an intelligent pre-book ride services that provides taxi-like services at bus-like prices.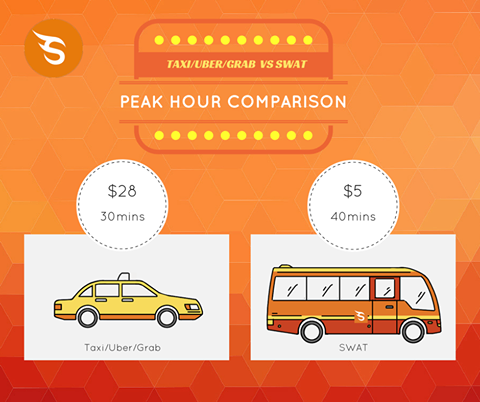 SWAT currently uses Toyota Hiaces as its Swatmobiles and they can ferry up to 13 passengers at one time. Think carpooling.
The catch, however, is that you need to prebook your ride up to 1 day in advance or up to 30 minutes before your departure. Prebooking your ride creates reliability and reduces the stress of early peak hour commute.
In some occasions, you will also need walk to the pick up location of no more than 300m to wait for the vehicle. These are bus stops, taxi stands, lamp posts, petrol kiosks, and landmarks.
Your travelling time will be slightly longer than if you took a taxi but the difference should be no longer than 10 minutes.
How it works:
[fancygallery id="5″ album="147″]
As part of its pilot launch, the services currently operate from 7am – 10am on weekdays excluding public holidays. Routes and servicing hours will be expanded progressively.
Currently, iOS users can download the app from the Apple iTunes store. It will soon be available for download at the Google Play Store.
For more information on their services, check out their website here.
*  Pre-booked rides will be free this week till 30 Sep 2016.