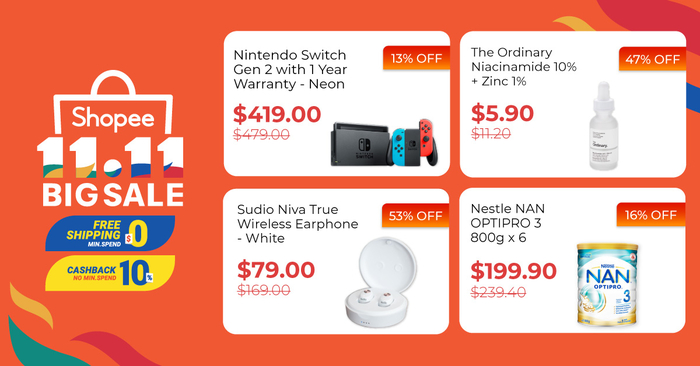 Get ready for the Double 11 Singles Day Sale on Shopee
The biggest event of the year is less than a month away and Shopee, one of the leading e-commerce platform in Southeast Asia, will blow you away with absurdly high discounts and cashback sales. Shopee's 11.11 Big Sale is happening from 22 October to 11 November and you can literally shop till you drop because Shopee is offering all-day free shipping and 10% daily cashback with NO MINIMUM SPEND! There will also be 20% cashback flash vouchers released at 12am and 12pm daily for the entirety of this period.
Shopee Game
Before you hit the stores for your bargain shopping, load up on Shopee coins and vouchers with games available on Shopee. These rewards will come in handy when you cart out your purchase later on! Have fun shaking your way to over 111,111 worth of coins with Shopee Shake and catch falling coins to win up to 111,111 worth of coins with Shopee Catch. With Shopee Strike, you can win up to 100k worth of coins & vouchers – simply throw knives at the spinning orange to earn points and avoid hitting a knife collision!

Sale Calendar
The countdown to 11.11 Big Sale 2019 has officially begin. Knowing how impatient we are, Shopee has amazing deals lined up for us leading to the actual day. Check out the calendar below so you can mark the dates and never miss a sale.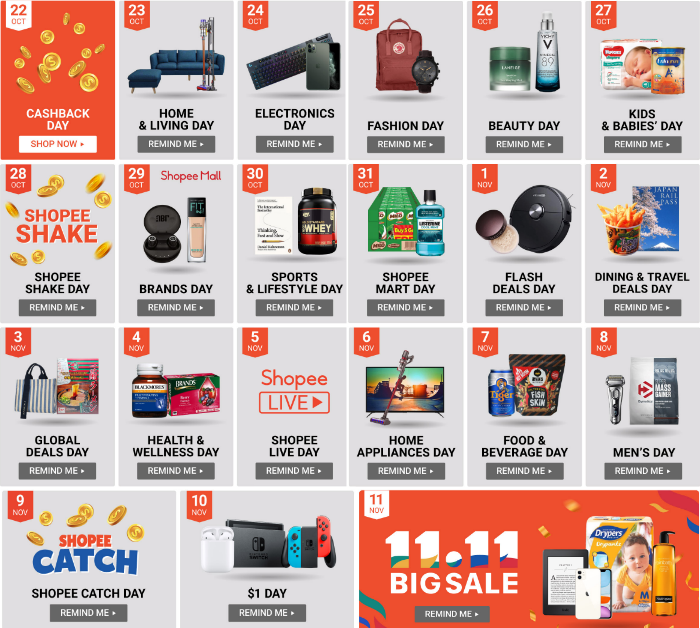 Key highlights
22 October: There will be over 110,000 cashback vouchers released (up to 20% cashback vouchers) where you save and use them later
1 November: Fastest fingers first – Enjoy many upsized flash deal at selected time slots (12am, 8am, 12pm, 2pm, 4pm, 6pm, 7pm, 8pm, 9pm, 10pm, 11pm)
5 November: Shopee Live Day lets you grab your favourite products at crazy low prices in their live auction
10 November: $1 Day will see thousands of one dollar goodies released on the Shopee app – look out for $1 lucky box released at 12am, 12pm, 10pm, and $1 Big Prizes where you spend $1 to win big amazing prizes
11 November:  Get ready as shopping madness will break loose on this day with thousands of deals going at crazy markdown prices.
New Shopee users can enjoy $7 off their purchase with the promo code MD11PH with minimum $15 spending. (Valid till 31 Nov 19)
Here are some of the deals you don't want to miss:
Nintendo Switch Console + 1 Year Local Warranty (Gen 2 Neon)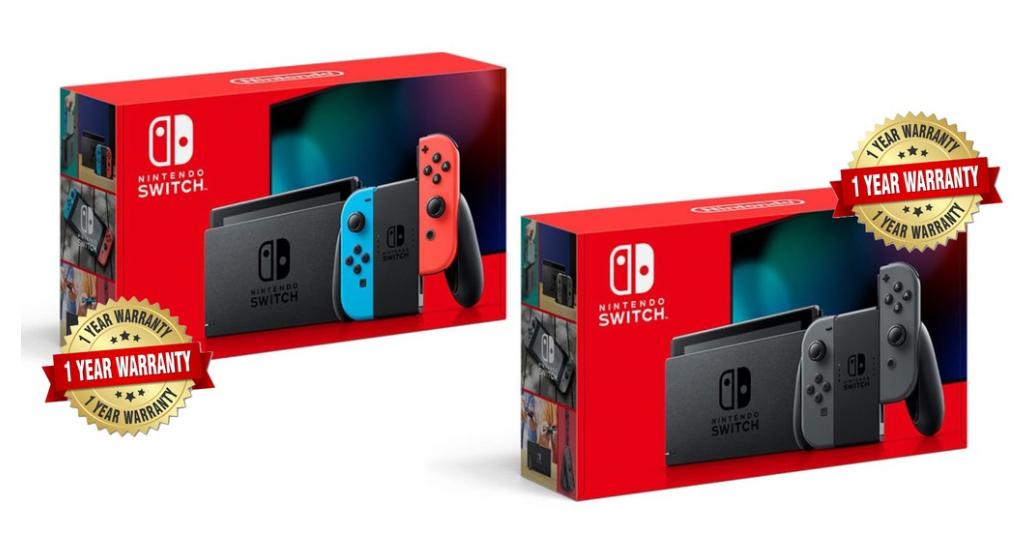 $479.00 $419.00
Nintendo Switch is designed to go wherever you are, transforming from home console to portable system in a snap. It's a new era where you don't have to adjust your lifestyle to play games – instead, your console adjusts to fit around your lifestyle. Enjoy games in flexible and free play modes anytime, anywhere, with anyone.
The Nintendo Switch Console will be released on 24 October, at 12am.
Sudio Niva White – True Wireless Earphone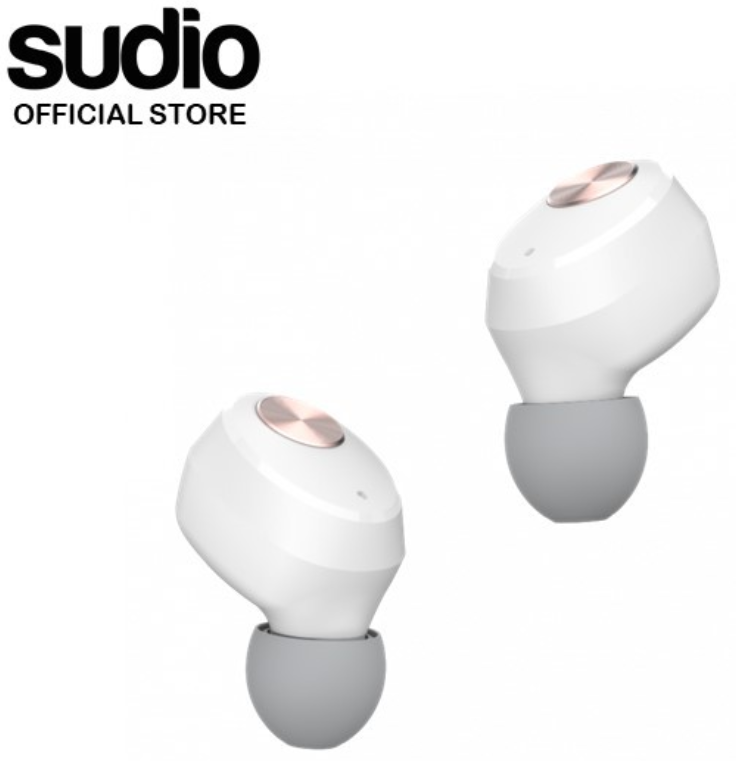 $169.00 $79.00
The Niva brings you a clear and crisp sound signature while allowing the bass to pack a punch. Designed to repel external noises, the earbuds' 6.2 mm drivers power every note to fully immerse you in the music. With the quick charge function, you can power through your day without any distractions. The combination of perfectly balanced tones and clear sound lets you get lost in the moment with music.
The Sudio Niva White will be released on 24 October, at 12am.
THE ORDINARY Niacinamide 10% + Zinc 1%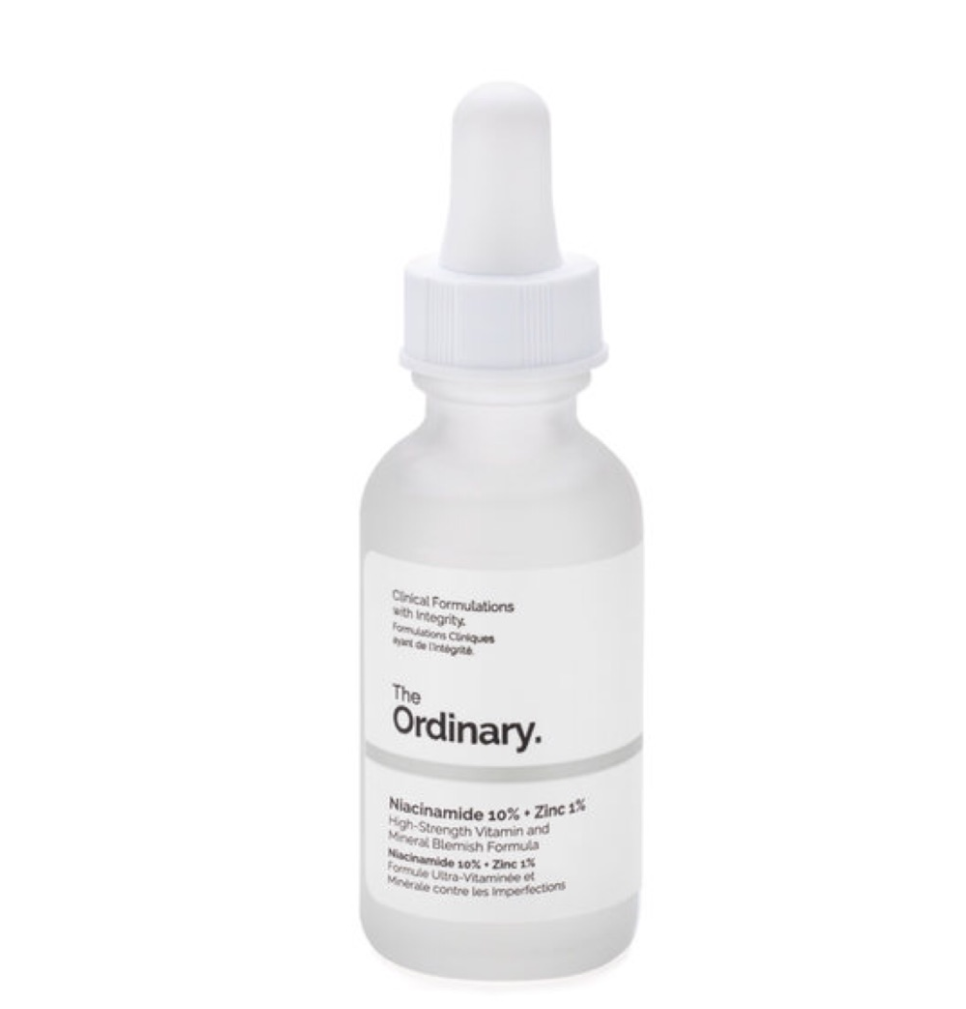 $11.20 $5.90
THE ORDINARY Niacinamide treatment reduces the appearance of blemishes, redness, enlarged pores, uneven tone, and oily skin. It promotes clearer, brighter, and smoother skin while balancing sebum production.
Niacinamide (Vitamin B3) is shown to reduce the appearance of skin blemishes and congestion. A high 10% concentration of this vitamin is supported in the formula by zinc salt of pyrrolidone carboxylic acid to balance visible aspects of sebum activity.
THE ORDINARY Niacinamide will be released on 26 October, at 6pm.
Nestle NAN OPTIPRO 3 Growing Up Milk 800g x6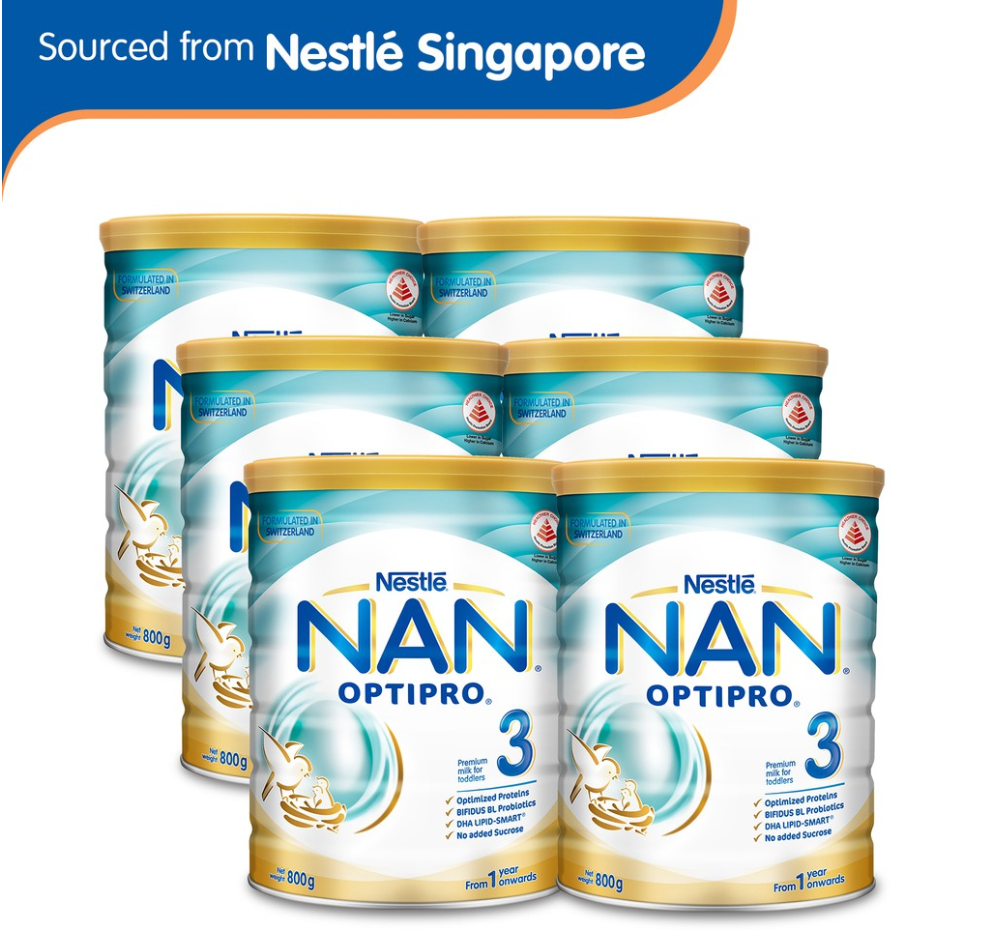 $239.40 $199.90 
A premium growing up milk for toddlers after 12 months, the Nestlé NAN OPTIPRO 3 Growing Up Milk provides all essential nutrients for growth and development. It also contains OPTIPRO, an exclusive optimized protein blend, and BIFIDUS BL that promotes a healthy digestive system.
The Nestle NAN OPTIPRO 3 Growing Up Milk will be released on 27 October, at 12am.
Xiaomi Mi Body Composition Weighing Scale 2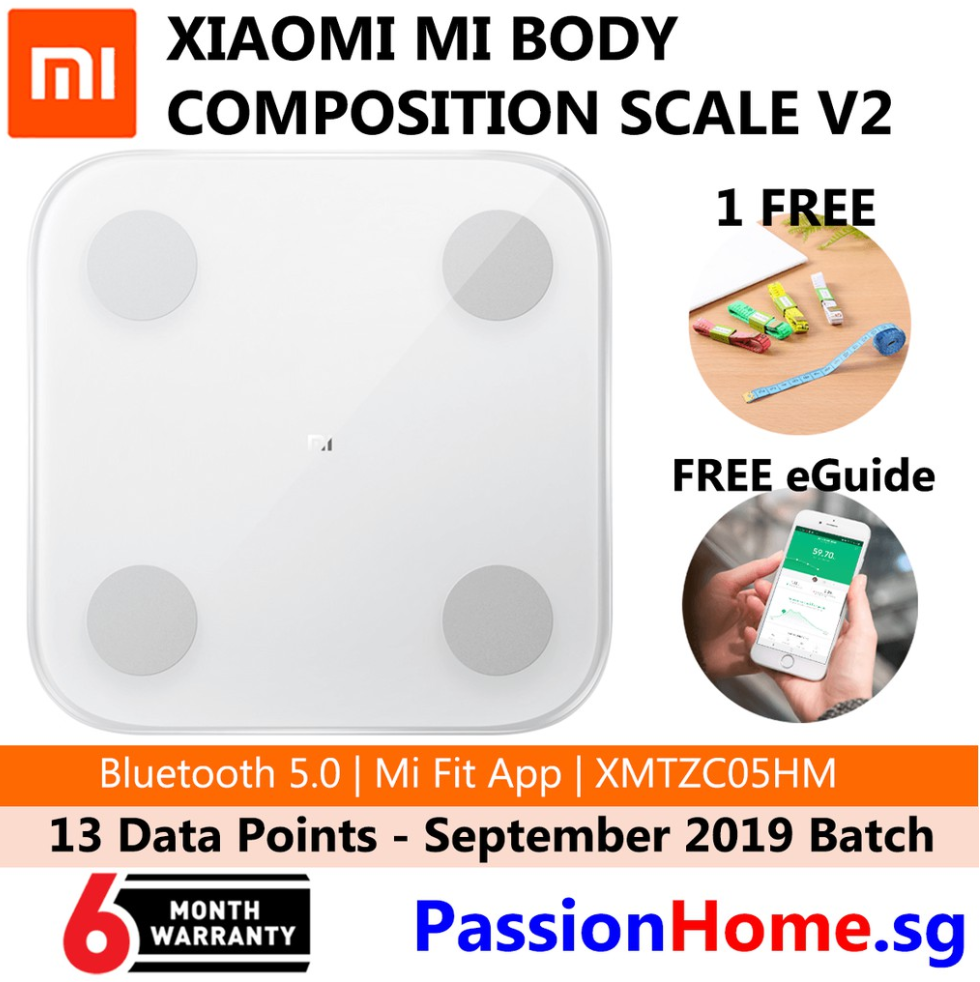 $45.69 $25.90
Know yourself better with 13 precise data points with the latest Xiaomi Mi Body Composition Weighing Scale 2. In addition to body weight, Mi Body Composition Scale provides accurate body composition statistics that gives you a realistic picture of your health and fitness. Understand your body better with Mi Body Composition scale which produces accurate stats via a series of complex algorithms and advanced Bioelectrical Impedance Analysis (BIA). Take data-driven measures now to meet your health goals.
The XiaoMi Mi Body Composition Weighing Scale will be released on 23 October, at 12pm.
1-For-1 Grab $5 Promo Code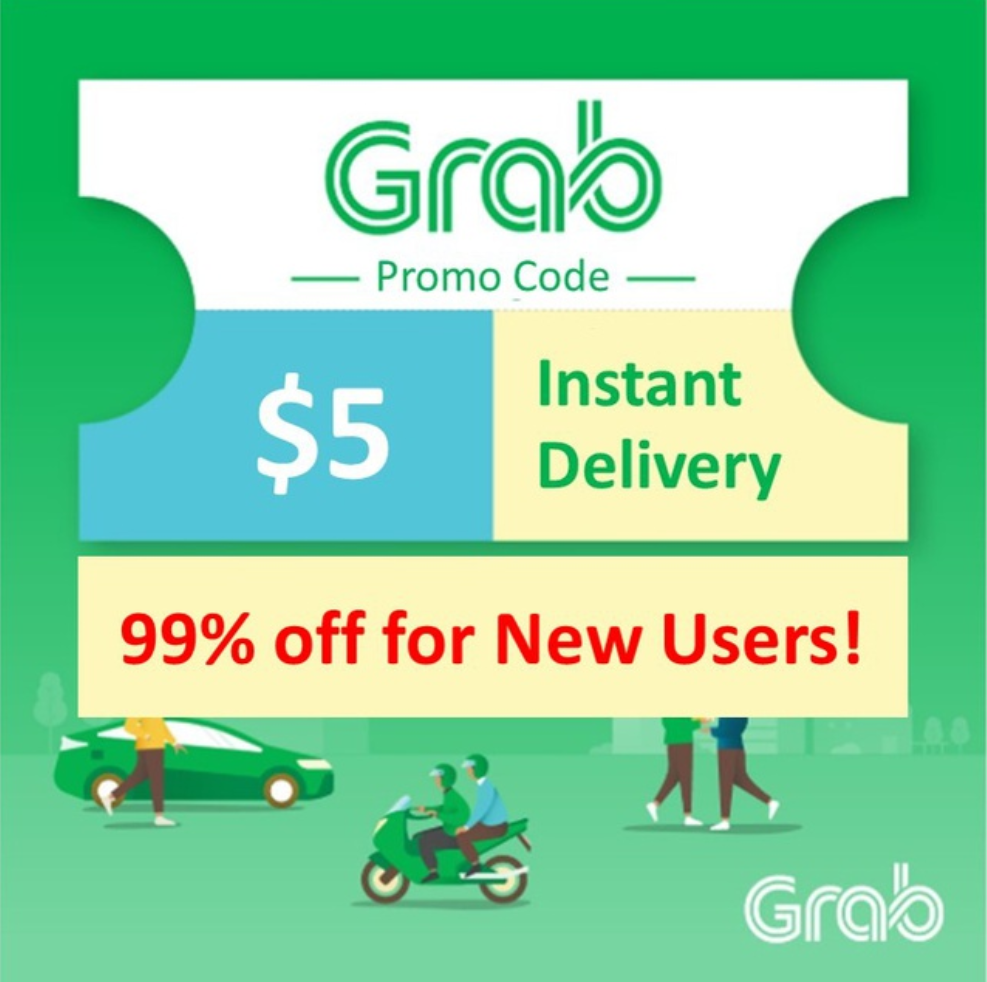 $10.00 $5.00
Save on your next GrabCar ride with this promo code. Pay just $5.00 in this 1-for-1 deal and get 2 x $5 off promo code. Save an instant $5!
The 1-for-1 Grab Promo Code will be released on 2 November, at 10pm.
Apple iPhone 11 Pro Max (512GB) – Midnight Green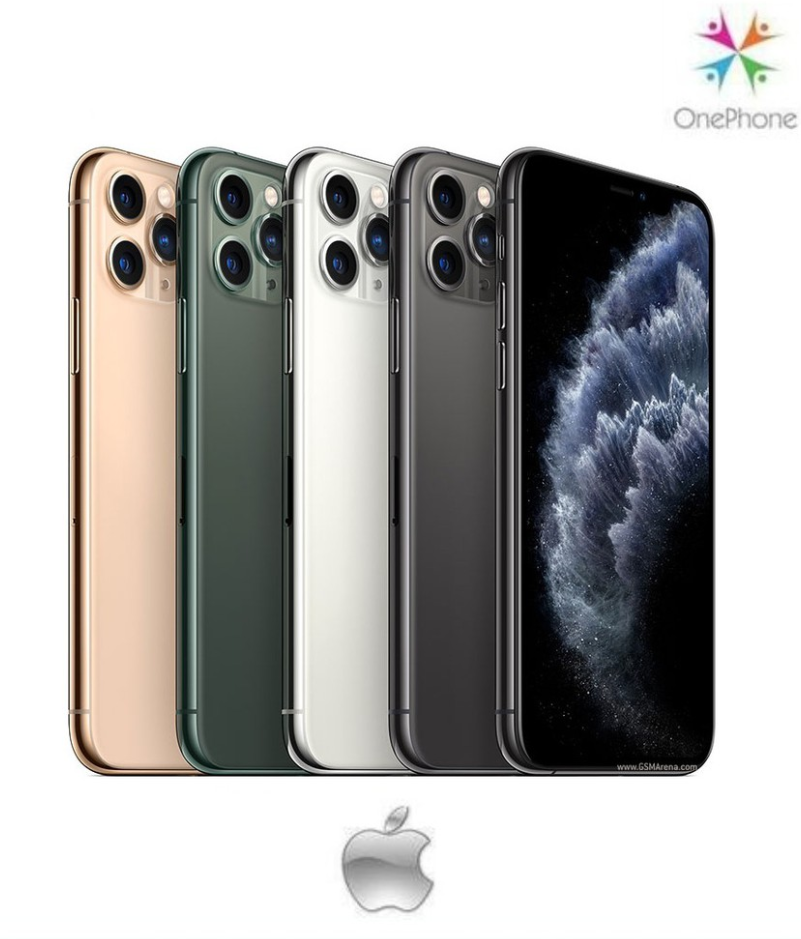 $2,318.00 $2,099.00
Get your hands on the latest iPhone 11 Pro Max in Midnight Green colour and 512GB capacity. Available for just $2,099.00 on Shopee instead of $2,318.00. Now you can shoot amazing videos and photos with the Ultra Wide, Wide, and Telephoto cameras. The set comes with a 1 year warranty from Apple.
The iPhone 11 Pro Max will be released on 24 October, at 12am.
Bodum Java French Press Coffee Maker 3 cup 0.35L 12oz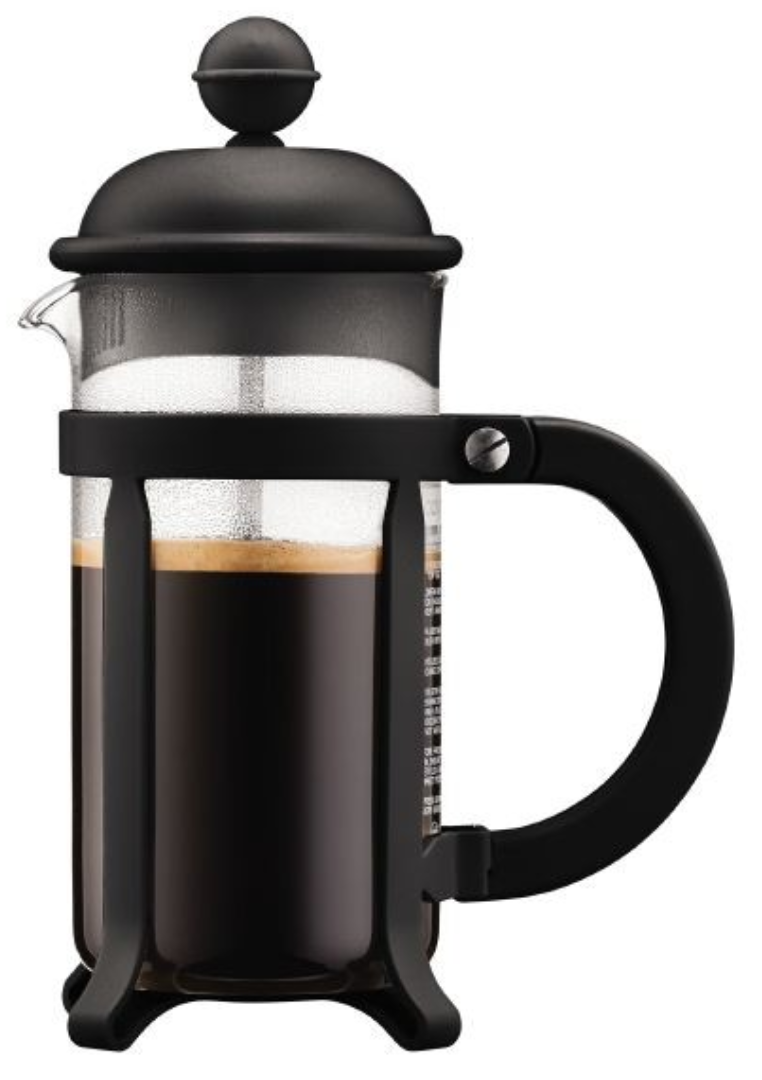 $40.80 $18.90
Not only does the JAVA coffee maker have a classic design, it also infuses the best aroma from your coffee that hardly leave any residue behind in your cup! Simply add coarse ground coffee powder and hot water, wait 4 minutes and then slowly push down the plunger.
The Bodum Java French Press Coffee Maker will be released on 23 October, at 6pm.
PS4 Call Of Duty: Modern Warfare Standard Edition Preorder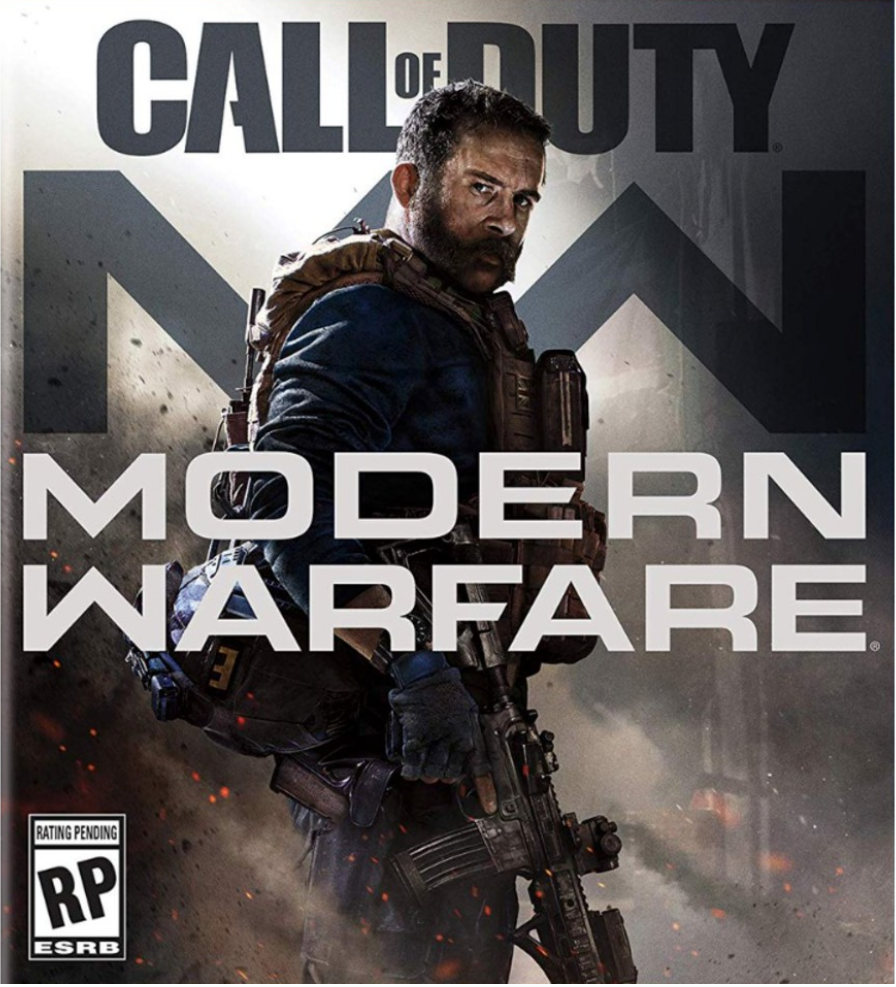 $79.00 $69.00
The stakes have never been higher as players take on the role of lethal Tier One operators in a heart-racing saga that will affect the global balance of power. Call of Duty®: Modern Warfare® engulfs fans in an incredibly raw, gritty, provocative narrative that brings unrivalled intensity and shines a light on the changing nature of modern war.
The PS4 Call of Duty: Modern Warfare Standard Edition Preorder will be released on 24 October, at 12pm.
SK-II Clear Lotion 230ml

$116.00 $65.00
A skin care regimen can never really be started effectively if the skin is not cleaned and prepared. Containing a mix of AHA and the miraculous water known as Pitera, the SK-II Facial Treatment Clear Lotion is an effective toning lotion that helps to exfoliate dead skin cells and impurities, preparing the face for the rest of your skin care routine for a comfortable and effective facial pampering session.
The SK11 Clear Lotion will be released on 26 October, at 10pm.
---
Get your money back as you shop the 11.11 Big Sale. Enjoy $7 off your purchase with the promo code MD11PH with minimum $15 spending. (Valid till 31 Nov 19)