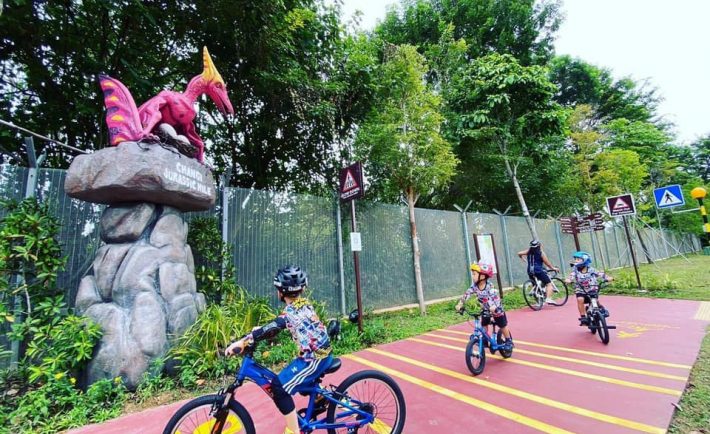 Image Credits: Huynh Minh Hoang/Sherr Yun via facebook.com
As you bring more focus to your health this year, it is important to include running or jogging to your fitness regimen. The health benefits of running and jogging include improving one's cardiovascular fitness, strengthening bones and muscles, burning plenty of kilojoules, and maintaining a healthy weight.
Goal setting for running and jogging vary for each individual. For others it may be a tool to help them compete in marathons and fun runs. While, some people use running and jogging to achieve their desired weight. If you are a beginner, you should start with brisk walking, progress to jogging, and work your way up to running This may take a couple of months to achieve.
Add life to your running or jogging trail by considering the newly opened Changi Jurassic Mile. Travel where no man has been – to the pre-historic land of Dinosaurs. You read that right!
The Changi Jurassic Mile is Singapore's newest and biggest permanent outdoor display of life-sized dinosaurs. You and your loved ones can now interact with dinosaurs while you jog, run, or cycle along the trail. This trail stretches from the Changi Airport to the East Coast Park.
About twenty-two different pre-historic creatures can be found in the trail. Amazing creatures from nine different species occupy the 1-kilometer path. These creatures come with information boards and growling noises in the background. The visual and sensorial installations will truly bring life to your usual jog!
The Jurassic Mile includes the Tyrannosaurus Rex, which towers for about 5 meters. You will also see different carnivorous species, herbivorous species, defensive dinosaurs, as well as the flying dinosaurs. Create a game with your children and let them spot and name each dinosaur. From a towering Tyrannosaurus Rex to gigantic dinosaur eggs, visitors will be amazed by the life-like installations inside the Changi Jurassic Mile.
Invite your friends or family as you travel by foot or by cycling from HUB & SPOKE or from East Coast Park via the Changi Coastal Park Connector. It is open for 24 hours. Entrance is free on Mondays to Thursdays. No need to book a slot.
However, you must book a slot if you are visiting on a Friday or a weekend. Entrance is still free. To ensure safe distancing, you must book a slot online from October 16 to January 3. Book a slot here.
Look out for bicycle rental shops and cafes spread throughout the trail to enrich your experience.