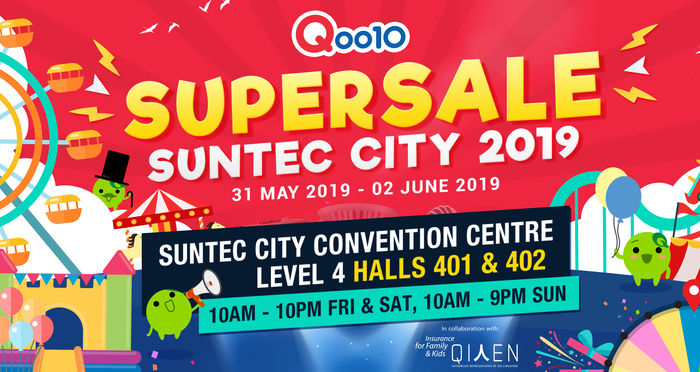 Qoo10 Supersale 2019 is a 3-day event that brings a new O2O shopping experience to singaporeans. If you love good deals and fun family activities, this event is a must-go for you and your family.
Activity highlights include bargain buys, exclusive gift cards and event gifts, lucky draw, bouncy castle, balloon scuplting, and spin-and-win prizes.
Qoo10 is pleased to bring Singaporeans' favourite e-commerce platform Qoo10 from online-to-offline (O2O) at the upcoming Qoo10 Supersale 2019 event.
The Qoo10 Supersale 2019 will be held at Suntec City Convention Hall 401 and 402 for three full days starting from 31st May. Singaporeans can look forward to a new retail shopping experience at the Qoo10 Supersale 2019 as it brings to life one of the few O2O events in Singapore. Visitors can look forward to a wide range of discounted products from home & living essentials, food & beverages, beauty products to baby products.
Visitors should definitely check out some of the top deals at the Qoo10 Supersale 2019 to make sure you don't miss out on any bargain buys. Here's a list of the deals you must not miss at the Qoo10 Supersale 2019.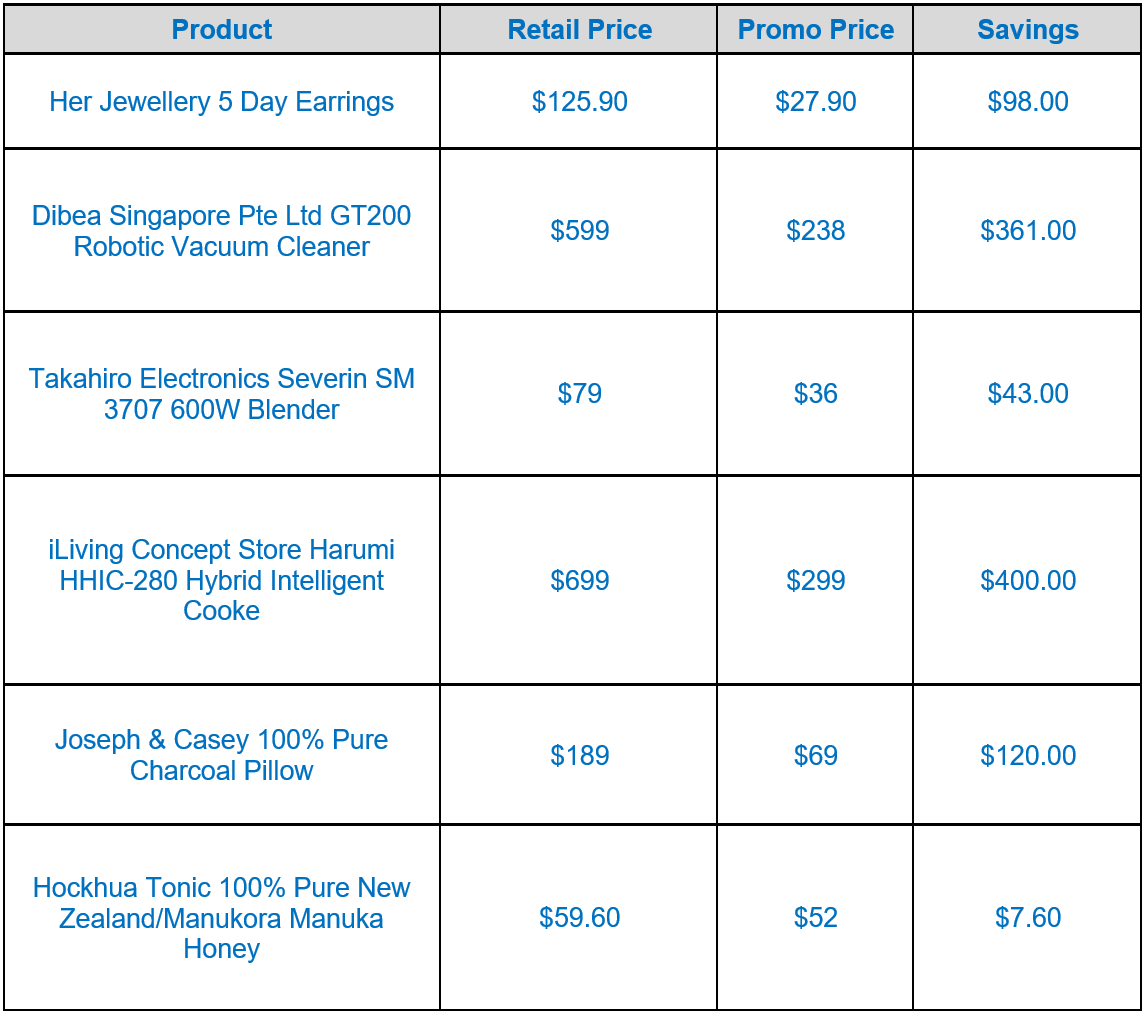 Apart from the deals above, there will also be attractive promotional products available onsite from daily and bi-hourly deals & auctions. There is bound to be something for everyone to bring home.
If you aren't a big fan of shopping, rest assured that your time will be well spent at Qoo10 Supersale 2019. This is because Qoo10 Supersale 2019 is not just a shopping event, but it is also an event catered for families to have fun and relax. Besides the galore of products on sale, visitors can also look forward to a day of fun and activities for the family. From balloon sculpting to bouncy castle, these activities have been prepared to allow families to enjoy quality bonding time with your kids. Make sure you get your cameras ready to capture the beautiful family bonding moments with your kids as they immerse themselves in the fun and activities. There will also be food stalls within the convention hall with great food to fill your stomachs after hours of fun.
Besides the amazing memories, fun and laughter that you will bring home, Qoo10 Supersale 2019 has also prepared plenty of gifts for you to bring back with you. Every visitor can look forward to an exclusive event gift upon entry. There will also be exclusive gift cards and coupons that Qoo10 is looking to give out during the event. Qoo10 is prepared to give out $50 coupon pack and a 22 Stories ticket to the first 5,000 shoppers who spend more than $50 at the Qoo10 Supersale 2019. In addition, the first 1,000 who spend at least $50 will be entitled to a digital luggage scale, which is a handy tool when you travel overseas. Besides that, spin and win prizes have also been prepared for visitors to win them home.
Not to forget, there are also various lucky draws for every visitor who visits the Qoo10 Supersale 2019 across the 3-day event. You could be one of the lucky ones to get your hands on some of the amazing lucky draw gifts and bring them home at the end of the Qoo10 Supersale 2019. These lucky draw gifts include products from Johnson & Johnson, Nestle, Airwick, Qoo10 $100 gift cards and 30 sets of family pack tickets to 22 Stories (worth $140 per set).
That's not all there is for shoppers. There're still even more prizes to be won. For the first time, Qoo10 will be bringing a new retail concept of blockchain-based online marketplace to shoppers at the Supersale 2019 event. Customers can experience shopping on QuuBe first-hand using Qoo10's unified currency: Q*coin. Q*coin is QuuBe's very own digital token that allows buyers and sellers worldwide to trade in the platform without having to worry about exchange rate. The Q*coin is always pegged to the US Dollar for even greater convenience and stability. With Q*coin, you can shop for your favourite beauty products sold in South Korea and have them shipped to your doorstep in Singapore without thinking about the complicated exchange rate problem. Lucky shoppers can even stand to win more than ∯1,000 worth of prizes simply by participating in the Claw Machine and Roulette games!
So, remember to mark down the dates on your calendar and see you there at the Qoo10 Supersale 2019 with your loved ones. If you want to be a step ahead and grab the bargains first hand, you can start preparing for the event right now by downloading QuuBe today, which is available on both iOS and Android.
You may go to https://special.qoo10.sg/DynamicAD/6950/ for more details!